Today, we will focus on a fantastic preamplifier here in our Pro-Ject Phono Box S2 review. It's the Phono Box S2 that establishes on the Phono Box S' popularity.
These two units have the same carefully chosen audiophile-grade components and amplifier modules. With the presence of these, your treasured record collection will stand out in a rugged yet cool-looking chassis. What's more, it's made of compressed metal and aluminium which makes things even better.
First up on our Pro-Ject Phono Box S2 review is its packaging and contents.
Pro-Ject Phono Box S2 Packaging
This part of our Pro-Ject Phono Box S2 review is all about the package's exterior, design, and contents.
It came in a yellow and white-themed box that showcases an image of the Phono Box at the centre. The name of the unit is below the picture. Underneath it is the words "Best Buy, MM/MC phono preamplifier".
You'll also find the product's features listed in front, which is essential if you're purchasing it from a physical store.
Inside, you will find the preamplifier itself. We chose the silver-coloured unit, and it looks incredibly sleek and classy.
Aside from the unit, you'll find an AC power adapter with a connected 58" DC cord, and three AC power plug inserts (EU/US/UK), instructions, and the unit's user manual.
Pro-Ject Phono Box S2 Review – Design and Functionality
Now, we will focus on the design and functions of the preamplifier in this part of our Pro-Ject Phono Box S2 review.
It sports the new S2 style housing made from a combined metal and aluminium construction. This element doesn't only provide outstanding aesthetics, but it also protects the unit from unwanted vibrations and electromagnetic interferences.
The case also comes with matte sandpaper feel while its faceplate is crafted from brushed aluminium. Do note that the area is only visible as a brushed portion when your lighting is near perfect.
This guarantees a seamless listening experience with no worries. Its switches at the base of the unit allow you to fine-tune the sound to your preferences. Plus, it also lets you adjust the Phono Box S2 to any current cartridge.
Key Features of the Pro-Ject Phono Box S2
Now, we will focus on the key features of the preamplifier, here in our Pro-Ject Phono Box S2 review.
Audiophile-Grade Phono Amplifier
The Pro-Ject Phono Box S2 retains the previous model's capacitance, gain, and impedance adjustments. With that, getting an exceptional sound performance using any modern cartridge is possible. It doesn't matter whether you use MC (Moving Coil) or MM (Moving Magnet) cartridges.
Moving Coil and Moving Magnet Phono Stage
The sound field of the Phono Box S2 comes with impressive micro-details, dynamics, accuracy, and clear, detail space. Whether you use MC or MM, this phono amplifier delivers a vast range of input settings for optimising its performance. Additionally, it has a switchable subsonic filter that keeps your speakers and amplifier protected from low-frequency rumble.
Since it's a versatile phono stage, you can rely on its proper virtual matching with any cartridge or turntable combination.
High-End Components
Pro-Ject utilised the Phono Box S same amplifier modules and components for the newer S2. With that, the phono amplifier delivers excellent audio quality. Aside from that, It has a solid chassis made of layers of metal and aluminium.
Switchable Input Impedance, Gain, and Capacitance Settings
Pro-Ject's Phono Box S2 provides more audio detail with the switchable gain options and versatile cartridge compatibility. Also, it delivers clearer space that you haven't heard before with its dynamics.
Solid and Compact Design
The Phono Box S2 features a robust all-metal chassis and of high-quality for its price tag. It has a power button and a large grounding post for the tonearm cable's spade terminations.
Although the unit is small, it feels solid, durable, and reliable. Also, it can accommodate the largest RCA plugs.
Specifications
This part of our Pro-Ject Phono Box S2 review will be all about the specifications of the Phono Box S2.
It has an input impedance of 10 Ohm/ 100 Ohm/ 1 kOhm / 47 kOhm. For its capacitance, it is 100pF/ 200pF/ 320pF/ 420pF.
Gain switch is 40dB/ 43dB60dB/ 63dB, with a subsonic switch that's -12dB @ 20Hz. Signal to noise ratio is 85dB, THD+N is 0.01% MM | 0.05% MC. RIAA accuracy is <0.4dB | 20Hz – 20kHz.
The Phono Box S2 comes with a pair of RCA connectors for its in/out sockets, and it consumes 18V/85 mA of power. The outboard power supply is 18V DC/500 mA. This preamplifier measures 103 x 36 x 115mm and weighs 570g net.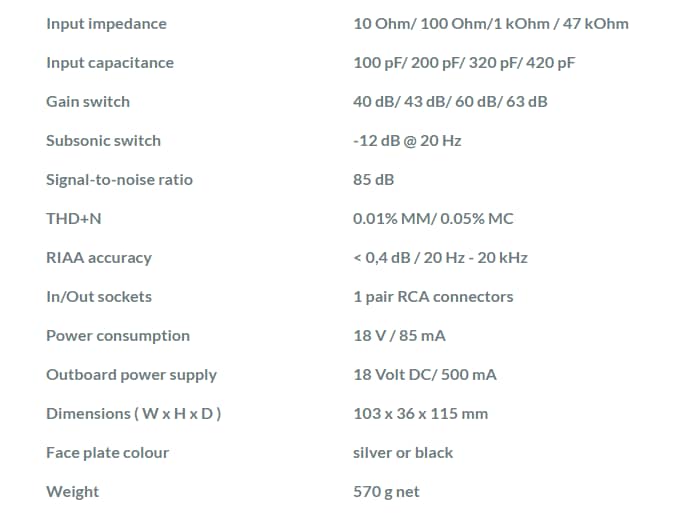 Hands on with the Pro-Ject Phono Box S2
The initial impressions we had was that the Phono Box S2 is an incredibly capable device. We dropped on some vinyl and cranked it up.
Playing Nick Cave's Ghosteen, the audio was beautifully warm and smooth, with Nick Caves' melodic voice sounding more enthralling than ever. The ambience of the Ghosteen album was not only retained but was heightened to a new level of ear watering beauty.
Tracking wasn't an issue, and the refinement in its treble was excellent. Fine detail was present as well, which impressed us further.
Mixing it up a little bit we swapped out the Ghosteen album for one of the greatest Tool albums of all time, Lateralus. Dropping the needle onto Lateralus was an absolute revelation and the Phono Box S2 was able to do the album complete justice. The guitar was so clear and crisp whilst the drums delivered a solid thud with every hit. Then there was Maynard James Keenans' vocals, and wow is all we can say. His incredible vocal range and his unique tone was nothing short of amazing.
It offered us a warm midrange, and its detail gave us an amazing listening experience that showcased the capabilities of the Phono Box S2.
The sounds it produced let us experience a rich and emotional feel to the music. With its bass, it was calm and soothing and didn't give off an overpowering impact.
The bass sounded more life-like, and the richness was optimised further. Of course, despite the enhancement, we didn't experience any overpowering bass, and that was something impressive.
No matter what we tried it with, and no matter the genre of music we played, the Pro-Ject Phono Box S2 made music better. It enhanced the sounds, improved the bass quality, and midrange was perfect.
We're incredibly amazed at how a little phono stage can improve audio sounds in a snap. But we're definitely not complaining. We loved everything about it.
Overall, it performed amazingly, and we were satisfied with the Phono Box S2. Would we recommend this preamplifier from Pro-Ject? We definitely would. For an even more complete package pair this with the Pro-Ject Debut Carbon Esprit SB.
Pro-Ject Phono Box S2 Review Summary
The Phono Box S2 from Pro-Ject comes with excellent build quality and a lot of great features. Aside from that, it has a sleek design that makes it easy to set up anywhere in your home.
Our experience with the Phono Box S2 was great. It delivered subtle yet fantastic audio, which proves that it's an upgrade from the previous Phono Box S. All of these were more than what we had expected from a low-budget phono amp.
One-size-fits-all phono stages are one of the best today since they are easy to set up. While there are a lot of phono amplifiers, the ideal option is a versatile model offering clarity, precision, and detail. And the model that can give you all of these is the Phono Box S2.
In conclusion to our Pro-Ject Phono Box S2 review, this phono amp is an impressive product that we highly recommend. If you want to have this phono amplifier, check out the store locator for distributors and partners.