QNAP is a popular name when it comes to high-quality NAS and professional network video recorder solutions for all users. In December of 2020, they introduced the smart-edge desktop PoE Switch, which we'll feature here in our QNAP QGD-3014-16PT review.
The QGD-3014-16PT is a NAS combined with a PoE switch and is the newest hardware to join QNAP's collection.
Over the years, we've seen a variety of innovative and interesting things done to data storages. With that, the days of NAS being simple hard drives accessed via the internet are long gone.
Because of these improvements, they've become more customised hardware solutions. So now, the focus shifts from data storage towards smarter accessibility of data.
With the QNAP QGD-3014-16PT, the company diversified its server portfolios to establish a better and more comprehensive solution. Thus, these features make it more ideal for business and home users.
Before we look further into our QNAP QGD-3014-16PT review, let's first check out the packaging and its contents.
QNAP QGD-3014-16PT Packaging
Let's begin our QNAP QGD-3014-16PT review by looking at what's inside the box. The QNAP QGD-3014-16PT is packed in a simple-looking cardboard box. Despite this, it's thick and durable to keep the product inside secure.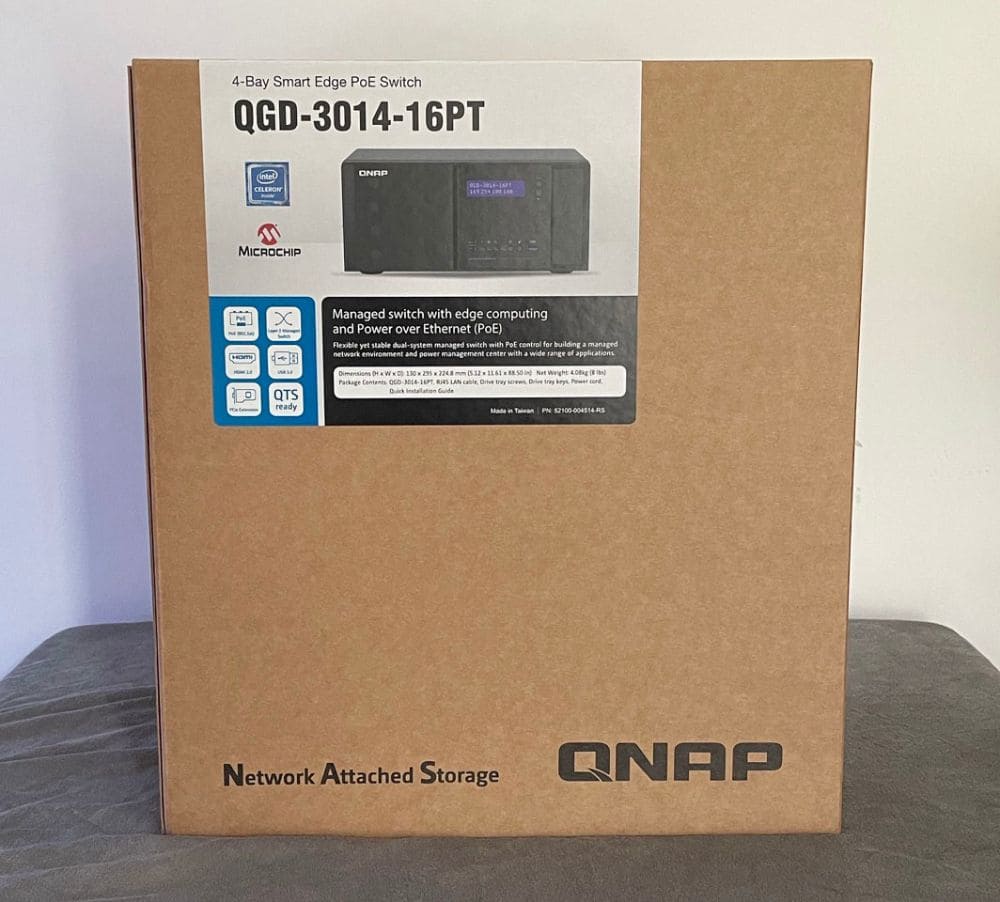 Opening the box, you'll find the usual thick foam to protect the NAS. Along with it is an additional box that houses the various accessories. Of course, you'll see QNAP's "thank you" message upon opening the package.
Taking a good look inside the smaller package, you'll find that it includes standard bits and bobs. Although it's short of hard drives, the package pretty much has everything necessary to set up the QNAP QGD-3014-16PT.
The NAS comes with a 2-year warranty. However, it's good to note that it can be extended within 60-days of your purchase.
Not only that, but the QNAP QGD-3014-16PT comes with extra metal adhesive heatsinks for the M2 SATA SSD internal installation. These, along with the metal drive keys, are little inclusions but are things that we greatly appreciate.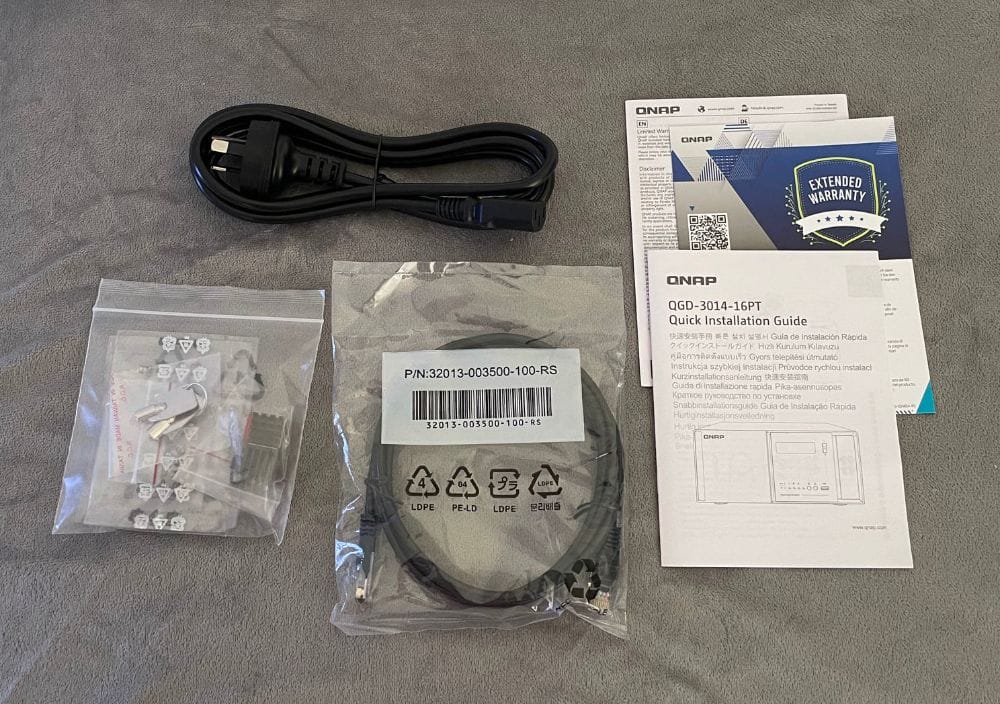 Twenty-eight screws are present. Specifically, sixteen are for the 3.5″ storage media, while twelve of them are for the 2.5″.
There's a Cat 5e Ethernet Cable and three drive lock keys in the box. Plus, you'll also find the quick start guide, warranty information, and warranty extension documents.
QNAP QGD-3014-16PT Review – Design and Functionality
The QNAP QGD-3014-16PT is an entirely new type of system. It merges a small/medium 4-bay NAS solution with a 16-port PoE-managed switch in one notable compact chassis.
This NAS is designed to feature centralising network activities, internal collaboration, surveillance, and storage. Specifically, the QNAP QGD-3014-16PT is an interesting product that is designed to simplify the IT buying needs of consumers.
The latest QGD-3014-16PT is also considered a desktop switch that has excellent internal storage capacity. It's all thanks to the integrated bays on it.
The PoE-managed switch combines some interesting technical aspects, not only because of the Ethernet ports with PoE or L2 functions. It's because it has a big storage inside, which makes it great for video surveillance projects in small/medium offices.
Looking further into our QNAP QGD-3014-16PT review, let's discuss the design of the QNAP NAS.
The QNAP QGD-3014-16PT's system is discreet and understated, allowing you to set the NAS with little to no hardware issues.
However, the design of the QGD-3014-16PT somehow reminds us of an old sound system. Some say that it looks like a combo DVD and VHS system from the year 2000.
There's a distinct line between the brains and the storage of the system from right to left. And if you intend to utilise it as a more stand-alone KVM setup, we won't be surprised since the system really looks like a classic PC.
When it comes to the LCD panels of the QGD-3014-16PT, it's designed to be used for both display and configuration. It's utilised to set a variety of system options without having to use a remote client device.
QNAP has always been among the last companies to use LCD panels on their solutions. And with that, we're really glad that they continued using it for the QGD-3014-16PT.
Of course, the LCD isn't the only way the system notifies end-users with status activities. Just like other switch systems, the QGD-3014-16PT comes with several LEDs and regular indicators along its front panel.
The four SATA bays included in the QGD-3014-16PT system occupy the left-hand corner of the front panel. It features a cover that can be removed easily with the help of the side-lock mechanism.
Inside, the QGD-3014-16PT has a couple of full metal trays that are individually locked and well-ventilated.
Of course, you don't really need to completely populate the QNAP QGD-3014-16PT. You can simply use as little as a single bay to take advantage of the NAS' functions.
However, QNAP did include four storage bays, so you can further benefit from the storage plus redundancy-assisted RAID arrangement options. One of them is the RAID 5.
Each of the SATA bays supports up to the latest WD Red NAS and 18TB Seagate Ironwolf hard drives. Of course, it supports other SATA SSD drives as well.
Remember that these aren't click and load drives, so you'll need to use a screwdriver for them. Despite that, it still notably adds to the sturdy and robust design quality of the QGD-3014-16PT.
On the other section of the QGD-3014-16PT's front panel, you'll find a huge block area of ventilation. It likely functions in conjunction with the NAS' active internal cooling located on the rear. It's also on the primary PCB that's set inside.
Similar to the ones found on the TVS-x88x and TVS-x82 series, the QGD-3014-16PT provides enhanced air movement. It specifically has good circular air movements throughout the NAS when it's operating.
Since even low-powered PoE switches can adequately generate a noticeable amount of heat, having this cooling setup is necessary.
Each side of the QGD-3014-16PT's external chassis has extra passive cooling vents. Even if its base doesn't have any additional holes, ventilation still adequately covers a large area in the entire chassis.
It's quite interesting that the system didn't feature a similar ventilation system like that of other 4-bay NAS'. Usually, they'd have these set beneath the storage media bays. But considering that the QGD-3014-16PT's drives are horizontal, this may be less necessary.
The QGD-3014-16PT's base is considerably nondescript. It comes with four rubberised feet to prevent added vibration when you set the QGD-3014-16PT in place.
Unlike the front panel of the QGD-3014-16PT, the rear panel of the QGD-3014-16PT has a selection of functions and connections.
The NAS' dedicated connections were left paralleled to the switch hardware. With that, it's much easier to determine which switch is supposedly for that connection.
Remember, the QGD-3014-16PT is a single system that merges the design of two physically distinct products.
Almost half of the whole rear panel is dominated by one cooling fan that measures 12 x 12cm. It brings cool air through the whole QGD-3014-16PT in conjunction with the passive cooling vents. This layout helps draw air over the internal PCBs, hard drive bays, PSU, and the heatsinks.
The single fan's RPM can be readily adjusted to decrease any humming noises when in use. However, it's best to leave it to instantly change the RPM whenever necessary. That's because the NAS has 16 PoE-equipped RJ-45 ports.
The PSU of the QGD-3014-16PT is internal and isn't your classic block/caged PSU. Instead, it's an uncontained module that lets air pass over it. To note, the PSU on the QGD-3014-16PT has 250 watts and is shared by the NAS and its switch elements.
Key Features of the QNAP QGD-3014-16PT Review
This time on our QNAP QGD-3014-16PT review, we're checking out this NAS' key features.
Advanced IP Surveillance and Remote Backup Solution for the Next Generation
For modern enterprises, deploying surveillance systems in different sites is essential. Each surveillance system should have IP cameras, NAS/NVR, switches, and then transfer local data to central servers. This can be a complicated and expensive process.
Fortunately, the QGD-3014-16PT from QNAP is a single system that comes with PoE power capabilities and data backup management. With that, the software and hardware requirements are easier to meet. Plus, the NAS' performance is now more efficient when transferring and backing up data from surveillance videos.
Comprehensive Surveillance Infrastructure Deployment for Smart Retail
With QVR Pro Surveillance Software, QuWAN SD-WAN Solutions, and HBS Remote backup together, the QGD-3014-16PT is a complete package. It's an excellent, cost-optimised surveillance system for businesses that need to centrally manage video capture, processing, and playback.
Sleek Design with 4K 60Hz HDMI Output
The QGD-3014-16PT has a modern minimalist design with a quiet cooling system that balances noise and performance. With the NAS' stylish look, it can easily fit in modern retail spaces.
The QGD-3014-16PT also combines the functions of two different devices, allowing you to save more space. With the HDMI 2.0 output, you can directly play back live feeds in 4K resolution.
A Total Smart IP Surveillance System with QVR Pro
QVR Pro enables you to arrange an independent and dedicated storage space for the NAS' surveillance data. This software also allows you to maximise the advantages of scalable storage with four drive bays and versatile storage expansion.
QVR Pro's camera management, playback, remote live viewing, storage space allocation, and failover help you deploy a comprehensive surveillance system.
Smart PoE Management for High-Power IP Cameras
The QGD-3014-16PT features 16 ports with 30W Gigabit PoE capabilities. With that, the NAS can provide a total power budget of 140 watts to meet various devices' demands. These include fisheye, bullet and 4K PTZ cameras, as well as IP phones, LED lights, and digital signage.
Additionally, the NAS supports smart functions in PoE management like scheduling, power enabling, disabling, and prioritisation. You can also get the network connection status and power consumption information in real-time.
Integrated HBS 3 Remote Backup Solution
The QGD-3014-16PT combines backup, synchronisation, and restoration functions for convenient transferring of data. The data can be moved from the QGD-3014-16PT to a remote QNAP NAS, cloud storage, or remote server.
SD-WAN Solution for Deploying a Multiple-Site VPN
QuWAN SD-WAN features a complete mesh IPsec VPN topology between the local/remote QNAP devices and the QGD Switches. With that, it can meet surveillance, filing, and data transmission needs.
QuWAN utilises bandwidth aggregation, failover, and QoS to optimise network service. As a result, it provides a stable surveillance working environment.
Additionally, QuWAN achieves optimum network connectivity for surveillance by adopting software designed networking. It supports cloud-centric management over multiple NAS devices to deploy a flexible IP surveillance infrastructure.
The First PoE Switch Series with VM Support
The QGD-3014-16PT supports the QTS, the company's operating system for NAS devices. It's also the first PoE switch series supporting containers, hosting virtual machines, and various cloud applications. With that, it enables diverse networking and storage solutions.
This NAS provides an all-in-one networking solution for storage expansion, network security, IP surveillance, and wireless LAN management. Also, it comes with an SD-WAN solution to allow connecting with other QNAP devices in different locations.
Additionally, QNAP's QGD-3014-16PT utilises a dual-processor structure for networking management systems (QTS and QSS) to work independently. Since it uses the Network Virtual Switch, it can transfer the data from QSS and QTS via Intranet. It works by accelerating computing between hosts and end devices.
Moreover, the QGD-3014-16PT's web interface called QuNetSwitch is user-friendly. With that, it can help users easily deploy a secure and flexible IT infrastructure.
Specifications
Our QNAP QGD-3014-16PT review will now focus on the specifications of the NAS. Let's start with the processor and the RAM.
Processor and RAM
The new switch comes with an Intel Celeron J-4125 processor, a 2.0GHz quad-core CPU. On turbo mode, it can go as high as 2.7GHZ. The QGD-3014-16PT has a 64-bit x86 design, plus an AES-NI hardware encryption engine.
In addition, the processor uses an Intel 600 UHD GPU.
The Storage Bays for Hard Drives
The QGD-3014-16PT utilises four bays for the 3.5″ SATA drives. There, you can install both 3.5″ and 2.5″ hard drives.
Not only that, but you can install 2.5″ SATA drives, letting you boost the overall performance during file transfers.
The model even has two M.2 SSD 2230 slots where you can install SSD drives. It even comes with an SSD cache acceleration that creates a storage pool that has all the SSDs.
Connectivity
The connectivity of the QGD-3014-16PT has a total of x16 Gigabit Ethernet ports and x14 dedicated 1000 BASE-T ports. There are even two Combo 1000 BASE-T / SFP ports present.
The x16 1000 BASE-T ports are PoE+ and are compatible with the 802.3at and 802.3af standards.
The total Power Budget that the QGD-3014-16PT supports is 140W. It even comes with x2 2.5G multi-gigabit ports for the host. Internally, the ports can be configured for various types of uses since the virtual switch utility of QNAP is complete. Plus, it'll allow you to make complex setups too.
Other ports here are x2 HDMI 2.0 ports. It's for video outputs in 4K resolution @ 60Hz maximum. Another port you'll find is the 3.5mm jack audio output, as well as the 3.5mm jack mic input.
Lastly, there are x2 USB 3.2 Gen 1 ports located on the rear, and they're at 5Gbps. Then, there's another one placed in front.
Hands-on with the QNAP QGD-3014-16PT
QuNetSwitch Software
The QuNetSwitch software features a user-friendly interface that makes it easy to use. It serves as a backup, container, and 3rd party sync solution for multiple NAS devices. It also acts as a multimedia server that utilises first-party QNAP apps or Plex Media Server.
Additionally, it serves as a virtual machine host that supports Windows, Android, Ubuntu, and more.
With the user-friendly design, it's easier to operate the QGD-3014-16PT. It also comes with a new, modern range of NAS-dedicated and Switch-dedicated apps that allows for more convenient use. We were able to quickly create a unique network environment with tailored permissions, securities, protocols and priorities.
Deploying VM environments was hassle-free as well. Usually, making a VM visible on the network is a common issue when using a NAS. However, we didn't encounter this problem while using the QD-3014-16PT.
While all the processes are being supported adequately, the QGD-3014-16PT operates several network switch applications and processes. This will provide you with high-quality network management and security solution using the 16 ports.
For the management and software options, these are the following:
Support for various network switch protection and control via Mikro-Tik, Free PBX, Open WRT, and Zabbix. In addition, there's pfsense with the VM installer and container station.
The physical switch design is linked to the Virtual Switch software of QNAP. It has independent access, NAS0sde access, and internet/network access as well.
New VM installer and management applications for streamlining VM deployments
QuNetSwitch offers full control over the network. It has two-layer protection and setup that has port trunking, loop detection, and IGMP snooping v2|v3. There's even virtual LAN creation, port auto-negotiation, port mirroring, port statistics, bandwidth control, and more.
The QGD-3014-16PT as a Storage Device
The GD-3014-16PT is more than just a storage drive that you can access anywhere. It also performs a variety of tasks like backing up files, creating photo archives, and more.
It allows for editing photos and videos up to 1080p and 4K resolution. With the NAS, you can also watch movie collections over the network.
When we used the QGD-3014-16PT as a storage device, it worked smoothly, and we didn't experience any issue. In fact, it was also fast, which is something we really appreciate.
The QGD-3014-16PT as a Surveillance System
Let's discuss the QVR Pro Software this time. In the past, these surveillance apps were just part of the numerous NAS applications.
There weren't any dedicated and specific storage for surveillance recordings. Often, the system's performance was limited; thus, making it unideal for fulfilling the needs of professional surveillance systems.
But with the QVR Pro, QNAP's latest surveillance application, it introduces the idea of a dedicated storage area. With this, it'll guarantee that the storage is entirely reserved for the QVR Pro. Not only that, but the system's performance won't get affected by other applications present on the NAS.
The QVR Pro is an application for their more upgraded NAS models. It makes a QNAP NAS into an efficient and professional NVR solution with storage integration and expandability. In addition, it has a collection of IoT devices for an optimised video surveillance experience.
QNAP designed the QVR Pro for the Intel processor's onboard GPU. It's generally to execute hardware video decoding.
The company claims that this results in much faster playback. They also claim that it offers enhanced video exporting compared to the Surveillance Station.
Remember that this application is free to use. However, it has a limit of 8 IP camera channels and a max of 14 days for the video backup.
If you need to utilise more than 8 IP camera channels and take advantage of more features, you're all set. Simply go for the QVR Gold, the premium and paid version of the QVR Pro software.
To install the QVR Pro, go through the QTS App Center on the QNAP NAS. There, you'll find the QVR Pro in a list of applications that are available for download.
Features of the QVR Pro
Unleash the Full Potential of Fisheye Cameras
The QVR Pro supports every standard fisheye camera available today. It features the Q-dewarp function that alters distorted portions of the original image into proportional ratios.
The application offers industry-leading functions like viewing single fisheye camera images. What's special about it is that you can simultaneously watch these on nine channels from various angles. Plus, they can be viewed from hardware-boosted and cross-platform decoding for fisheye camera images.
The software guarantees enhanced surveillance performance for improved security while offering deployment flexibility.
In the past, you needed numerous cameras to monitor and observe each space of an environment. Now, you only need to situate a single, centralised fisheye camera to observe the entire area.
With that, you're allowed to enjoy optimised surveillance efficiency that's more budget-friendly.
See Fisheye Camera Images in Various Angles
You can exhibit one fisheye camera's image in a total of nine channels simultaneously. This is for a more and better-detailed view from various angles.
Note that this doesn't affect the video quality of any ongoing recording.
Lets You Easily Monitor Each Area
In the past, you needed to have numerous cameras to observe each corner of an area. Now, you only need to set one centralised fisheye camera to monitor and observe the whole spot.
This will give you the chance to enjoy enhanced surveillance efficiency that's more budget-friendly.
Cross-platform, Hardware-boosted Video Decoding
When transforming fisheye images via standard monitoring software, the CPU device load reaches around 75%. With the QVR Pro, the CPU device's load only reaches about 25% even when it converts nine channels simultaneously.
Motion Detection in Cost-Efficient Cameras
Earlier, the QVR Pro only offered event recording and notifications for pricey cameras that had built-in motion detection. Now, it offers motion detection even for budget cameras and USB webcams. That is, as long as they can stream their footage to the QVR Pro via RTSP protocols.
The QVR Pro lets you establish a secure and more protected surveillance system for office and home environments.
Instant Playback
With a single interface, you can play recordings and monitor the live view of multiple channels. All you need is a single click to switch between live, sync playback, and individual playback.
Powerful Camera Support and Management
QVR Pro supports a wide range of image formats and camera models from more than a hundred brands. With that, you can easily create surveillance solutions designed for your environment.
Q-dewarp Technology
Q-dewarp is an innovative technology that allows for viewing basic fisheye camera recordings in proportional sizes and ratios. You don't need to worry about your recordings since Q-dewarp doesn't affect your recordings. This feature also turns the distorted part on the edges into a clear panoramic view.
Multiple Notification Methods
QVR Pro's event notification offers multiple ways of providing notices of emerging events. It flashes the channels' reed borders, alert buzzers, and the e-map's motion icon.
Using the QVR Pro
We used the QVR Pro to see how well its features work. First, we tried the motion detection features with older IP cameras.
Even if our cameras had poor motion detection features, we were surprised that QVR Pro delivered high-quality videos just like what QNAP claimed.
Before the QVR Pro was released, we used the older Surveillance Station. We always wished that it had a faster maximum playback speed. Fortunately, QNAP included this new feature, and we were able to see synchronised playback up to 10 times faster.
Because of the highly-customisable display panel, we were able to adjust each channel's display ratio. And with its built-in display module, it provided us with all our surveillance needs.
While using QVR Pro, we were able to customise the motion detection settings for each camera. The software gave us settings for specifying areas to detect motion.
With the upgraded ROI (Region of Interest), QVR Pro supports multiple regional images from the same camera. With that, we did a lot of things like enlarging the view in specific areas with no limitations. Plus, we used this feature in both live view and playback mode.
QVR Pro had steadily developed from its buggy, basic version when it was released previously. Now, it's a stable application that comes with a range of great features. Plus, it recently provides support for a wide selection of smart events.
Overall, the QVR Pro has a straightforward design that makes it easy to use. It ran smoothly and as well as we expected. With compatible devices that meet QVR Pro's system requirements, you'll enjoy this software's features and smooth operation.
QVR Pro Client Mobile Application
QVR Pro has also released a mobile application that allows for more surveillance and management flexibility while travelling. When using this app, you can easily switch from live view to playback mode and vice-versa. With that, you'll have full control over monitored areas.
The latest version of the mobile app provides multiple display layouts, allowing users to simultaneously view numerous channels.
As a surveillance system, the QGD-3014-16PT worked excellently. We were able to connect multiple cameras directly, and all of these were compatible with the NAS. Plus, we were able to access the NAS remotely.
The NAS still utilises encryption, VPN, HTTPS and various services to keep a secure access. This is one of the things we liked about this NAS since we didn't have to worry about privacy issues.
With the QVR Pro and the eight camera licenses included, the QGD-3014-16PT becomes a full CCTV system. It's accessible via the internet, over the network, or even locally. Plus, it has a comprehensive dashboard that made it easier for us to view IP cameras, their settings, and permissions.
QNAP QGD-3014-16PT Review Summary
The QGD-3014-16PT from QNAP is simply impressive. While it has a few compromises like not having a PCIe slot or 10Gbe NIC, it's an excellent centralised solution.
This NAS is ideal for those who are looking for a single device that can provide storage, access, and security. These three things are the biggest concerns of modern businesses, and the QGD-3014-16PT provides everything simultaneously.
Aside from offering the functionality of two devices, it has a sleek, modern design that allows you to save space. It will also reduce power consumption when operating since you won't have to utilise two devices.
To summarise our QNAP QGD-3014-16PT review, the QGD-3014-16PT is another great innovation from QNAP, and we're recommending this NAS. If you want to get your hands on this product, you can find authorised dealers via the company's store locator. You can also check out the company's official website for extended warranties.