Today we are writing our QNAP TS-462 NAS Review, which discusses this NAS solution. It is perfect for home users and amateur video editors since the product offers impressive features. 
The TS-462 also provides a reliable and high-performance platform for storage, file sharing, backup, and multimedia applications. 
QNAP TS-462 NAS Packaging
We will start our QNAP TS-462 NAS Review by looking into its packaging and contents. Like your standard QNAP products, the TS-462 shipped in a basic-looking cardboard box. It may be simple, but their packages are sturdy and durable to prevent damage to the items inside.
Opening the box, you will find two cardboard containers, which are both protected by Styrofoams on each side. And aside from the TS-462, other accessories QNAP included are the following:
Ethernet cable

AC adapter

Power cord

x16 Flat head screws (for 3.5-inch HDD)

x12 Flat head screw (for 2.5-inch HDD)

Quick installation guide
QNAP TS-462 NAS Review – Design and Functionality
While writing our QNAP TS-462 NAS Review, we noticed how compact the NAS was at 169 x 170 x 226mm. It was a surprise to see its build and form. That is, considering its support for PCIe expansion cards and four 3.5-inch SATA III bays. 
Aside from its compact build, the NAS combines an aesthetic design with its white colour and a lovely gold band running from the front to the right. This area houses the power button, multiple system + hard drive status LEDs, and the copy data button from USB media. 
The HDMI socket is a plus since it lets you link the NAS to a screen to see everything happening. It is reassuring to see and know that things are working how they should and that the installation was successful.

The NAS features a front-mounted USB and a single-touch copy button. These features allow manual backups to and from connected USB storage drives. You will not need to log into the GUI or bother with an automated schedule. 
Its USB port is a 3.2 Gen2 that supports 10GB/s while allowing up to 1000MB/s backup speeds. 
It is ideal for people who often back up large numbers of data from an internal system RAID array. The elements are also perfect for amateur or professional video/photo editors with daily backups on new projects.
If you want to achieve 10GB/s of speed, use USB 3.2 Gen2 enclosures or drives. Many budget-friendly options are now available on the market, so the presence of this port is highly beneficial. 
The NAS also has a detachable front panel that conceals the storage bays. What we love about it is it is easy to lock/unlock. 
Drive Bays
Our QNAP TS-462 NAS Review will also share details about its drive bays. You can see these when removing the TS-462 front panel.
You can deploy the NAS with one drive, but we recommend using more with a RAID configuration. Why? For performance, redundancy, and capacity. 
It also has an internal flash storage module for storing the QTS 5 operating system, services, and applications. However, you only use it to help install the QTS to a primary partition of its storage bays. That means the better its base-level storage is on the first day, the better QTS will work. 
The trays in the NAS have an easy and screwless installation process. Plus, it offers screw holes and screws for 2.5-inch media.
Its plastic trays received significant enhancements, making them more robust and durable. These can better handle heat, pressure, and vibration without cracking. Moreover, these also help decrease noise due to spinning/accessing drives. 
QNAP made this possible by strategically positioning rubber washers on the screw points. Also, these sport a design to offer easy and secure ways to install and swap drives.
Key Features of the QNAP TS-462 NAS 
Listed in our QNAP TS-462 NAS Review are the features that make the TS-462 an excellent option. QNAP integrated elements that allow the NAS to perform ideally for home users and amateur video editors. 
Optimise Your Home Network to 2.5GbE
WiFi 6 and 5G is the current networking standards, reason why your home wired network should benefit from these. The TS-462 has one 2.5GbE RJ45 LAN port that works with CAT5e cables.
If your PC lacks 2.5GbE ports, opt for the QNAP USB 3.2 Gen1 to 5GbE adapter (model QNA-UC5G1T). It lets you enjoy the significant speed boost that 2.5GbE offers over standard Gigabit Ethernet. 
Additionally, QNAP offers cheaper 2.5GbE switches and other adapters. These are essential to use the 2.5GbE connectivity of the NAS efficiently.
Intel Dual-core CPU Burst up to 2.9 GHz
The NAS uses a Celeron N4505 dual-core Intel processor sporting a burst of up to 2.9GHz. It supports SATA 6GB/s drives. In addition, the Intel AES-NI encryption engine enhances encryption performance while preserving the security of your NAS data.
You can install NVMe SSDs into the M.2 PCIe slots to accelerate cache for maximising storage and network performance. These are vital for data-intensive applications or enabling Qtier for auto-tiered storage for increased storage efficiency. 
Boost AI-powered Image Recognition and Caching with TPU and PCIe Expansions 
The TS-462 features two M.2PCIe Gen3 slots. These enable SSD storage pools/caching for enhanced performance or Edge TPU for AI image recognition. 
Install M.2 NVMe SSDs for Cache Acceleration or Effective Tiered Storage
The NAS supports SSD caching while featuring two M.2 slots. These M.2 PCIe NVMe SSDs with 2280 form factors (sold separately) enhance NAS performance. 
Additionally, Qtier technology empowers the NAS with auto-tiering that helps optimise and improve storage efficiency for every installed storage device.
Accelerate AI-powered Image Recognition via TPU
The TS-462 can perform high-speed face and object recognition by connecting a Google Edge TPU to QNAP AI Core. The latter is an AI-powered engine for image recognition. 
QuMagie can quickly process thousands of photos with high-speed AI image recognition and classification. This method is possible thanks to Google Edge TPU. Also, QVR Face can analyse real-time video for instant facial recognition.
SSD Caching + Auto-tiering for 24/7 Optimised Storage Efficiency
SSD prices continue to fall while capacity and performance rise, but organisations can readily use SSD strengths. Fortunately, the TS-462 supports several SSD-aware feature that maximises NAS performance with increased cost efficiency. 
Direct 4K HDMI Multimedia Output
While writing our QNAP TS-462 NAS Review, we saw hardware decoding and real-time transcoding are TS-462-supported. The HDMI 2.0 output supports up to 4K @60Hz, allowing you to watch high-resolution videos on a TV/monitor.
Fast Image Identification with Built-in Intel OpenVINO AI Engine
The TS-462 accelerates AI image recognition performance with built-in Intel OpenVINOTM AI computing resources without interfering with other applications/services. 
QNAP AI Core works with QuMagie. This user-friendly photo management solution integrates AI image recognition and intelligent classification for your collection.
QNAP TS-462 NAS – The Best Storage for High-resolution Multimedia Files
High-resolution RAW files quickly deplete your phone storage. Whether you are a content creator or an amateur photo/video editor, the TS-462 with high-capacity hard drives is the best. It is an ideal storage centre for securing and organising files efficiently.
Stream Media to All Devices at Home
The NAS is a complete multimedia centre that allows fast and easy photo, music, and video streaming to TVs, computers, and mobile devices.
Connect to a Monitor or TV with the HDMI Port
The TS-462 HDMI output allows you to enjoy multimedia content. It will also let you use web browsers, manage your NAS, or view recorded surveillance footage or live feeds on your NAS.
A User-friendly, All-in-one Solution for Backing up Files
The TS-462 is efficient, but at its core, it is a complete backup solution for your files and data. Data loss can be avoided by regularly backing up files and device content.
Protect Data from Ransomware Threats with Snapshots
Snapshots are a sophisticated backup method typically reserved for high-end business NAS. All QNAP NAS, including the TS-462, include Snapshots as a standard. 
Snapshots capture the current state of systems, allowing these to get restored to that state. The process conveniently reduces the threat of ransomware.
Apps for Productive Workdays
You can easily access files from multiple places or instantly synchronise files with the devices of friends or colleagues. Quickly finding specific files and automatically organising your documents/media files are possible with plenty of awesome apps. 
Ideally, it is possible to map the shared folders of this NAS as network drives on your computers. Thus, making it simple and intuitive to access NAS files. The TS-462 allows you to save time while increasing efficiency and productivity.
Access the NAS Anywhere
MyQNAPcloud gives you quick and convenient access to your TS-462. That means you can stay connected without configuring complex network settings. 
MyQNAPcloud Link, on the other hand, assigns a unique domain name to your TS-462. It will also automatically connect using the best method based on your network environment.
Establish a Wallet-friendly Home Surveillance System
With the subscription-based QVR Elite Smart Surveillance Solution, you only pay for your required channel licences. Doing so allows you to protect your property while keeping a budget.
On the TS-462, you can set up a dedicated, independent storage space for surveillance data, simplifying the following: 
Camera management

Storage space allocation

Camera live viewing

Playback
Recordings get saved as MP4 files, which you can play on almost any device. With the QVR Pro Client companion mobile app, you can also use USB webcams as network cameras. Plus, you can remotely monitor your surveillance feeds at any time.
Extend Hardware Warranty for the QNAP TS-462 NAS for up to 5 Years
The TS-462 has a 2-year warranty at no extra charge. You can also buy a warranty extension to extend your coverage to 5 years.
Specifications
Like always, our QNAP TS-462 NAS Review will share the product specifications with you. Remember, it is vital to know these details to determine if the NAS checks all the boxes.
CPU:

Intel Celeron N4505 2-core/2-thread processor with burst of up to 2.9GHz

CPU Architecture:

64-bit x86

Encryption Engine:

AES-NI

Graphic Processors:

Intel UHD Graphics

Maximum Memory:

4GB

System Memory:

4GB on board (non-expandable)

Flash Memory:

4GB (Dual boot OS protection)

Drive Bays:

Four 3.5-inch SATA 6GB/s

M.2 Slot:

Two M.2 2280 PCIe Gen3 x1

Fan:

One 120mm 12VDC
The NAS consumes 20.33W on HDD Sleep Mode and 32.4W on Operating Mode (typical). Also, the TS-462 measures 168 x 170 x 226mm (H x W x D) and weighs 2.26kg. 
Hands-on with the QNAP TS-462 NAS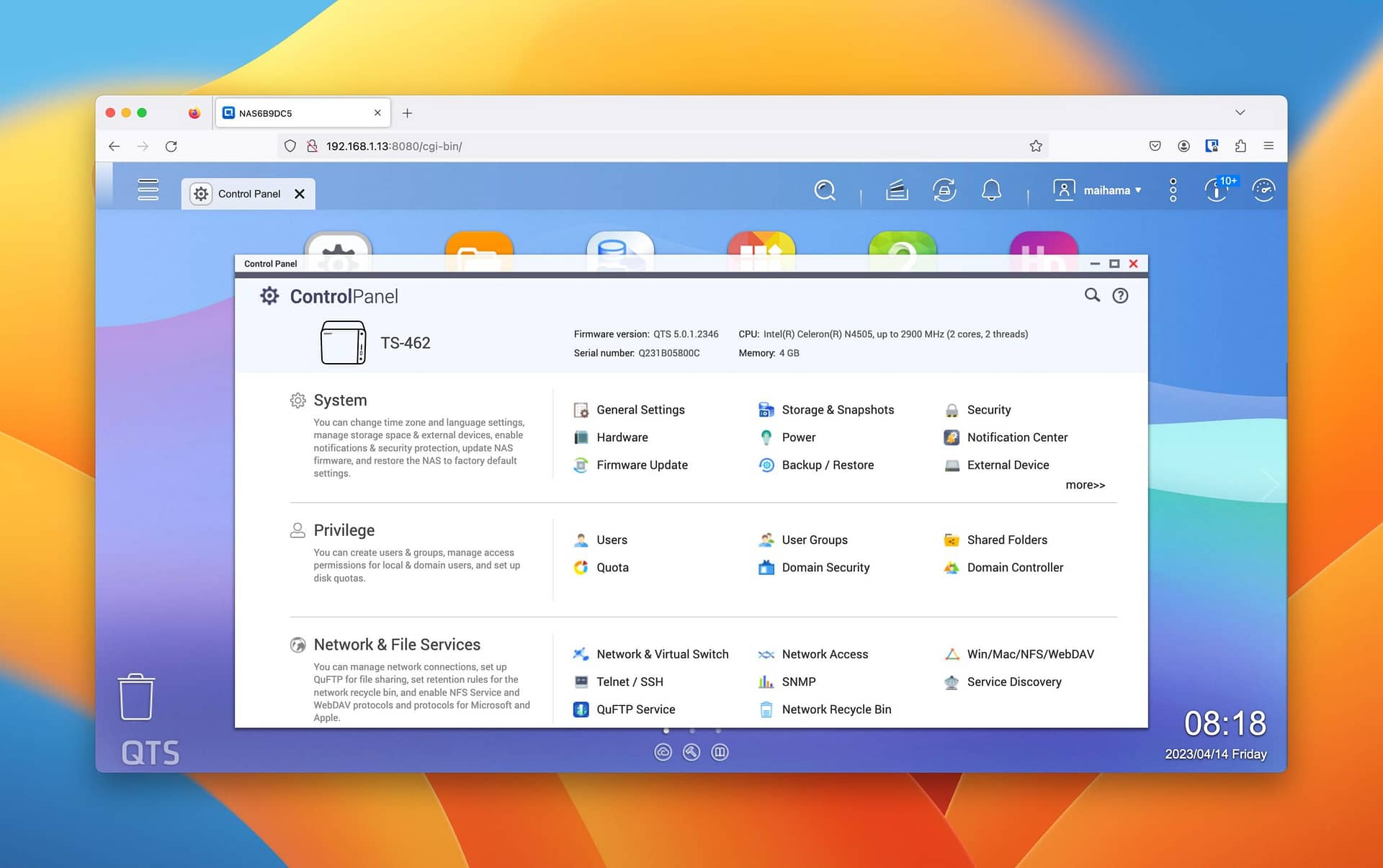 Before discussing our hands-on experience with the product, our QNAP TS-462 NAS Review will share details on a few apps. These help you make the most out of the TS-462. 
QNAP Photo Backup Solution – Mobile Phone Photo and Laptop Backup
Today, people often run out of mobile phone storage, which can become an inconvenience. Smartphone users used to appreciate Google Photos. But since its free and unlimited storage service ended, users are looking elsewhere for a budget-friendly alternative.
QNAP NAS offers reliable and secure storage with productivity and capacity benefits. You can back up your Google Photos by installing MARS on a NAS and signing in with your Google account.
With the QNAP NAS like TS-462, you can have ultimate control over your data while benefiting from massive storage capacity. You can also benefit from lightning-fast transfer speeds and backing up your PCs, Smartphones, external drives, and cloud storage. As a result, QNAP NAS can save you from changing subscription plans, reduced capacities, or increased cloud storage costs.
The massive storage capacity of the NAS helps free up space on your PC, Smartphone, etc. It can also connect to expansion units for additional space as needed.
The 2.5 GbE product line of QNAP enables you to upgrade to 2.5GbE networking and enjoy faster speeds. Backup times decrease, saving you from waiting for transfer progress bars to complete.
Here are the advantages of QNAP Photo Backup Solutions:
Smart Albums
QuMagie makes use of AI-powered image recognition for photo searching and intelligent classification. If you have similar-looking images, these will group in albums like People, Places, Things, and Events. You can also search easily with filters by timelines, tags, etc.
With the Qsirch search engine on NAS, you can experience smoother file searches via keywords and photo metadata. The latter includes camera brand, colour, and camera lens specs. 
Easy Media File Management and Transcoding 
Organise photos and videos stored on your QNAP NAS with Qfiling. It lets you include text or image watermarks in photos/video files.
With CAYIN MediaSign Player, uploaded photos/videos in HEIF/HEVC formats can be transcoded to MP4 format for easier playback.
Qfile is a dependable mobile app that automatically uploads mobile photos to your NAS after shooting them. You can also access your photos remotely while on the go.
It is also simple to share photos in bulk with family and friends. Just create personalised download links for folders/files and distribute them via email or social media. Setting a password/an expiration date for links helps protect your file sharing even more.
Snapshots for Data Protection
Attacks by ransomware are on the rise and target infrastructure, government agencies, non-profits, and private individuals/businesses. Fortunately, the QNAP NAS support point-in-time snapshots and comprehensive backup features. These protect and restore crucial files/data while preventing downtime. 
You can restore the affected files or the entire system to the previous state that the snapshot recorded. Do this if your system faces ransomware attacks or other unanticipated circumstances.
A snapshot is similar to a photo since it captures your system and data in seconds. All QNAP NAS units support it, but not all NAS manufacturers have done the same for their products. 
Snapshots are the most effective method for securing your files and data. They use less storage space and are more adaptable than conventional backup techniques.
Here are its features: 
Volume and LUN 
Protect your NAS folders, files/data, and iSCSI LUNs.
Block-based 
Supports incremental backups that save space. It works by only copying modified data.
Versioning
Snapshots regularly to lessen the risk of data loss.
Restore in a Single Click
Restore specific files and folders only or the entire volume/LUN.
Auto-snapshot Before RTRR/rsync 
If the file is in use, automatically take a snapshot of a volume/LUN before backing up with RTRR/rsync.
Snapshot Agent Tool
The tool aids servers in producing consistent shots for VMware vSphereTM Client and Microsoft VSS.
Snapshot Vault
Centrally stores NAS snapshots from different devices. For data access, you can copy these remotely as a local volume.
Guaranteed Space for Snapshots
Reserve a dedicated spot for keeping shots since the value is 20%. It guarantees you will have enough space for new ones.
Snapshot Clone
Quickly copy a volume/LUN as a volume/iSCSI LUN on a QNAP NAS without interfering with running system processes.
PLEX Media Server
Installing PLEX Media Server from the QNAP App Centre allows streaming media files stored on the TS-462. You can enjoy these via mobiles and streaming devices, including Roku, DLNA, Google Chromecast, and Amazon Fire TV.
PLEX is a platform for media management with two segments: PLEX Media Server (media server software) and PLEX (playback application). This setup makes maintaining file collections convenient since your library becomes accessible via the PLEX app. 
If you like maintaining collections of music, videos, and photos locally, you can rely on PLEX. It allows you to create a media server you can access always and offers playback apps on multiple platforms. 
PLEX expanded its library of free streaming content with preprogrammed shows, movies, and channels. The advantage of this is you will not need to store these on your server.
PLEX is one of the top-rated platforms with an easy setup process, organisational tools, and reliable performance. It can also play most file formats. For music, these include MP3, FLAC, M4A, and WMA. 
The video formats that PLEX supports include MP4, AVI MKV, DIVX, MOV, and HEVC. Supported image files include JPG, RAW, PNG, and TBN. Aside from supporting multiple file types, you can stream 4K content and convert non-natively supported files.
Setting up the Plex Media Server
To start using this platform on the TS-462, you need to set up a server on the NAS. Do this using the PLEX Media Server app and add local libraries. PLEX is ideal for those with huge collections of local files with minimal device storage space.
Once configured, you can stream and download the data from the server using other devices. Plus, you can share your library with friends using the new cross-platform PLEX app.
PLEX is a comprehensive platform with an intuitive interface, making it excellent as a media server on the TS-462. One of the best things about PLEX is you can continuously expand your library of free streaming content.
Video Editing Directly off the NAS Using SSD Caching
Video editing is highly demanding on most systems, requiring fast processing speeds. When using the TS-462, you can edit videos efficiently via SSD caching. 
SSD caching is a cost-effective way to deliver improved performance to computers that use older hard drives. In addition, this technology is easy to configure, making it excellent for amateur video editors.
SSD cache acquires faster storage with reduced latency, allowing the NAS to deliver all-around performance. Plus, it offers high speeds by storing data you frequently access on SSDs.
SSD caching is highly beneficial for IOPS-demanding uses like virtual machines and databases like online transaction processing and email servers.
Implementing an SSD cache to the TS-462 and selecting the proper cache mode for your needs have multiple benefits. Aside from improving system performance, it can maximise storage space while reducing costs.
QNAP SSD Technology
QNAP uses an SSD technology based on disk input and output reading caches. When accessing the system hard drives, it stores the data in the SSD. 
To maximise performance, the TS-462 reads the file from the SSD cache. So if you need the data again, the system will not need HDD access.
SSD enables high-speed data transfer. As a result, SSD caching improves file access speeds when the TS-462 needs random read requests.
The default algorithm of the TS-462 is LRU, which offers higher HIT rates. However, it uses more resources from the CPU. When the cache is maxed-out, the algorithm prioritises removing the least accessed items.
FIFO is another algorithm utilised by the SSD cache. Although it requires minimal CPU resources compared with the LRU, it offers a lower HIT rate. Instead of deleting the least used data, it discards the oldest ones in the cache.
Qtier
QNAP implemented Qtier, a technology that combines SSD speed and HDD capacity in one NAS to achieve the highest efficiency. It automatically transfers data between SSDs and HDDs based on frequency hits via a 12Gb/s SAS controller. It also prioritises access to frequently used or hot data.
When using Qtier, you can enjoy improved system performance even with demanding workloads and applications. In addition, Qtier continues to provide high-capacity storage for cold data or files you do not frequently use.
The Qtier IO-awareness boosts IOPS performance by setting aside a cache-like space when requiring high random read/write applications.
Improved Performance in Demanding Environments
SSD caching on the TS-462 helps significantly boost IOPS performance while reducing latency for storage volumes. This solution is ideal for virtualisation, databases, and other IOPS-demanding tasks.
With this technology, the TS-462 becomes an excellent NAS for streaming and other home uses. Its capabilities also make it suitable for video editing.
Performance of the QNAP TS-462 NAS
The TS-462 delivered excellent performance during our tests. It maximised the 2.5Gbps and provided fast transfer speeds when it came to file transfers. It also worked perfectly in storage & file management and hosting an intranet or small websites.
We were also impressed with its fast processing speed, and that is thanks to its 4GB RAM. In addition, it worked excellently for file storage, backups, and security. This NAS functioned seamlessly as a PLEX media server, which allowed us to stream various media.
We did not experience any issues while using this product. Plus, all features worked better than expected.  
QNAP TS-462 NAS Review Summary
The QNAP TS-462 is a highly capable and feature-rich NAS ideal for home users and amateur video editors. It has powerful hardware, intuitive software, and many innovative elements, making it a versatile platform. Plus, it has multiple security features that keep data safe from ransomware. 
We highly recommend this product to all home users and newbie video editors. Although it is more expensive than other NAS products, it is an excellent investment. This flexible and notable storage has all the necessary capabilities of a solution for video editing and home use.
To learn more about the TS-462 NAS, visit the official product page of QNAP.