Recently, the Razer team released a new product, which we will discuss in our Razer Stream Controller X Review. The Stream Controller X is their latest offering for streamers. It runs the Loupedeck software and shows off the lack of knobs, a first among its kind. 
The Stream Controller X is an alternative option to the previous multi-knob Stream Controller. It is a programmable product that targets streamers who want intuitive control of various apps and tools. And the best thing about this is it is part of the Razer ecosystem.
With 15 buttons and numerous improvements over its predecessor, does it meet all the needs of content creators? Read our Razer Stream Controller X Review to find out.
Razer Stream Controller X Packaging
The Stream Controller X arrived in typical Razer packaging with green and black colours. In front, you will see the product image with its name, company logo, and some of its primary features.
There is also a list of additional features at the back of the box. Plus, you will find information on its package contents, system requirements, tech specs, and product dimensions.
Inside the box, the Stream Controller X ships with additional accessories. These include the removable magnetic stand, a 2m USB-C to USB-A cable, a Razer logo sticker, and an instruction booklet. 
Razer Stream Controller X Review – Design and Functionality
This product has a smaller profile than controllers with a more streamlined form. We took note of this aspect while creating our Razer Stream Controller X Review. Also, we noticed it was built at a slight angle, allowing you to set it even without the stand. 
It still has some tilt, and its rubber feet keep the controller stable without the stand. Moreover, a detachable faceplate provides new designs and styles to customise your setup. 
The Stream Controller X comes in a robust matte black plastic chassis, equipped with raised rubber feet for stability. Its back has a rectangular cutout to accommodate its USB-C cable. The faceplate, which is magnetically attached and easily interchangeable, displays the Razer wordmark at the centre-bottom.
Enhancing its functionality, the new Stream Controller X boasts 15 face buttons, each featuring a backlit LCD that presents clear and vibrant icons. These buttons are fully programmable using the Loupedeck software. However, it is worth noting that two buttons are dedicated to navigation, leaving 12/13 programmable buttons on each screen.
Since it has a slight angle, you can position the Stream Controller X horizontally on your desk. Alternatively, you can utilise the provided v-shaped magnetic stand to set it at a 50-degree angle. 
The stand features a cutout for its USB-C cable. However, we think Razer could have done better since it sets some strain on the cable. Nevertheless, the stand is robust, and the deck easily snaps into place.
Rest assured, the substantial weight of the stand prevents it from sliding across your desk when you press a button. Razer/Loupedeck was mindful of this concern and equipped the bottom of it with anti-slip micro-suction tape.
Key Features of the Razer Stream Controller X
We made a list of the features of this controller in our Razer Stream Controller X Review. You can check this list to determine if what the product offers is adequate for your needs. 
Accessible Control – All at Your Fingertips
The Stream Controller X has 15 programmable Switchblade buttons. You can create shortcuts for streaming, music production, video editing, etc. Making a few taps on them allows you to control your lights, apps, audio, and other elements.
You can also enjoy convenient visual navigation since each button has customisable icons.
Multi-link Macros for an Automated Process
A push of a key lets you kickstart your stream. Multi-link Macros allow you to create the most convenient shortcuts by linking multiple actions to one button. You can even trigger these commands simultaneously or consecutively to automate workflow parts. 
When customising the Multi-link Macros, all you have to do is drag commands from the action panel. Then, drop these into the custom action editor to include them in your settings.
Made for Multi-tasking Efficiency
Razer offers intuitive navigation and organisation for the Stream Controller X. You can sort and store many actions within one button and create custom profiles for various tasks. Plus, it is possible to enable Dynamic Mode for automatic profile-switching based on the app or program.
Works with the Leading Software for Streaming 
Stream Controller X partners with Loupedeck software. It allows instant setup with ready-made profiles for streaming, productivity, content creation, etc. Plus, you can download plugins for essential tools like OBS Studio, Twitch, Voicemod, and Spotify.
Aside from those apps, you can download plugins for Razer platforms like Key Light Control and Audio Mixer Control.
All-in-One Marketplace Powered by Loupedeck
The Loupedeck Marketplace is a convenient platform with all the essential tools. You can download profiles, plugins, and icon packs to customise your Stream Controller X.
Anti-slip Magnetic Stand for Optimal Viewing Angles
The magnetic stand of the Stream Controller X allows you to display the product while keeping it securely in place. It is detachable and adjustable by a 50-degree angle. As a result, it offers a clear view of your buttons while its grippy feet keep the controller in place.
Dynamic Mode on Stream Controller X
When enabling Dynamic Mode via Loupedeck software, Stream Controller X automatically changes its profile based on the app you use. As a result, it allows you to access your preferred actions seamlessly and conveniently while working across multiple software.
Group Actions in Folders
Store actions into folders for categorisation and convenient navigation.
Specifications
Our Razer Stream Controller X Review will list the product specification. In addition, we will provide details about the controller, including dimensions, compatibility, warranty information, etc.
Interface:

15 Switchblade Buttons

Dimensions:

111 x 80.7 x 30mm

Weight:

177g (including angle stand), 146g (Stream Controller X only)

Connectivity:

2m USB-A to USB-C cable

Screen angle:

8 degrees (Stream Controller X only), 50 degrees (with angle stand)

System Requirements:

Windows 10 (or later), macOS X 10.14 (or later), Loupedeck software

Warranty:

2 years
Hands-on with the Razer Stream Controller X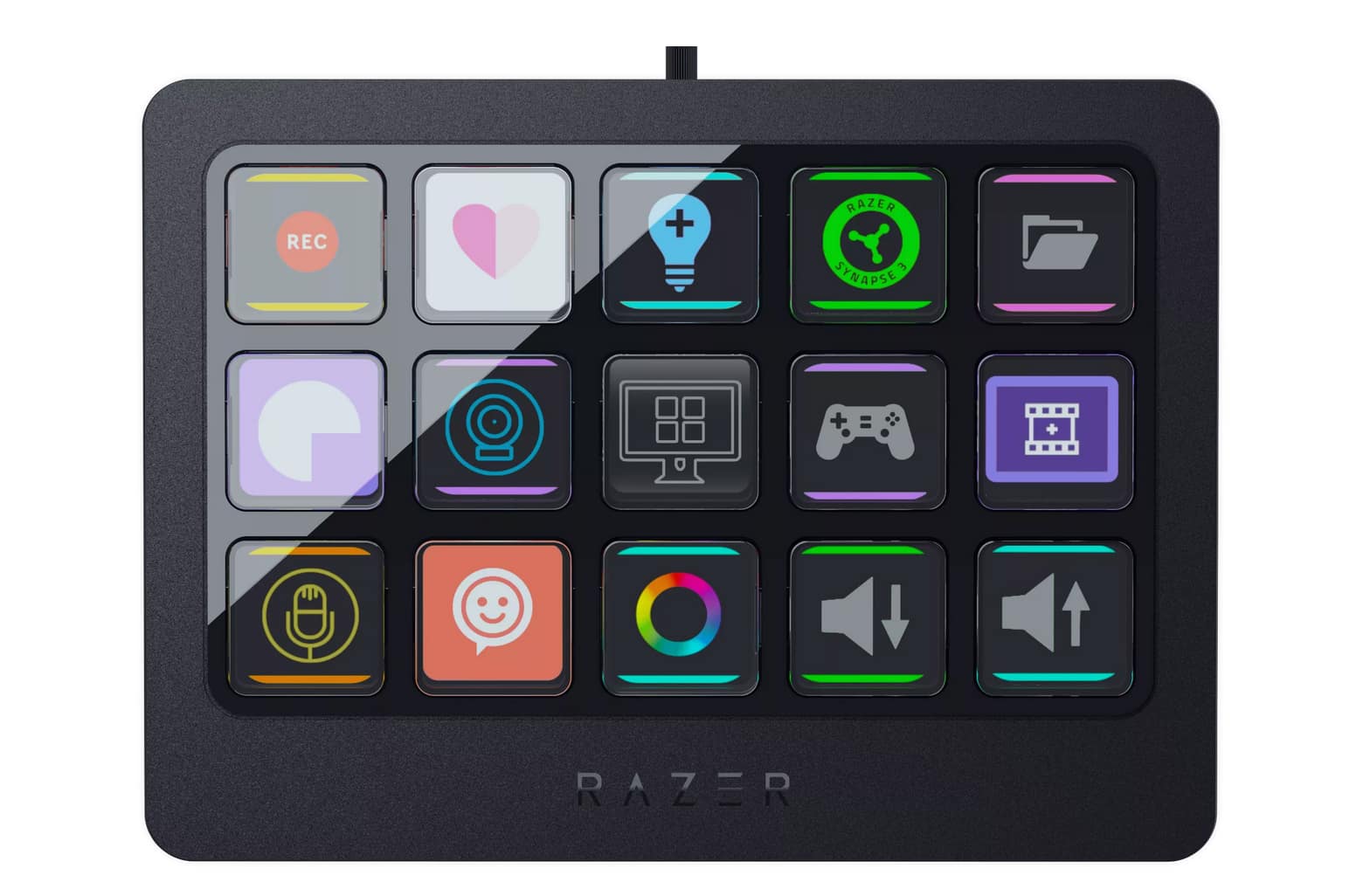 We tested the product to discuss our hands-on experience in this Razer Stream Controller X Review. Before discussing its performance, we will inform you more about setting up the controller and the Loupedeck software.
When setting up the Stream Controller X, you only need to connect it to your PC or Mac. As we mentioned, Razer included a 2m USB cable in the box, which you will use for connecting the controller.
Once connected, you need to install the Lopedeck software. It will automatically detect Stream Controller X with all the available plugins and profiles. These include native plugins for Twitch, Philips Hue, Spotify, and the Loupedeck AI Assistant.
Aside from native plugins, you can find more profiles and plugins for more programs in the Loupedeck Marketplace. 
The latest update of the Loupedeck software has a significantly improved plugin for OBS Studio. It also has a set of intuitive commands that make this controller and other compatible hardware more viable tools for streaming.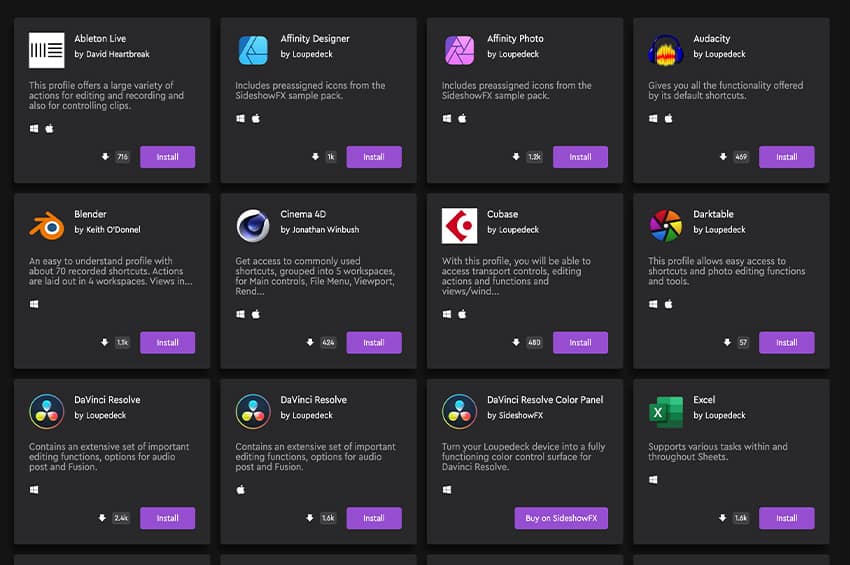 The software interface is user-friendly, so setting up macros and shortcut keys is easy. Plus, it has an excellent design, which makes navigating through menus convenient.
One of the best things about Stream Controller X is its buttons since they shine brighter than other controllers. The brightness of these buttons makes the controller a stunning addition to any setup. Plus, you can choose to use existing icons or add your designs.
Aside from looking brilliant, the buttons looked cleaner than the original Stream Controller. The pre-loaded icons also looked perfect out of the box. Those who want to adjust the button brightness can use them on the Stream Controller X.
Since it had pre-loaded profiles via Loupedeck, we only needed minimal changes and customisation using the software. But the best thing about the product is it incorporates all the customisation options available in Loupedeck consoles. 
Another highlight of this product is its responsive buttons. Pressing feels good, and the macros and shortcuts immediately load with a single tap. It also allows the execution of simultaneous and consecutive actions, and everything works seamlessly.
The Stream Controller X is an excellent product that works without issues.
Razer Stream Controller X Review Summary
Stream Controller X is a long-awaited content creation product from Razer. It is a simple and stylish controller with improvements that prove that Razer is listening to its consumer base. Aside from that, this product shows that the brand is ready to take its streaming gear to the next level.
We were impressed with the controller when we tested it for our Razer Stream Controller X Review. It is a well-built product with tactile buttons and delivers excellent performance. Plus, it is fast, efficient, and highly responsive, making it ideal for boosting productivity and convenience.
Aside from its excellent performance, we love the user-friendly Loupedeck software. The added functionality makes it ideal for streaming and various uses.
Overall, we highly recommend the Stream Controller X. It is perfect for streamers, gamers, content creators, and anyone who wants a more efficient workspace to boost productivity. Plus, it is a well-designed, durably built, and user-friendly controller like all Razer products.
To learn more about the Stream Controller X, visit the official Razer product page for more details.