Gaming controllers mostly have the same sizes, and it can be quite troublesome for gamers who have smaller hands. So NACON created a controller aimed at them, and you can learn about it in our RIG Pro Compact Controller review.
The RIG Pro Compact Controller is a wired product that takes all the features of a standard-sized XBOX controller. These are all packed into a smaller package that works just as well. While it's a "pro controller", it has a few elements that leave the RIG Pro a bit short of the title. 
But does it perform like a pro, and will smaller-handed gamers get to fully enjoy their gaming moments? Find out here in our RIG Pro Compact Controller review. 
RIG Pro Compact Controller Packaging
When we received our RIG Pro Compact Controller, it came in a straightforward package without much of the usual frills. The package sports a clean white theme, making it easier to see the numerous details about the controller. 
Looking inside the box, the controller is kept securely in place along with a few other inclusions. These are a few paperwork like the warranty information, customer support card, and how the Dolby Atmos works. You'll also find a few NACON/RIG decals present in the box.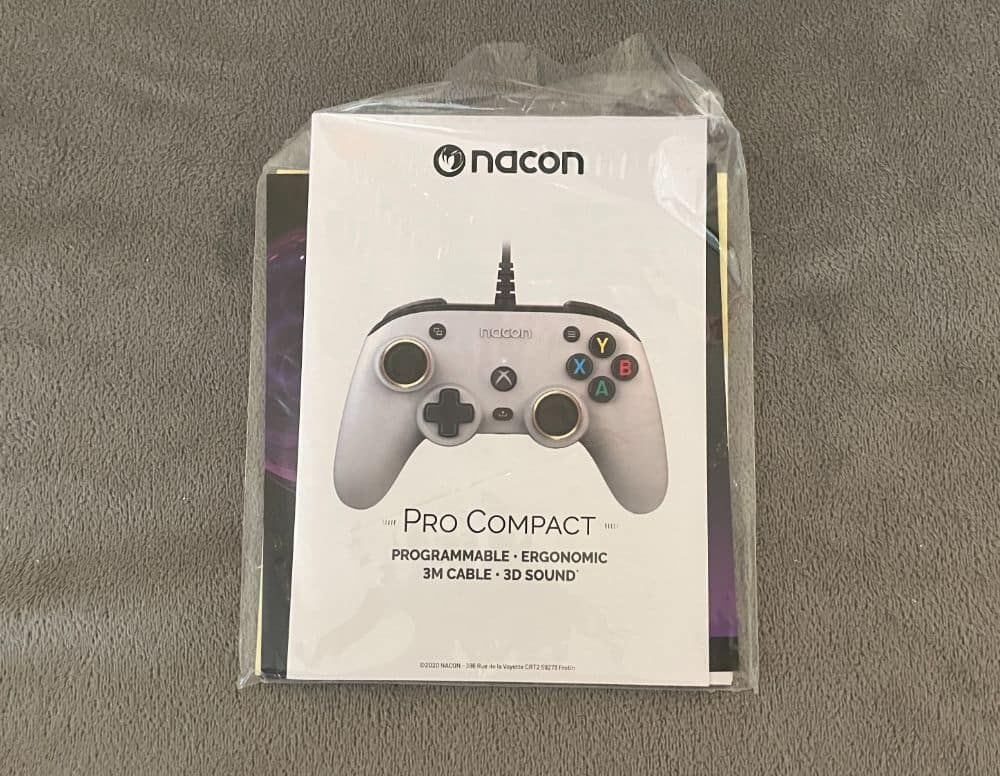 Next on our RIG Pro Compact Controller review, we're discussing the controller's design and functions. 
RIG Pro Compact Controller Review – Design and Functionality
The RIG Pro Compact Controller is similar to the DualShock controller for the PS4. And compared to the XBOX gamepad, this is noticeably slimmer with a thinner body and shorter handles.
Its grips feature deeper grooves along the rear of the handles. These let you guide your middle finger to a specific yet comfy grip.
According to the company, its design is about 15% smaller compared to the official XBOX controller. With that, it should lead to less fatigue or strain, and because it's only 203g, the controller is generally lightweight.
The controller has a matte front and a nicely textured back, which are divided by asymmetric thumbsticks. These are fashioned with a gold-rimmed housing, smooth plastic top, metal-like face buttons & D-pads, plus wide shoulder bumpers.
Surprisingly, these triggers don't function the same way. Instead, they're more dainty than one would expect. 
Let's continue our RIG Pro Compact Controller review and look into its button layout and the Dolby Atmos. 
Button Layout
The button layout of the Pro Compact Controller is very much comparable to that of the regular XBOX controller. It features all the standard buttons, which are all positioned in the right spots. 
It sports offset analog sticks while its cable features your standard breakaway mechanism that's close to the USB connector. You'll find a couple of little tweaks that the company made to the controller. 
You'll notice that the view and menu buttons are further apart and higher than usual. These are much closer to the analogue stick and the Y button than the XBOX's. The latter's button is set below the centre of the gamepad, while the share button is just below that. 
The only main change or addition to the RIG Pro Compact Controller is the little switch. It's located on the rear portion of the gamepad. This switch will let you toggle the custom button mapping on/off, and we think this is for tournament gaming.
The controller's D-Pad features deep travel, which is great, but it only provides a small amount of tactile feedback. When it comes to its cardinal directions, they all feel good and comfy. 
Do note that it can be tricky to feel the direction shift beneath the thumb when doing quarter circles. That also goes for diagonal presses.
Dolby Atmos
We can say that one of the best upgrades for this controller is related to audio. The RIG Pro Compact Controller has a license for the Dolby Atmos – a setting for premium virtual surround sound.
Note that one of the primary features of the controller is its 3.5mm audio port for your headphones. It also unlocks and gives access to the Dolby Atmos application on XBOX or PC once you plug it. 
It means you'll get the spatial audio enhancements from Dolby via wired headsets/headphones you link to the controller.
Let's move on with our RIG Pro Compact Controller review and check the controller's different key features.
Key Features of the RIG Pro Compact Controller
Compact Yet Powerful Controller
The controller features a collection of cool customisable features. These include button mapping, trigger sensitivity, adjustable sticks, and vibration motors.
Full Control in Comfort
You won't have to worry about straining your hands when gaming. It has an ergonomic shape, compact size, and a textured back surface for heightened comfort with optimal grip. 
Play with ease no matter what game you're focusing on. And even after long gaming sessions, you won't feel any discomfort after using the controller.
More Than the Classic Features
NACON's controller is a good alternative. It's perfect for gamers looking for quality performance, comfort, and the right fit for smaller hands. 
Also, it offers the classic features found on the XBOX Controller and a dedicated app present on the Microsoft Store. This lets you access the Advanced Mode settings to create then customise your gaming profile.
Designed for XBOX
The RIG Pro Compact Controller is an officially licensed wired controller. So, it can be used for the XBOX Series X/S and XBOX One. Not only that, but it's also compatible with your PC. 
Universal Ergonomics 
This controller is 15% smaller and thinner compared to the classic gaming controllers. The design was integrated to fit a wider range of hand sizes, especially for smaller hands. 
It has that textured grip to guarantee stability and comfort even during long gaming sessions. 
Customisation Right at Your Fingertips
Pro Compact Companion App – you can find it on the Microsoft Store for Advanced Game Mode customisations. These include stick settings, programmable buttons, and trigger sensitivity controls. 
Dolby Atmos for Headphones
Bring out the power of the Dolby Atmos in your games. With the included activation, just download the Dolby Atmos application, plug in your headphones to the controller, then you're all set. All you have to do is enjoy audio precision working as your competitive edge.
The next part of our RIG Pro Compact Controller review will be all about the controller's specifications. 
Specifications
This gaming controller's connection is a built-in USB cable. It has an asymmetric joystick position and features Dolby Atmos surround sound. For its cable, it measures 300cm, which is quite long enough for comfortable gaming. 
When it comes to compatibility, the controller can be used with Windows, XBOX series, and XBOX One.
Hands-on with the RIG Pro Compact Controller
This part of our RIG Pro Compact Controller review will discuss the performance of the RIG Pro Compact Controller. We'll see if it performs excellently and if it really is comfortable to use even during long gaming hours.
Nacon developed a configuration app for the Pro Compact. You can use it on both PC and consoles through the Windows and Xbox stores.
In the Pro Compact app, you can switch inputs for triggers, face buttons, and D-pad directions. Plus, you can swap the left and right analogue sticks. It also has independent response curve customisation for these analogue sticks.
Additionally, you can adjust the virtual trigger actuation. These customisations offer clearly defined presets specific to each gaming genre.
The Pro Compact app only allows for a single custom profile. But despite that, you can always easily switch between the controller's default settings and your custom profile. All you have to do is toggle using the rear switch.
To see how this controller performs, we tried using it to play various types of games. Even if it's small and affordable, the RIG Pro Compact performed excellently in our tests. It was comfortable to use, plus it was also accurate and responsive.
The contrast between trigger actuation and stick twitchiness of the modes was quite obvious. We were able to achieve precise aims and line up headshots faster than normal. While using the controller, we felt that we had more control in every game since swapping between modes was easy.
All the features available on the app made our experience with the controller more favourable. The wide range of customisable options allowed us to adjust the controller depending on the game we were playing. As a result, we had the advantage in all these games, giving us a professional gaming experience.
RIG Pro Compact Controller Review Summary
The RIG Pro Compact Controller offers a lot of great things, particularly for audiophile gamers with smaller hands. Its compact size makes it easier for those with smaller hands to use. And with Pro Compact's Dolby Atmos 3D implementation, you won't have to spend a fortune on a high-end headset.
Additionally, its user-friendly apps provide customisation options, which is excellent for those who want a fine-tuned experience. All of these customisations are well-implemented, which makes the Pro Compact even better.
Overall, we're highly recommending the RIG Pro Compact Controller if you want to have a professional gaming experience. To get your hands on this controller, you can purchase this product from the company's official website.