There are a ton of Wi-Fi 6 routers that are out on the market today. But in our TP-Link Archer AX73 Wi-Fi 6 router review, we're going to focus on one awesome product from TP-Link. 
The Archer AX73 Wi-Fi 6 router is a high-performing AX-5400 wireless router. It supports Wi-Fi link speeds of up to 5400 Mbps with dual-band setups. 
This product is budget-friendly, and TP-Link claims that it's one of the best Wi-Fi 6 routers around. But is it really as good as what they claim? Does it truly provide perfect and uninterrupted connection at all times? We'll find out here in our TP-Link Archer AX73 Wi-Fi 6 router review.
TP-Link Archer AX73 Wi-Fi 6 Router Packaging
The Archer AX73 arrived in a clean-looking and sturdy cardboard box. It has a lot going on on its exterior to provide you with adequate details about the router.
In front, an image of the Archer AX73 is set at the centre. TP-Link and its logo can be found on the upper-left corner of the box. Opposite the company's name and logo is a sign stating that the product works with Wi-Fi 6. 
Above the image, you'll see "Faster, Broader, Unstoppable" written in bold letters. It's for everyone to expect excellent performance from this router. Then under the image, you'll see a list of the Archer AX73's key features. 
When we looked inside, the Archer AX73 was kept in another box that's wrapped in plastic. For its antennas and power supply, these were all individually wrapped in plastic as well. 
All these items were set securely and organised by a divider. So, you don't have to worry about these hitting each other while in transit.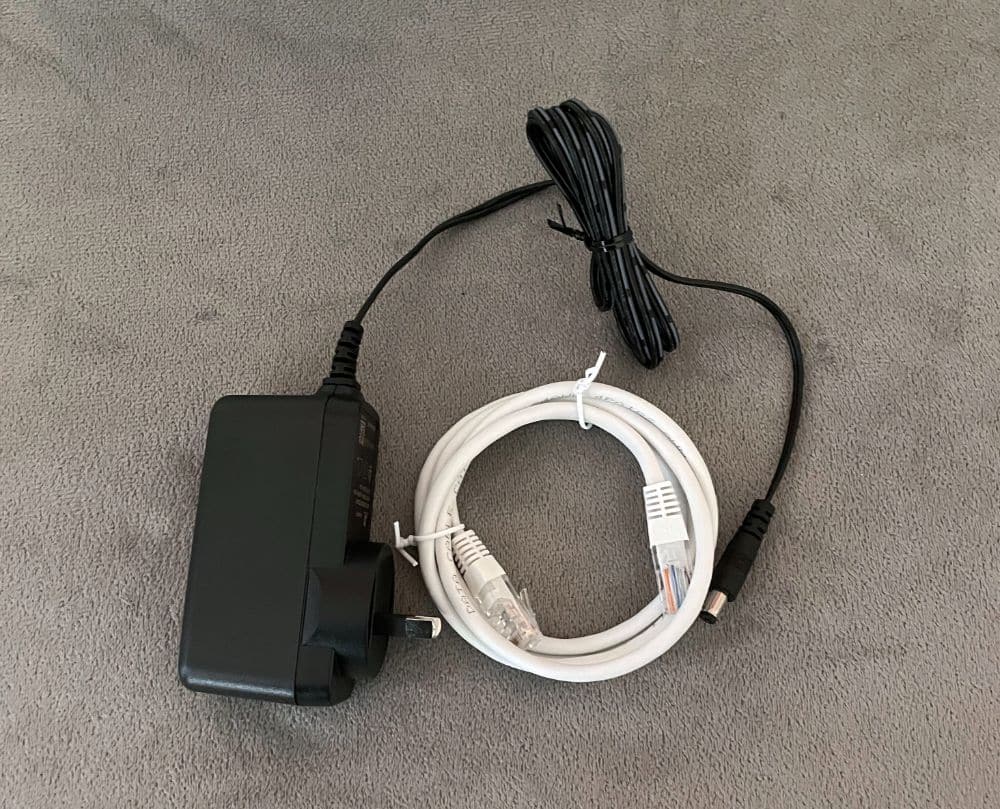 Other than the router and power supply, you'll find other items inside the box. These include a CAT5E Ethernet LAN cable, an instruction manual, and various documentations.
Now, let's focus on the design and functions of the router in our TP-Link Archer AX73 Wi-Fi 6 router review. 
TP-Link Archer AX73 Wi-Fi 6 Router Review – Design and Functionality
The TP-Link Archer AX73 Wi-Fi 6 router's build is made of a sturdy plastic case with a matte black finish. There's another huge piece of plastic at the top of the unit, but it has a glossy black finish instead. It's a unique piece that somehow breaks the pattern covering almost the whole upper section of the router. 
This router comes with a nice grille that covers the rest of the panel. It forms a multi-level matte plastic relief which should offer adequate ventilation for the product. TP-Link designed the router so you can wall-mount it via the two mounting holes positioned along its rear. 
Similar to the top, the entire base of the unit is filled with ventilation holes for optimised cooling performance. 

There are a total of seven LED lights in this area, specifically on the upper edge. These are quite discreet, though you can choose to switch them off if the LEDs bother you at night. 
From the left, you'll find the Power LED which is coloured green when everything's working properly. It's followed by 5GHz and 2.4GHz LEDs, then the next one is responsible for displaying the internet connection's status. 
When there's no cable connected, it'll remain switched off. If there's a cable but without a link, the LED will turn amber. Once you find a proper internet connection, the LED will turn green. 
Next is the back portion, and we'll know all about it in this TP-Link Archer AX73 Wi-Fi 6 router review. 

Here, you'll find four LAN ports and a single WAN port, as well as a typical-looking round power button. Next to it is a slot for the router's power socket. Other buttons that are present include the LEDs off, Wi-Fi, and WPS. 
Beside these buttons, you'll find another stud that resets the router. 
On the right side of the Archer AX73 Wi-Fi 6 router, you'll see one USB 3.0 port. It's specifically for adding an external storage device or printer to the product.
In addition, the rear panel keeps the mounts for the rest of the four antennas in this area. All six antennas sport the same length, have diamond-shaped cross-sections, and a glossy plastic coat. 
Each of these rotates a good 180-degrees in the vertical plane, and you can tilt them at 90-degrees. However, do note that these antennas aren't detachable. 
The TP-Link Archer AX73 Wi-Fi 6 Router for Media Sharing and Backup Services
These two are supported by the router, and it's all thanks to its USB 3.0 port. You can link a media server to it, giving everybody access to music and movies. 
If not, you can link an Apple Time Machine-compatible drive to enjoy over the air backups. Just remember that Mac is required to take advantage of the latter. Key features are our next discussion in this TP-Link Archer AX73 Wi-Fi 6 router review. 
Key Features of the TP-Link Archer AX73 Wi-Fi 6 Router 
Gigabit Wi-Fi Connection for 8K Streaming 
The TP-Link Archer AX73 Wi-Fi 6 Router allows fast downloads, high-speed streaming, and gaming simultaneously. And that's thanks to the 5400 Mbps Wi-Fi. With this internet speed, you can stream multiple 8K videos with no lags.
The Newest Generation of Wi-Fi Technology
Wi-Fi 6 is the latest generation of Wi-Fi. It reduces lag and enhances internet speed. Plus, it boosts network capacity to allow simultaneous connections on your home network.
This router from TP-Link equips the 4T4R and HE160 top structure and on the 5GHz band. With that, it enables 4.8Gbps high-speed connection.
Wi-Fi 6 is the next generation Wi-Fi technology standard. Also known as AX Wi-Fi or 802.11ax Wi-Fi, it enhances the current 802.11ac Wi-Fi standard. Originally, it was designed in response to the increasing number of devices in the world.
If you own multiple smart gadgets or a VR device at home, Wi-Fi 6 might be the best for you.
Connect over 200 Devices
With OFDMA and MI-MIMO combined, the Archer AX73 can handle multiple devices, even while streaming and gaming simultaneously. This router is guaranteed to make your home network future-proof since it has a greater capacity to connect more devices.
OFDMA allows different devices to share a single transmission team, resulting in increased efficiency. On the other hand, MU-MIMO simultaneously transmits data to the connected devices using multiple streams.
Extensive Wi-Fi Coverage with Pioneering Technology
The Archer AX73 lets you enjoy stable Wi-Fi connections in all areas of your home. With six antennas, high-power FEM, Beamforming, and 4T4R structures combined, the router adapts Wi-Fi coverage to fit your home. As a result, the signal strength is concentrated towards your connected devices.
HomeShield 
TP-Link's premium security services come with advanced IoT and network protection features to keep your home network safe. HomeShield keeps all connected clients protected against malicious sites, port intrusion, and DDoS, providing a safe and secure network environment.
HomeShield blocks unauthorised access, protects against cyber threats and encrypts your data to keep these safe. It also provides strong parental controls and provides more detailed reports on your home Wi-Fi. With HomeShield, you have all the necessary tools to manage your network.
More Vents for Reduced Heat
The Archer AX73 features improved vents to reduce the router's heat. As these vents dissipate the heat, the Archer AX73 can unleash its full potential. The vent design takes up 167cm² of the router's top surface, which effectively prevents heating.
USB Sharing
The Archer AX73's USB 3.0 port allows for media sharing and private cloud building with ease. With that, you can share and provide access to media files.
Specifications
Now, our TP-Link Archer AX73 Wi-Fi 6 router review will focus on the different specifications of the router. It utilises AX-5400 Wi-Fi speeds: 5GHz – 4808 Mbps (802.11ax HE-160) and 2.4GHz – 574 Mbps (802.11ax). 
When it comes to its processor, the router has a 1.5GHz Triple-Core CPU. As for the Ethernet ports, there's a single Gigabit WAN and four Gigabit LAN ports. 
It provides us with a USB 3.0 port and supports NTFS, HFS+, exFAT, and FAT32 partition formats. The supported functions include FTP Server, Samba Server, and the Apple Time Machine. 
The Archer AX73 Wi-Fi 6 router is powered with 12V – 2.5A and has an OpenVPN, PPTP server. 
To make it run efficiently, it requires Firefox 12.0+, Internet Explorer 11+, Chrome 20.0+ and Safari 4.0+. If not, you can use other JavaScript-enabled browsers for the Archer AX73.
You can utilise a cable or DSL modem if necessary, and you'll need an internet provider subscription for internet access.
Hands-on with the TP-Link Archer AX73 Wi-Fi 6 Router 
Of course, our TP-Link Archer AX73 Wi-Fi 6 router review won't be complete without seeing how the router performed. But before we get into that, let's look at how easy or challenging it is to configure the product.
Setting-up
Before anything else, we had to install the Tether Mobile app before running the new device setup wizard. From there, we simply followed the instructions to complete the configuration process. 
We suggest that you do this process, though you can also set up the router via the classic process. This is done by linking via Wi-Fi or cable. To note, the initial login information can be found on the sticker at the base of the router's case.
Tether App
The TP-Link software is smarter and more optimised than before. It now has a robust and top-notch parental control feature that's essential for most users. This adds more security to IoT and Smart Home devices with the help of the new HomeSuite security.
Not only that, WPA3 security is also supported by the Archer AX73 Wi-Fi 6 router right out of the box.  
Interface of the Tether App
Basic features of the router can already be seen on the Tether App's interface. Its primary screen shows the passwords and names of the primary and guest networks. Aside from these, it also exhibits the number of active clients and connection status. 
Client Tab
When you shift to this tab, you'll see a collection of linked devices. These are categorised by name, but you can set high priorities to the important ones or block whenever necessary. 
HomeShield
This is the third tab on the main menu, and it isn't just parental control settings. It's an entire security service. 
To use it, you'll need a free TP-Link account, just like with the cloud-router management. And to note, the service is free but not for all features. Some are only available when you get a premium subscription. 
Here, you can try the premium trial for a month for free. If you like premium, it features DDoS attack protection, malicious content filters, advanced parental control settings, and accurate traffic statistics.
Tools Tab
This is the fourth tab, and this is where you can immediately re-configure the router. It's also the place where you can activate OneMesh, run diagnostics, set-up OneMesh, reboot, or update the firmware.
The Tether app is handy, but the web control panel has more comprehensive settings. We can see what it has in this TP-Link Archer AX73 Wi-Fi 6 router review.
Web Control Panel
The web control panel's main menu has a total of five sections, and its interface is designed to be adaptive. With that, it's actually easy and convenient to access via smartphone. 
Network Diagram Section
This area features all the primary information about the router. It also includes the internet connection status, wireless network parameters, and graphs of memory usage and CPU load.
This is also where you can see the list of active clients and mesh network devices.
Internet Section
The Internet section is an area where the router's primary configuration functions are reproduced. It's where you can determine the kind of connection you're using, or perform MAC-addressing cloning. 
Wireless Mode Settings
Wireless Mode Settings is where you can find more settings for the router. This area is where the TWT, OFDMA, and Smart Connect are activated. 
The Advanced Settings
Since a majority of the settings are here in Advanced settings, it has its own internal menu. To give you an idea of what these are, here's a list of the menu items you'll find.
The "Channels Aggregation" is a place where you can choose two LAN ports. Then, you can combine their bandwidth to link network drives supporting the function. 
Another is the "USB Storage Settings". You can make this accessible via the FTP or SMB on your local network or expose the FTP to everyone. Not only that, but the USB flash drive can backup Apple computers via the Time Machine app. 
We didn't really get the chance to try connecting a printer and USB modem here. Yet we assume that the port is exclusively for linking drives. 
It's good to remember that the Archer AX73 supports creating seamless networks with suitable signal amplifiers. However, it can't be combined to work as a mesh network with other routers. 
Our TP-Link Archer AX73 Wi-Fi 6 router review will now look into how good the Archer AX73 is. Let's see if it's something worth purchasing for all your connection needs. 
Performance

After configuring the Archer AX73, we tried it out extensively and it does provide fantastic coverage. The included antennas do a great job of spreading and extending the internet signal throughout the area, and we were impressed with its range.
Testing the router in a double story building it performed great. We received excellent Wi-Fi throughout the area, even when going through the second floor.
There were no noticeable drops in signal strength and the connection was easily strong enough to handle HD video streaming and the like. Surprisingly, the signal even reached our back and front yards without any issues; though of course, the speed decreased.
As for the connected devices, it was able to support everything we connected to it. These included tablets, smartphones, streaming boxes, laptops, and various smart home gear. Throughout the tests we did, we didn't experience any problems nor decrease in service across our connected gadgets.
TP-Link Archer AX73 Wi-Fi 6 Router Review Summary
TP-Link's Archer AX73 is an impressive router that does its job well. Although it's an affordable Wi-Fi 6 router, it provides incredibly fast speeds to multiple devices while keeping the network secure. Plus, setting it up is quick and easy, taking almost no time at all.
Once the router is configured, you can already enjoy the ultrafast speed that it has to offer. And with its multiple antennas, you can enjoy extensive networks in your entire household.
The Archer AX73 from TP-Link is one of the mid-range routers that support Wi-Fi 6. It's modern, fast, and is an ideal option for those who want an upgrade from their budget models. It doesn't cost a fortune, but it offers impressive network speeds, making the price-performance ratio attractive.
If you want to buy this product, check out the company's store locator to find authorised sellers in your area.