Ever since COVID-19, live streaming and video calls have grown more popular than ever. So, having a good webcam has become a vital element for it. Today, we're discussing an awesome product that you can read about in our AVerMedia PW315 Full HD Camera review. 
The PW315 full HD camera from AVerMedia is Zoom Certified and is a budget-friendly 60 fps camera that can capture great-quality footage. It's much cheaper compared to other brands like Logitech and Razer, yet its performance is quite notable too. 
If you need a full HD camera that offers excellent-quality features while on a budget, you're in the right place. Our AVerMedia PW315 Full HD Camera review's got you covered with everything from its features, design, functions, and performance. But before those, let's check out its packaging and what AVerMedia included inside.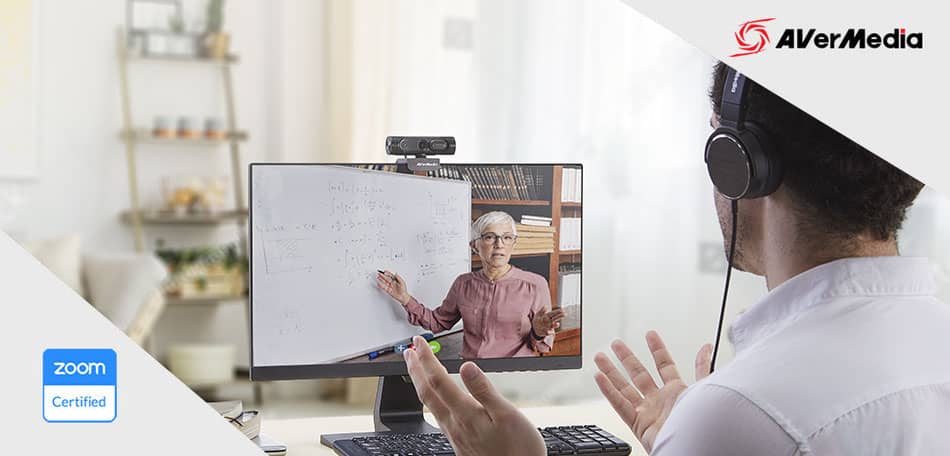 AVerMedia PW315 Full HD Camera Packaging
The PW315 full HD camera arrived in a thick cardboard box. We liked the sturdiness of it since it'll surely protect the camera inside. 
In front of the box, there's an image of the PW315 itself. To give you an idea of what it offers, its main features are listed beneath the image. 
You won't find much inside the package since this is a plug-and-play product. With that, the box's contents include the PW315 full HD camera, a corded USB cable, and a quick start guide.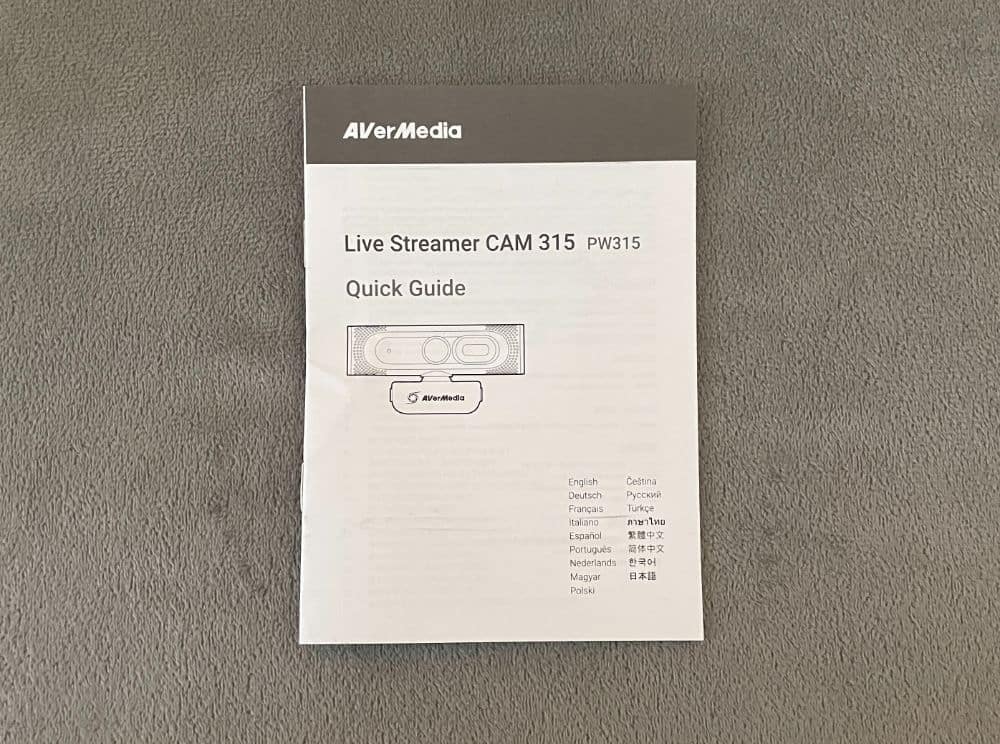 Next, our AVerMedia PW315 Full HD Camera review will cover this full HD camera's design and functionality. 
AVerMedia PW315 Full HD Camera Review – Design and Functionality
We appreciate AVerMedia for making the PW315 full HD camera a plug-and-play product. But despite that, you won't get the most out of it if you don't download their Cam-Engine software. 
It has a solid and durable build that we know will last a long time. Plus, it can clamp solidly and firmly at the top of your monitor. 

This PW315 full HD camera looks a bit like a mini soundbar. It isn't a bad thing since it still has a nice appeal to it. Plus, its dual speakers on each side of its wide-angle lens adds heft to its entire design. 
If you're thinking that it's going to be an issue for general mounting, don't, because it won't. Unless you're working with a thinner surface, positioning the frame with additional weight in mind can get a bit tricky. 
With that, if your webcam accidentally falls, we highly reckon that it'll survive. That's because its additional weight and solid design give off an extremely tough and sturdy feel. And before it even gives out, the PW315 would likely need a couple of serious knocks to happen. 
Its clip hinge is finely built, and it comes with soft rubber pads for additional grip. The camera even has a full 360-degree pan that's easy to maneuver while still staying solid in a single spot.  
The PW315 is a sturdy product, and it comes with an integrated shutter that slides over its lens smoothly. Not only that, but you can do a 360-degree rotation with it so you can turn the camera elsewhere. 
You'll find a hole at the base of its monitor mount to easily link the camera to a tripod. What's good about it is that it fits perfectly whether you're setting it on your tripod or monitor. 
It makes use of a USB-A cord that's 56.5″ long. With its length, it gave us enough room to link it to the rear or front port of our desktop. 
Aside from its integrated sliding privacy shutter, dual microphones are present on this camera. It's good to note that these produce loud yet echo-filled and tinny audio. Like with most webcams, the PW315 full HD camera features a LED that lights up when it's recording. 
Next in our AVerMedia PW315 Full HD Camera review, we're checking out the different key features of this camera. 
Key Features of the AVerMedia PW315 Full HD Camera 
Hyper-Fast Frame Rates for Lifelike Interaction
You can conference, stream, or do more with 1080p at 60fps videos that look excellent in any setting. You can even use it for presentations, virtual meetings, or even online teaching. 
Expand Your View with Ultra-wide 95-degree FOV
The PW315's ultra-wide 95-degree FOV lets you fit more people or backgrounds into its frame. And with its digital tilt, pan, and zoom, you'll get to focus on more details that are essential to you. 
Professional Features that Everyone Will Enjoy
The PW315 makes use of the CamEngine software that offers extra enterprise-grade features such as AI Framing. It will adequately frame your images on all engaged participants. 
Another feature that it has is speaker tracking which instantly zooms on anyone who's speaking. As for AI-powered noise cancelling, it removes and identifies any ambient sound that can interfere with seamless communication.  
Protect Your Privacy + 360-degree Rotation
To avoid unintentional image captures and to keep yourself protected every time, AVerMedia integrated the privacy shutter to the PW315. Plus, the camera allows you to do a full 360-degree turn to get the most optimal angle you need. 
With the PW315, you'll get freedom, flexibility, and heightened privacy, all in a single product. 
No Lags or Distortion
Since the camera sports the fixed-focus feature plus ultra-fast 60fps, you can enjoy smoothness and clarity at all times. Take advantage of this feature when you're teaching, in a meeting, or during presentations. 
Flexible Mounting Choices 
With its universal mounting clip, you can mount the PW315 to any monitor that you have. Or, you can attach it to your tripod to display yourself at a better angle while having full stability. 
Software Compatibility
This full HD camera is compatible with a ton of popular video collaboration platforms. These include Google Meet, OBS, Microsoft Teams, Skype, Zoom, and a lot more. 
This time, we're looking into its specifications in our AVerMedia PW315 Full HD Camera review.
Specifications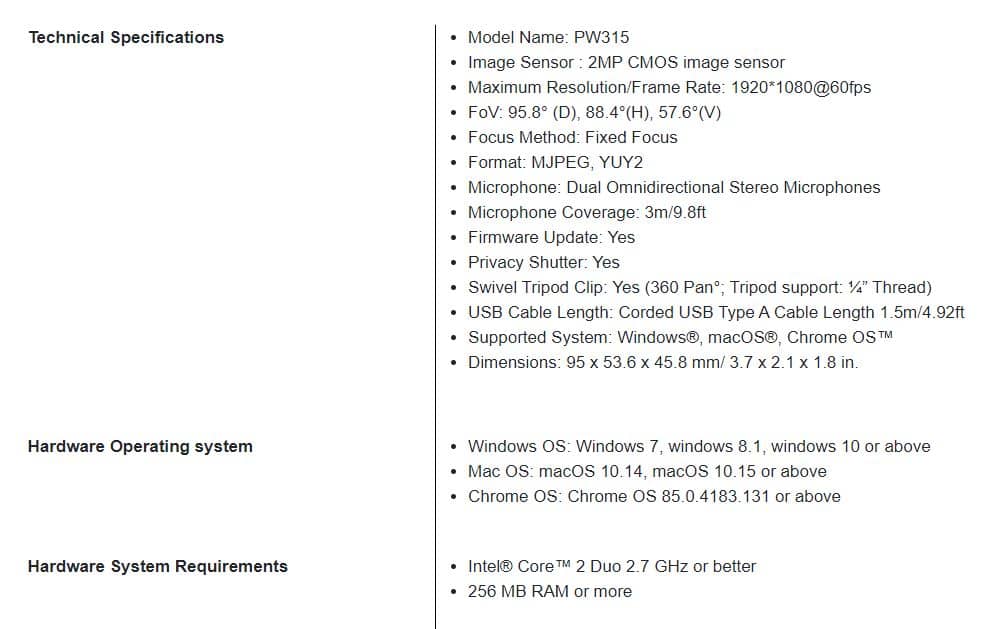 The PW315 full HD camera utilises a 2MP CMOS image sensor. It has a maximum resolution or frame rate of 1920*1080 @ 60fps. FoV is at 95.8-degrees (D), 88.4-degrees (H), and 57.6-degrees, plus it works on a fixed-focus method too. 
When it comes to the microphone, the PW315 sports a dual omnidirectional stereo microphone with a 3m coverage. 
It has a swivel tripod clip that allows the camera to do a 360-degree pan with 1/4″ tripod support. It uses a USB-A cable measuring 1.5m long, while the PW315 is 95 x 53.6 x 45.8mm. 
Of course, our AVerMedia PW315 Full HD Camera review also takes note of its hardware requirements, so here they are:
The camera works with Windows 7, 8.1, 10, or higher. If you're using the macOS, it works with 10.14, 10.15, or higher. Then with the Chrome OS, it functions efficiently with the 85.0.4183.131 version or higher. 
For the camera's hardware system requirements, you need to have Intel Core 2 duo 2.7GHz or better. For the RAM, it should be at least 256MB or more. 
Hands-on with the AVerMedia PW315 Full HD Camera 
Our AVerMedia PW315 Full HD Camera review will now discuss our hands-on experience with the PW315. 
In well-lit conditions, the PW315 full HD camera offered excellent image clarity with no grain. We also didn't see grain when we checked it on smaller smartphones, laptop screens, and tablets.
Of course, the image quality dropped slightly when the receiving display's size got larger. But the advantage of the camera is that it offers better quality than cheaper webcams.
We used the PW315 full HD camera straight out of the box. What's surprising was we didn't spot any blue or green tints on the images. Unlike most low-budget webcams, this had warmer colours, offering better image quality.
The images stayed clear in rooms with enough light. What we really liked about it was that the camera easily overexposed images. In low-light environments, there was a little grain introduced but it wasn't something to complain about.
The PW315 full HD camera managed to balance RGB key lights in all the environments we tested. Also, we noticed that the camera quickly responded to sudden changes in lighting conditions.
For its overall performance, we were happy with its responsiveness and the image quality it delivered. It may not be a premium camera, but it offered high-quality images during our tests.
The PW315 full HD camera's microphone captured our voices well. Also, its AI noise cancellation muted mouse clicks and keyboard clatter effectively. 
Since it's a budget-friendly web camera, it didn't have the studio-quality sound of actual microphones. However, the PW315 full HD camera is a big improvement over microphones of web cameras and budget-friendly headsets.
AVerMedia PW315 Full HD Camera Review Summary
We enjoyed this AVerMedia PW315 Full HD Camera review since the PW315 was a notably good product. Among the company's catalogue of webcams, this is one of their interesting products. While it's not the cheapest webcam, it's the only one that can record at 60fps.
The PW315 full HD camera is a great option if you've just started streaming. It's an affordable, high-performing camera that will go well with your gaming PC. Also, it works excellently for professional conferences. 
To purchase this product, you can find a retailer via the company's store locator.