Beyerdynamic has again released an awesome product for everyone to enjoy. And today, our Beyerdynamic Space Speakerphone review will discuss everything related to it. 
It comes with a beautiful design and outstanding quality, something we should expect from the brand.
This speakerphone produces excellent musical performance, plus it's easy to use too.
Though quite pricey for a speaker its size, the Space Speakerphone justifies its price with stellar quality and aesthetics. 
If you're interested and want to know more about it, continue reading. Here, we'll give you everything you need to know about the product to see if it's something worth purchasing. 
Beyerdynamic Space Speakerphone Packaging
We were excited when our package arrived for this Beyerdynamic Space Speakerphone review. And surprisingly, it came in a uniquely-made package made from recycled material. Even the twine used for securing the USB-C cable that's included is made from recycled material. 
Aside from the Space Speakerphone, the package includes a drawstring bag, USB-C to C cable, and USB-C to A adapter.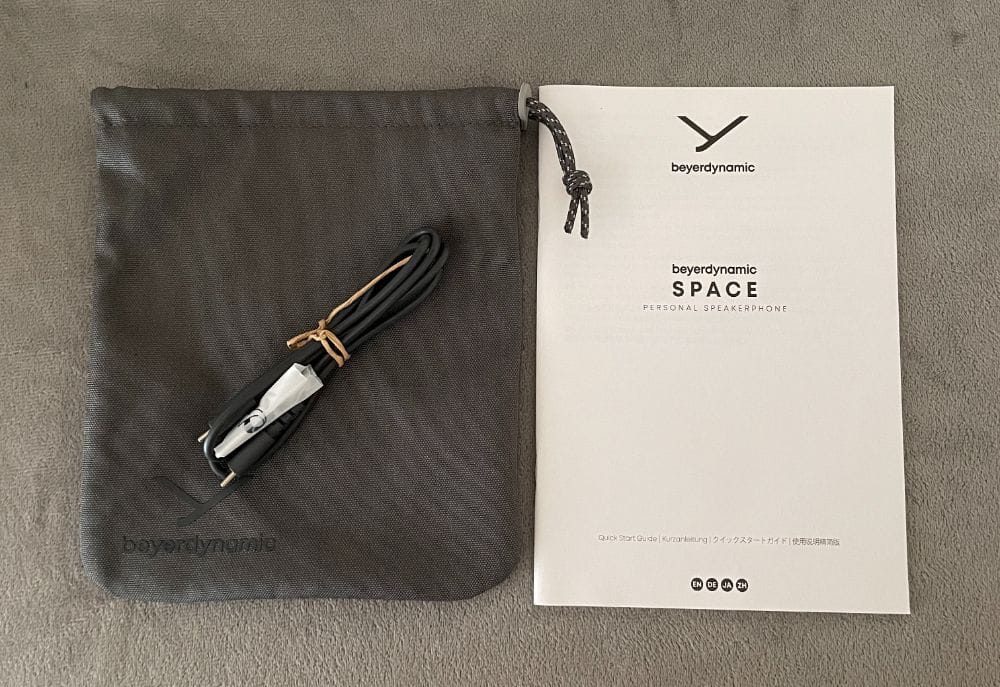 Beyerdynamic Space Speakerphone Review – Design and Functionality
We've observed the product for our Beyerdynamic Space Speakerphone review. Here, you control the speakerphone via its capacitance buttons on top. Then, it even has a multi-coloured ring that lights up and displays the battery and volume level. 
It also lights up close to controls that are being used or which can be utilised. An example would be when using it for calls. The ring lights up red near the disconnect button, then green near the accept call button. 
Additionally, the back of the Space Speakerphone features a threaded insert made for mounting. It comes with a convenient slot that stores the included USB-C to A adapter.
The Y button with Beyerdynamic's logo controls your tunes or enables the voice assistant controls. The rubber feet at the base prevent the speaker from vibrating if you try playing bass-heavy music through it.

Our Beyerdynamic Space Speakerphone review will discuss all the key features of the product that make it click.
Beyerdynamic Reference Sounds 
It doesn't matter if you're playing your favourite music or reproducing voices. The Space Speakerphone sports a 3.81cm full-range speaker that'll amaze you with superb sound quality.
The speaker easily switches between Voice Mode for clear voice reproduction, and Music Mode for lively music playback.
Double Enjoyment, Double Fun
With True Wireless, you can couple two Space Speakerphones for spatial stereo playback. This is ideal for an amazing musical experience or an engaging business presentation.
360° Smart Microphone Technology 
With this feature, the Space Speakerphone provides ultimate freedom of movement for meetings or calls with up to six participants. Its four built-in MEMS mics instantly detect whether the incoming sound is noise or voices. There, it will work to suppress any unwanted echoes, reverberations, or feedback. 
The Space Speakerphone immediately adjusts the volume of voices to guarantee harmonious dialogue at all times. The full-duplex allows you to speak continuously and still be heard. The good thing is it's without dropouts or cut-offs. 
Extensive Compatibility
Making phone calls and meetings can be done quickly and easily across multiple platforms. These include Zoom, Microsoft Teams, and a lot more. Also, the headset is officially certified for Zoom and fully compatible with Microsoft Teams.
Modern and Eye-catching
The Space Speakerphone's design is inspired by stylish shapes and modern interior to suit any room. It's available in three colours, including Charcoal, Aquamarine, and Nordic Grey for everyone to choose from.
Aside from the eye-catching design, it uses an antibacterial textile, making it ideal for the modern world.
Meets the Demands of Everyday Life
The Space Speakerphone offers flexibility without needing constant charging. If you need immediate power, charging it for 10 minutes gives you up to two hours of battery life.
Aside from the battery, the speakerphone has a compact size that makes it great for travelling. You can also store it quickly in its included drawstring bag. For added protection, it comes with the IP64 rating and is safe against water spray.
Smartly and Conveniently Connected
Connecting the Space Speakerphone to a laptop, smartphone, or tablet doesn't require installing drivers. Quick pairing can be done easily with Google Fast Pair. To automatically search for the last device that the Space connected with, you can use the preset Private Mode.
Long-lasting
Beyerdynamic always uses high-quality materials for their products and the Space Speakerphone is no different. The company does this to allow changing of parts and components like cables, batteries, and other operating components.
Great for Business Use
The Space Speakerphone meets all of the demands of companies when it comes to conference solutions. It's excellent for single rooms, small meeting rooms, huddle rooms, and small meeting rooms.
With the button, you can switch between Private and Business Mode for use in meeting rooms. The speakerphone also has a Kensington lock that secures it against theft. Plus, its 1/4-inch screw thread allows you to install it in multiple ways. 
Specifications
We inspected the build and design of the speakerphone for this Beyerdynamic Space Speakerphone review. So of course, we also looked into its different specifications. 
Beyerdynamic made use of a 3.81cm full-range speaker with two passive radiators on it. Then, its loudspeaker has a maximum output of 5W RMS. The sound pressure level of the speakerphone is SPL 73.8 dBA (pink noise), and SPL max 81dB @ 1kHz. 
The company utilised four MEMS microphones with a frequency range of 100Hz to 10kHz. Then when it comes to its loudspeaker frequency range, it goes for 90Hz – 15kHz (-10dB). 
The Space Speakerphone supports HFP and A2DP profiles, as well as USB-C and Bluetooth transmissions. Speaking of Bluetooth, the version that the company made use of is 5.0, which is definitely a good thing to have. 
We like that they used a lithium-ion battery that can last up to 20 hours of run time. Its charge connector is a USB-C cord, and its charging time lasts for 2.5 hours (5V / 1.5A). 
Don't worry about updates because firmware upgrades are possible with the speakerphone. As for voice assistant controls, it's possible with Siri, Google Assistant, and more. 
Lastly, the Space Speakerphone measures 132 x 132 x 40cm (L x W x H) and weighs 354g. 
Hands-on with the Beyerdynamic Space Speakerphone
This is the most important part of our Beyerdynamic Space Speakerphone review since you'll know how the product worked. We're sharing everything we experienced with it for you to determine if it's something worth purchasing. 
Setting up the Beyerdynamic Space Speakerphone
This was easy: we only had to hold down the power button for a few seconds to make it start. Once done, you'll hear a voice stating the product's battery percentage. Then, you'll also be notified if the Space Speakerphone is still pairing or already connected. 
The company claimed that the product can be paired with more than a single device, so we tried that first. To test it, we linked our desktop computer along with other devices. Then, we tried playing music on our smartphone then played a different tune on our PC. 
Music on the desktop instantly preceded, which was followed by a pop-up notification on the smartphone. It notified us of what happened and also gave us an option to undo this. 
Audio Quality
As expected from a little speaker such as this, the Space Speakerphone doesn't get too loud. Instead, it gets loud enough for casual listening and calls.
Though when it comes to audio quality, it's fantastic and we don't have any complaints here. Although we didn't get any deep bass from it, the speakerphone worked efficiently and how it should. Highs were extended, presentation was balanced, and the music felt lifelike. 
And even if it wasn't on max volume, the speakerphone sounded great without distortion and crackling. Just clear and clean sounds which is something expected from Beyerdynamic. 
Microphone Performance
Continuing our Beyerdynamic Space Speakerphone review, let's now focus on how it performed. Its four MEMS mic allowed for crisp audio transmission, and we didn't have any issue understanding recorded words. During test calls, we could also hear speakers on the other end clearly, so that was definitely good for us. 
Its clarity wasn't spectacular, but we can say that it's reliable, which is extremely vital during meetings. There weren't any unnecessary delays or dropouts in audio which made it even better.
When we played music in the background, the mic did a great job of ensuring that our voices were audible despite all the noise. In our voice isolation test, it worked great against music under low volumes. It also worked well in a place with a noisy backdrop compared to using it against loud music. 
Of course, these are just stress tests, and you won't likely make speakerphone calls while blasting music in the background. With that, the usual office or home noise won't become an issue for clear conversations. 
Beyerdynamic Space Speakerphone Review Summary
The Space Speakerphone from Beyerdynamic is an impressive product featuring a simple yet striking design. It doesn't only look good, but it also delivers exceptional performance. One of the best things about this speakerphone is its ease of use.
When we tested the product for our Beyerdynamic Space Speakerphone review, we saw that it did the job excellently. It worked seamlessly and provided clear, high-quality sound for conferences and meetings.
It's great for listening to your favourite tunes, but remember that it doesn't stream music at higher solutions. Though if you plan to use it for streaming news and podcasts, it's an excellent choice.
Overall, we highly recommend the Space Speakerphone from Beyerdynamic. To get your hands on this product, take a look at the product page over at the Beyerdynamic website.