We've noticed that Cooler Master flies a bit under the radar when PC peripherals are concerned. You're probably thinking they only sell power supplies, but they do have a list of different products available. And today in our Cooler Master SK653 wireless mechanical keyboard review, we'll look into one of these. 
The SK653 wireless mechanical keyboard is one of their notable products that isn't a power supply. It's designed to make your desk look cooler, and it's packed with ideal features that make it an efficient product. 
It takes a modern approach to the original mechanical keyboard. This has low profile switches housed in a sleek-looking case for a very attractive aesthetic. 
Here in our Cooler Master SK653 wireless mechanical keyboard review, we're reviewing the black-coloured keyboard. We'll see if it performs as good as it looks, and if it's something worth purchasing.
Cooler Master SK653 Wireless Mechanical Keyboard Packaging
Before we look deeper into the keyboard, our Cooler Master SK653 wireless mechanical keyboard review will discuss its packaging. We'll also look into the different extras that Cooler Master included in the box. 
When we received our black SK653 wireless mechanical keyboard, it came in a typical-looking cardboard box. The front exhibits an image of the entire keyboard, while SK653 is seen on the lower-left corner. 
Cooler Master and its tag line is found on the upper-left corner of the box. And as for its key features, you'll see them on the lower-right corner. On the box's rear, you can find a couple more details about the product. 
Inside, the SK653 wireless mechanical keyboard is packed nicely and securely to avoid any damages during transit. It comes with other items such as the keycap puller. There's also a quick start guide, a bluetooth setup guide, and a USB-C to A cable. 
Cooler Master SK653 Wireless Mechanical Keyboard Review – Design and Functionality
Of course, we're also discussing its functions and design in our Cooler Master SK653 wireless mechanical keyboard review. Out of the box, it looked really sleek and premium because of its metal face. The keyboard was also relatively compact and didn't leave any negative spaces on its sides. 
Its low-profile switches were prominent and its floating keycaps were easy for modification. As for the brushed aluminium top plate, it looked bold but had a minimalist appeal to it. 
The ergonomics of the SK653 wireless mechanical keyboard were subtle with its concave keycap indents. The latter's actually good since it made up the keyboard's bulky yet comfy design. Plus, there were two hinged adjustable feet that were made from matte plastic. 
Aside from that, the quality and build of the keyboard was sturdy and solid. And at 0.73kg, it felt heavier than expected, but it was sturdy and we liked that a lot. 
It was likely due to the combination of hard plastic and aluminium. Plus, the added length is required to fit the number pad. 
Compared to the SK622, this one isn't a portable keyboard. However, most people usually have their keyboards set on the desk without moving them too much. 
So, it won't be an issue. Now if you're someone who often moves their keyboard in different areas to work, then it's best to look elsewhere. 
On the fly keys are a Cooler Master standard. And with these, you won't only change the saturation of green, red, and blue LEDs. You'll also be switching between three Bluetooth pairings, as well as four user profiles. 
We consider three Bluetooth profiles as extremely useful since the SK653 wireless mechanical keyboard is compatible with Windows, Android, Mac. Also, it's vital when you have numerous devices to utilise a gaming keyboard. 
For us, these three pairings were for a laptop, desktop PC, then an Android tablet. If you're someone who wants to keep things wired, the keyboard has a nice colour-matched USB-C to USB braided cable. 
The Bluetooth pairing of this keyboard is pretty straightforward. That's because programming profiles for lighting and macros is done via the Cooler Master MasterPlus software. 
While testing this for our Cooler Master SK653 wireless mechanical keyboard review, we saw that we could save several profiles. It's great since we had profiles for default gaming/typing, and others for the more complicated macros for online games. This was another positive for us. 
Key Features of the Cooler Master SK653 Wireless Mechanical Keyboard
RGB Backlights
Continue the light show going with the per-key backlight with continuous customisation. You can select up to 18 lighting effects based on your preferences. Or, you can simply match the excellent performance with stunning light aesthetics. 
Low-profile Switches
A reduced actuation point and travel distance with the same signature precision and durability. It is something you'll get with its low-profile switches. 
The SK653 wireless mechanical keyboard's key switches are rated for 50M keypresses, so it definitely won't let you down. 
Ergonomic Upgrades
It comes with newly improved ergonomic keycaps unlike its predecessor. Plus, it has adjustable feet to give you added comfort when typing. 
Brushed Aluminium Design
This SK653 wireless mechanical keyboard has a slim top plate, minimalistic design, and floating keycaps. And to put it simply, Cooler Master had functionality and efficiency in mind when designing the keyboard. 
Multiple OS Support
The keyboard features multiple OS support for ultimate convenience. It works with Windows 8 and above, iOS, macOS, and Android. 
Here, you can easily and readily soft-switch between devices with just a simple key combo. 
Control Hybrid Wireless
Use the keyboard via USB-C wired connectivity or Bluetooth 4.0 which provides low power consumption and minimal lag. When wirelessly connected, you can pair it with up to three devices.
Highly Customisable
Adjust the keyboard's lighting and macros in real-time with a keypress combination. You can also personalise the lighting modes, tweak the macros, or make more changes via MasterPlus+ software.
Specifications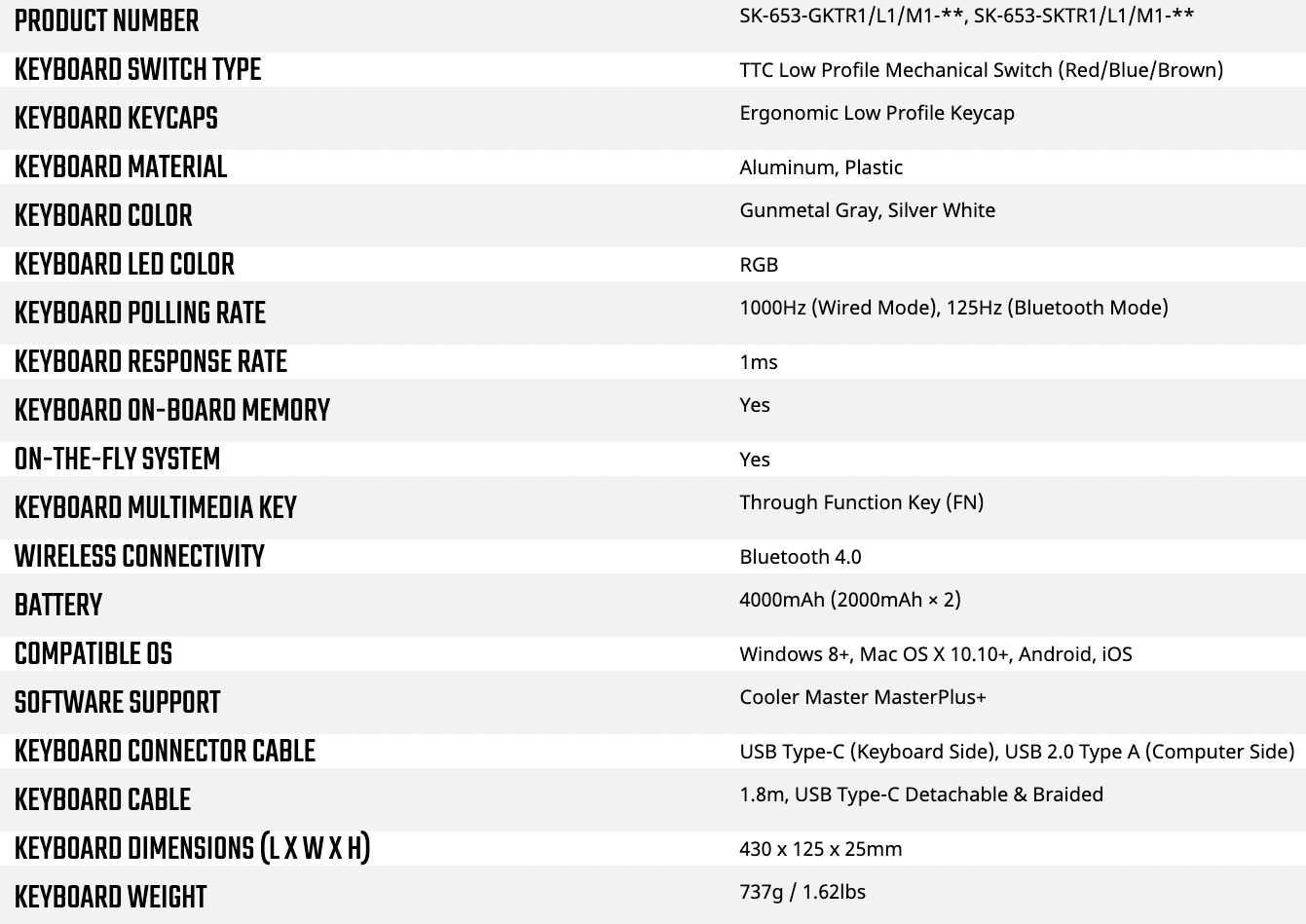 This time, our Cooler Master SK653 wireless mechanical keyboard review will focus on the specifications. 
This portion of our Cooler Master SK658 wireless mechanical keyboard review talks about the product's specifications. 
This keyboard is a mechanical and wireless type and features a TTC low profile mechanical switch type (red/blue/brown). The product comes with ergonomic low profile keycaps with RGB LED colours.
The keyboard's polling rate is at 1,000Hz on wired mode, then on Bluetooth mode, it's 125Hz. Its response rate is 1ms while wireless connectivity is Bluetooth 4.0.  
The Cooler Master SK653 wireless mechanical keyboard has a 4,000 mAh battery (2,000 mAh x2). It's compatible with the Windows 8+, Mac OS X 10.10+, iOS, and Android operating systems. For software support, it works with Cooler Master MasterPlus+. 
For its connector cable, the SK653 Wireless mechanical keyboard uses the USB-C for the keyboard side. Then, it utilises the USB-A 2.0 for the computer side. The product also uses a 1.8m USB-C detachable and braided keyboard cable which is good. 
For its size, it measures 430 x 125 x 25mm (L x W x H), and it weighs a total of 737g. Cooler Master also included a 2-year warranty with it which is something we appreciate. 
Next up, our Cooler Master SK653 wireless mechanical keyboard review will discuss the product's performance. This is where we'll see if it performs just as good as claims, and if it's worth purchasing too. 
Hands-on with the Cooler Master SK653 Wireless Mechanical Keyboard
You can utilise the Cooler Master MasterPlus+ software to manage and organise different aspects of the product. And, that's without having to engage in the On-the-Fly system. 
Since it's a standard 3rd-party keyboard configuration software, it can be utilised to allow various lighting effects. Not only that, but it can let you assign different key functions, or record macros for future use. 
For our Cooler Master SK653 wireless mechanical keyboard review, we of course, have to discuss its setup process. When going into the wireless mode, we saw light flickering on the caps lock. This happened once the correct key sequences of keys were pressed for activating Bluetooth. 
We only needed to do the sequence once to link to our device. Then, when we had to link to a new device, we had to do the same sequence for it. There, it automatically remembered the last device that we connected to. 
For the Bluetooth connection, it was less complicated than we were expecting. However, the sequence was a bit easy to forget. That's why you should always keep the manual in a safe place for future needs. 
When breaking down the performance of this SK653 wireless mechanical keyboard, we can say that we were pleased with it. Specifically, we loved its responsiveness and the click experience we had with it. 
We thought the set of keys performed like a charm since it enhanced our typing. Plus, its response was quick & efficient, had bright & sharp RGB colours, and offered tons of unique customisation options. The latter was something we didn't see before and we thought that was really cool. 
Basically, it's a fun product. It's tactile, precise, and very satisfying to press. However, it's on the expensive side so keep that in mind. 
Overall, our experience with the SK653 wireless mechanical keyboard was enjoyable. And, its mechanical aspect definitely shone through. We were extremely pleased with its keys' size and distancing compared to other similar keyboards around. 
Cooler Master SK653 Wireless Mechanical Keyboard Review Summary
There's a lot to like about the SK653 wireless mechanical keyboard from Cooler Master. It has a clean, minimalist design, it's responsive, and is also easy to set up. And even if it gives the option to customise its lighting and settings, you won't need complex programs for it.
Aside from its great features and performance, it's also a flexible keyboard that you can use with Mac. And that's thanks to its feature that allows you to change its OS functionality.
The SK653 wireless keyboard held up to all of our tests and we were satisfied with its quality and performance. Its full-size layout and durable key switches, combined with other impressive features make it perfect for any work or battle station. With that, we highly recommend this product.
To get your hands on this wireless mechanical keyboard, check out the store locator for authorised dealers.