Not everyone is "ok" with just the onboard audio of their motherboards. That's because it can get limited with controls and input/output. Today, we're offering you our Creative SoundBlaster GC7 review so you can get the latest solution for this issue. 
Creative has continuously made internal and external audio solutions for years. And today, we're showing you what their latest evolution to it is.
If you're curious about the SoundBlaster GC7, we've got you covered. In our Creative SoundBlaster GC7 review, we'll talk about everything related to the product like its features, specs, performance, etc.
But first, let's look into its packaging and what other items Creative included in it.
Creative SoundBlaster GC7 Packaging
We received our SoundBlaster GC7 for this Creative SoundBlaster GC7 review in a sturdy-looking box.
The front displays an image of the GC7 itself, while SoundBlaster and the unit's name is on the upper-left corner. Opposite this, you'll find the brand's logo there. Below the image, you'll find a collection of the product's primary features. 
Flipping the box, its rear has more information about the SoundBlaster GC7, as well as two more images of it. One displays a top-view of the product, while the other shows the side view of it.
Inside the box, you'll find the SoundBlaster GC7 itself along with other inclusions. Other items you'll find inside are the USB-C to A cable, an optical cable, and a 3.5mm AUX-in cable.
Creative SoundBlaster GC7 Review – Design and Functionality
We studied the design and build of the GC7 for our Creative SoundBlaster GC7 review. Here, we saw that it's a lightweight DAC/AMP that'll perfectly fit anywhere on your desk. That's without taking up any of your needed space.
The product measures around 170mm wide and 144m deep, and it stands about 43mm tall. It's hardly a behemoth for gaming audio equipment so that's definitely good.
Looking at the product, it appears like a basic mixer that you'll find in the hands of newbie DJs. But despite that, it still looks fairly good and sturdy. 
It has two primary control dials where one manages the overall volume to your left and right. Plus, you can also switch between the game and voice volume. 
For the second dial, it's called the GameVoice Mix Control Knob. It's useful for quickly adjusting the volume when you're gaming intently. 
If you use Discord, you don't have to ALT+Tab on the desktop to adjust it manually. You can just tinker with the GameVoice Mix Controls to find the best spot between your friends' chatting and in-game audio.
It comes with four customisable coloured quick-switch buttons which are a good addition to the mixer vibe. You can press these buttons to shift to the next audio mode, open some programs, play/pause music, and more.
Via the Creative Desktop App, you can readily customise the SoundBlaster GC7 just like how you want and need it.
At the centre of the audio dials is a third knob that's encircled by five buttons. It provides easy access controls for bass, surround sound, treble, and mic gain. Moreover, you can utilise the SXFI button for toggling between the GC7s built-in audio holography modes. 
The knob and button houses a little digital display that shows your current output levels.
Let's look at the product's ports here in our Creative SoundBlaster GC7 review. There are a total of seven ports: two in front, then five on the rear. The former has a 3.5mm 3-pole mic-in, and a 3.5mm 4-pole headset in port. 
Plus, it also has a little display on its extreme left portion. It's to show you if you're currently on console, PC, or mobile mode. 
The SoundBlaster GC7 is compatible with a variety of devices like the PS4, PS5, PC, Nintendo Switch, and even smartphones. This makes it highly versatile than what its appearance suggests. 
As for the back end section, the five ports have one USB-C port. Plus, each has a pair of 3.5mm line in/out ports and optical input/output ports. These are infused between a number of different additions like platform mode, power, and headphone gain switches.
Key Features of the Creative SoundBlaster GC7 Review
This time, let's focus on our Creative SoundBlaster GC7 review and talk about its key features.
On-The-Fly Controls with Programmable Buttons 
The SoundBlaster GC7 features an ergonomic design with simple and intuitive controls that you can quickly adjust on-the-fly. There are also four fully programmable buttons where you can set your favourite audio profiles or quick manoeuvres for streaming.
You can also customise the buttons' RGB lighting to match colours with your entire setup.
Dual DSP with Impressive Audio Processing
With SoundBlaster and Super X-Fi technologies, the SoundBlaster GC7 offers top-notch audio processing capabilities. With that, you can immerse in Super X-Fi hyper-realistic audio holography. 
7.1 Virtual Surround Sound
The SoundBlase GC7 supports up to 7.1 virtual surround sound on both headphones and speakers. That also goes for Dolby Audio decoding so you can enjoy a cinematic sound experience.
SXFI Battle Mode and Scout Mode
Battle Mode and Scout Mode are two exclusive technologies of the GC7. Battle Mode utilises Super X-Fi technology to produce realistic audio cues with distance and direction. This results in allowing you to pinpoint the exact location of a sound source.
Scout Mode, on the other hand, focuses on detection-enhancing audio cues. This feature allows you to hear the faintest sounds made by enemies.
Balancing Game and Chat Audio
With SoundBlaster GC7, you can easily increase your chat volume without leaving your game screen when talking to your teammates. Once you're done chatting, you can also quickly turn it back down to continue focusing on the game. Simply enable GameVoice Mix control knob to adjust the game and chat volume when necessary.
Specifications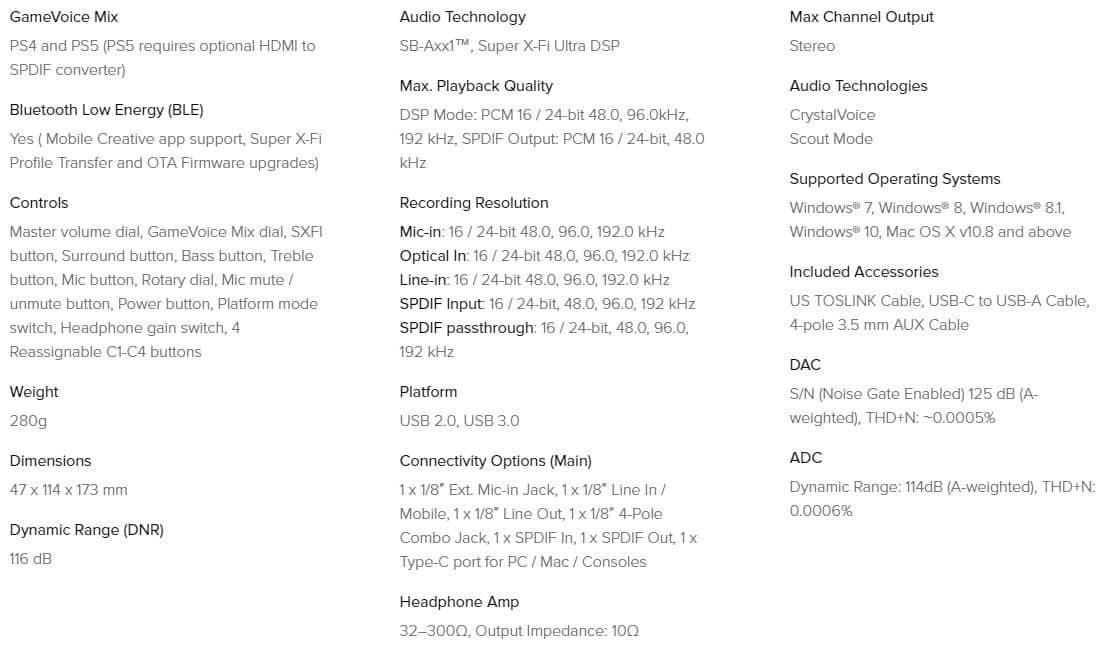 Continuing our Creative SoundBlaster GC7 review, we'll talk about the specifications of the SoundBlaster GC7. 
The SoundBlaster GC7 has a PCM stereo output of 24-bit/192kHz. It has a 32–300Ω headphone support and < 2Ω headphone output impedance.
The product has Dolby Audio 5.1 channels to virtualised 2-channel decoding. For its playback frequencies, DSP mode is up to 24-bits. PCM 4.11, 48.0, 192.0, 96.0kHz. Its noise floor is < -120 dB. 
It works well with Windows, Mac, and the Nintendo Switch. For Windows, it's good with the Intel Core i3 or an AMD Ryzen-equivalent processor. The SoundBlaster GC7 can work with Intel, AMD, or 100%-compatible motherboards, and Windows 10 32/64-bit. 
With Mac, it's good with the Mac OS X 10.13 or higher. For the Switch OS, it should be 5.0 or later.
Hands-on with the Creative SoundBlaster GC7
This is the part of our Creative SoundBlaster GC7 review where things get more interesting. That's because we'll see how well the SoundBlaster GC7 performed. 
Its basic features are plug-and-play, but you'll need extra apps for setup and full functions. That is, if you want to get the most out of it.
Connecting to the PC was quick and smooth, and that's all thanks to its plug-and-play installation. Don't forget to switch on the "Back to PC Mode"; the LED in front will display which one is selected.
After doing that, the volume knob will connect to the system volume. Then, you'll be completely in charge 
Setting up is easy, and this can be done via the control panel/setting screen. But of course, you'll also need the Creative App for the process. 
It was able to quickly and immediately recognize the SoundBlaster GC7 and even offered a GUI to customise the operation.
To create a personal profile, it's necessary to download the Super X-Fi app. Once installed, you'll be asked to take several photos of your ears and head for mapping. When the photos are completed, the next step is to upload it to the SoundBlaster GC7.
These settings will remain in the DAC/AMP even after disconnecting from the PC. Plus, you can use SXFI on mobile and console as well.
When we tested the SoundBlaster GC7, we first tried it without the SoundBlaster and Super X-Fi functions enabled. To our surprise, it was a powerful, audiophile-quality headphone DAC/AMP that delivered impressive audio. But of course, gaming audio was better with SoundBlaster and Super X-Fi enhancements, so that's when we tried these functions
The SoundBlaster GC7 was clearly powerful enough to drive any headphones to high output levels. We connected different headphones to this amp and got great clarity and full range without distortion. This DAC/AMP also gave us the exact mix we wanted for in-game sound effects and dialogues.
The in-game audio with the SoundBlaster and Super X-Fi functions became more immersive and fully enveloping. The directional cues were also precise, so we were able to spot our enemies easily.
Creative SoundBlaster GC7 Review Summary
The GC7 is an excellent choice for gamers who want more robust audio than what PCs and gaming consoles offer. It can drive high-quality headphones, supports surround-sound virtualisation, and has various features to enhance gaming and chat audio.
In our tests, this amp performed excellently and we didn't have issues with it. Using it allowed us to quickly enhance audio with one touch of a button. It was simple to use and its app also had a user-friendly design, allowing for straightforward customisation.
Overall, we were satisfied with the Creative SoundBlaster GC7 and we highly recommend it. If you want to add this to your audio system, you can purchase it from the company's official website.