If you have a number of devices and are searching for uninterrupted gaming, don't worry. And, if you need a media streaming solution that really works, we've got your back. Here, our D-Link DMS-106XT Switch review will focus on a product that's perfect for all your needs.
You'll love D-Link's DMS-106XT 6-port 2.5G gaming + media switch that effectively expands your network options. This is both locally and via the internet. 
Plus, it's an unmanaged switch and is considered a plug-and-play product with priority ports too. With its design and features, the DMS-106XT Switch will remove the need for user management, which is pretty convenient.
D-Link DMS-106XT Switch Packaging
We were excited to receive our package for this D-Link DMS-106XT Switch review. Why? Because it meant we could test the gaming + media switch right away. But before we talk about its performance, let's check out the packaging and what D-Link included in the box.
The DMS-106XT Switch is packed in a typical cardboard container that sports a nice blue-violet theme. The front of the box showcases the product, while just above it, you'll find its name written. Aside from the product's image and name, this area also displays the company's branding as well as its key features. 
Inside, the DMS-106XT Switch is secure and well-packed, so you don't have to worry about damages while in transit. You'll also find power adapters and a quick manual for your reference. 
D-Link DMS-106XT Switch Review – Design and Functionality
A lot of people look at the design of a product. Because of that, it has become a deciding factor whether to purchase a product or not. When it comes to the DMS-106XT Switch, it's the best-looking switch around, so you won't go wrong with it. 
We love how the DMS-106XT Switch looks with its aluminium alloy case. It gives off a premium vibe to it which won't look out of place no matter what your theme is. 
Of course, we switched the product on for our D-Link DMS-106XT Switch review. Once we got it powered up, its appearance looked even better due to the LED indicator and multi-coloured LED lightbar.
With all these design features, the DMS-106XT Switch is a sure hit among the PC mod community. This is especially true for those who love adding extra lights to their system.
The individual port indicator light will change colours depending on your connection speed. It will provide you with an immediate overview of your network's performance. 
On the rear portion of this switch, you'll find its power, turbo mode off/on, and six input ports. The latter is based on power and priority. 
Its fanless design was extremely practical and appealing for us. But the real winner in our book is its silent operation. 
Compared to a hub, the DMS-106XT Switch can handle full-duplex at full speed across all linked devices. These are all provided with access to the full throughput, allowing each to link and communicate with each other easily. The good thing is it can be done without any of the fancy management software to control and manage things.
Ports of the D-Link DMS-106XT Switch
The ports of the DMS-106XT Switch are the product's highlights since these run at 2.5 Gbps. This is 2.5x faster compared to what other hubs can manage at their best. And for its sixth port, it runs at 10 Gbps which is ideal for those with a NAS. 
With the NAS, it allows for network-wide and centralised access to common data.
A couple of examples for home use include TV/movie archives, game saves, or photo gallery/library. For small and home-based businesses, this setup is a true lifesaver. That's because it offers a centralised storage point for accounts, client files, documents, and more.
Additionally, it offers a secure backup of primary files on remote devices like laptops, desktops, etc.
Turbo Mode Switch and Prioritisation
The DMS-106XT Switch features a small slider switch along its rear to enable the Turbo Mode. This brings in an enhanced grade of QoS routine to prioritise data and information across ports.
It will provide the device on Port1 top priority, so we suggest linking that directly to your modem. This is so data from the internet reaches the DMS-106XT Switch much faster. 
Port2 has the next highest priority, so we suggest that you plug your workstation here. If your next priority is your laptop, desktop, or gaming console, it should be connected here. 
Then for Port3 to 5, they're all under the third spot when it comes to priority. These are ideal for smart devices like Smart Speakers (Google Assistant, Alexa, etc.), TVs, and low data flow products like printers etc. 
If you're utilising an external WiFi station instead of the integrated one in most modems, then you're all set. You can use any port on the switch but if you have lots of wireless traffic around, opt for Port2. 
Port6 is also ranked with boosted speed, so like Port1, it's on the priority list. 
Key Features of the D-Link DMS-106XT Switch
What makes the DMS-106XT Switch click? Let's find out in this section of our D-Link DMS-106XT Switch review.
Ultra-Fast Connection for Home or Office Use
The DMS-106XT Switch comes with a 10 Gbps port for increased bandwidth network uplink or easy access to a NAS. It's ideal for a multimedia design space or advanced home networking setup. 
2.5-Gigabit Ports that are Wi-Fi 6-ready
WiFi6 introduces the next generation WiFi technology to your home, giving you a boost in speed, capacity, and range. With that, it's great for high-performing and device-dense homes.
D-Link generously included five 2.5 Gbps ports which you can use to link all your high-speed devices. Whether you connect your WiFi6 access points or routers, the switch delivers multi-Gigabit network access for your space.
Fully Charge the Network for Boosted Performance
If you're ready to enjoy a turbo-charged network experience, just activate Turbo Mode. This will let you keep online games and 4K streams running at the highest network speeds.
When we tested it for our D-Link DMS-106XT Switch review, it was definitely perfect for seamless online entertainment. 
Made for Optimised Home and Small Office Networks
The DMS-106XT Switch is fast enough to handle even huge multimedia file transfers to and from the storage server. This is all thanks to the 10 Gbps port.
Plus, it's versatile enough to keep AP communications and your WiFi6 router unrestricted with its 2.5 Gbps ports. Also, its sleek aluminium-alloy design plus multi-coloured LED light bar makes it an excellent addition to smart homes and workplaces.
Specifications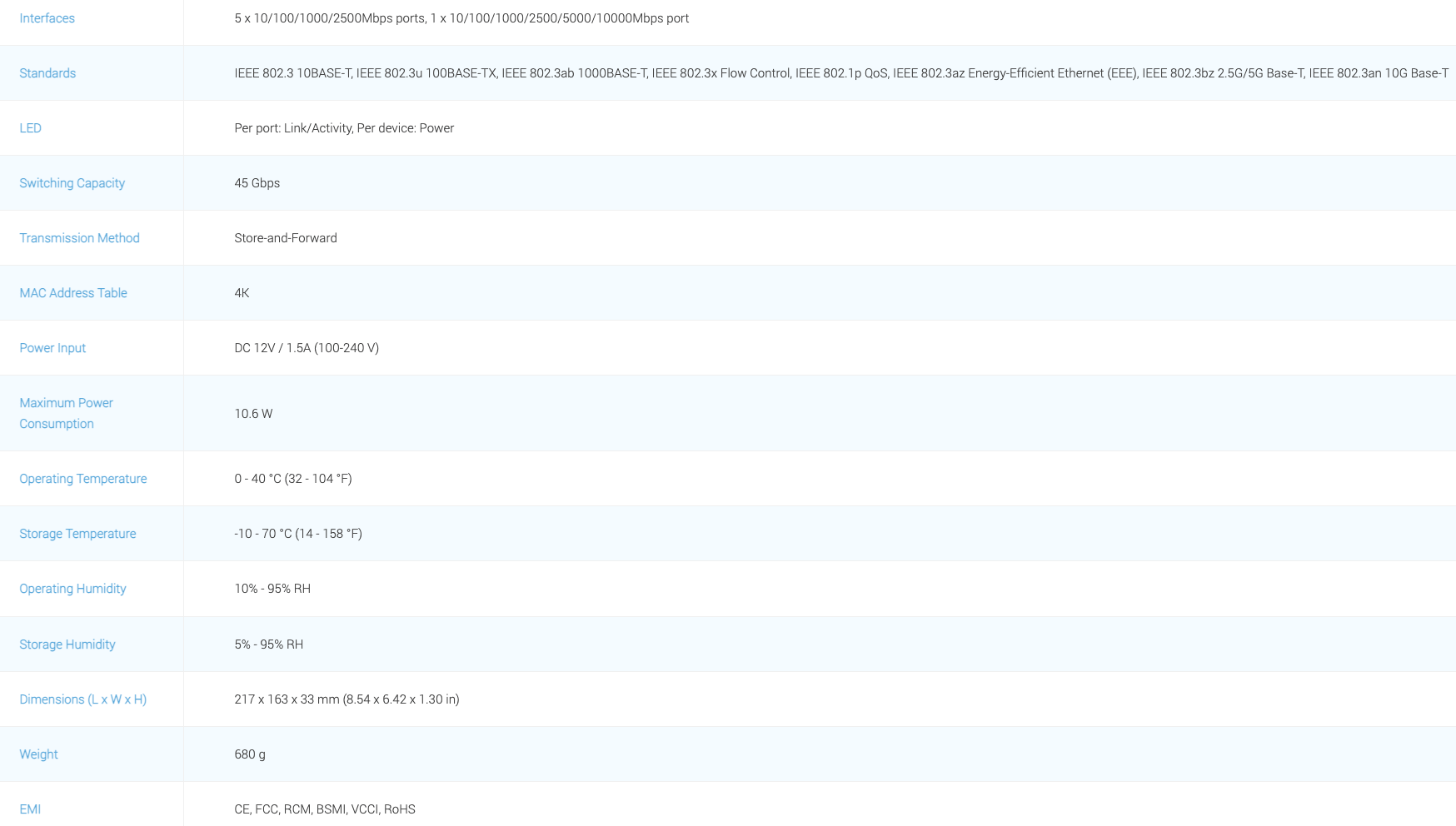 Another important aspect to talk about in this D-Link DMS-106XT Switch review is the switch's specifications. There are five 2.5 Gbps ports and a 10 Gbps port for its interface. Then, it has a 45 Gbps switching capacity too. 
The DMS-106XT Switch has a store-and-forward transmission method, a 4K MAC addressable table, and a 10.6W max power consumption. Its power input is DC 12V/1.5A (100-240V), operating temperature is 0-40°C, while storage temperature is -10-70°C. 
Then there's storage humidity which is 5%-95% RH, while operating humidity is 10%-95% RH. 
Lastly, the product measures 217 x 163 x 33mm and weighs 680g. 
D-Link DMS-106XT Switch Review Summary
This D-Link DMS-106XT Switch review has proved that the product is truly exceptional, offering outstanding performance and true plug-and-play connectivity. It's a well-designed switch that's packed with tons of spectacular features. Plus, it's easy to set up which makes it extremely convenient to use. 
D-Link also designed it to deliver great network performance which makes it perfect for both gamers and media content enthusiasts. 
It's definitely a product that welcomes the evolution of technology, and it also seems to be future-ready as well. We highly recommend the DMS-106XT Switch if you're searching for a perfect gaming and media switch with amazing performance. 
To get the DMS-106XT Switch, check out D-Link's  product page.