Our DFRobot Arduino Zero to Hero review will talk about this E-Learning Kit and its benefits. It's complete with an online course made by a popular teacher and robotics engineer from Australia, Sanjin Dedic.
When speaking of its online course, it's great for both beginners and intermediate Arduino users. It's perfect for those attempting to take their programming and circuitry skills to the next level.
Generally, Arduino is an open-source micro-controller utilised for establishing electronics projects. This kit makes it possible for everyone to create a collection of projects that interact with the environment and people.
Our DFRobot Arduino Zero to Hero review will first discuss the DFRobot Arduino's packaging.
DFRobot Arduino Zero to Hero Packaging
This section of our DFRobot Arduino Zero to Hero review focuses on the E-Learning Kit's packaging.
When we received our DFRobot Arduino Zero to Hero, it came in a simple-looking plastic flip-cover box. It has a sticker on the cover with the product's name, and what the kit is for.
Inside the box, you'll find all the parts you'd need to begin your creative activity. The box includes the DFRduino UNO-R3, a USB cable A-B, 30 jumper cables M/M, and 10 F/M jumper cables.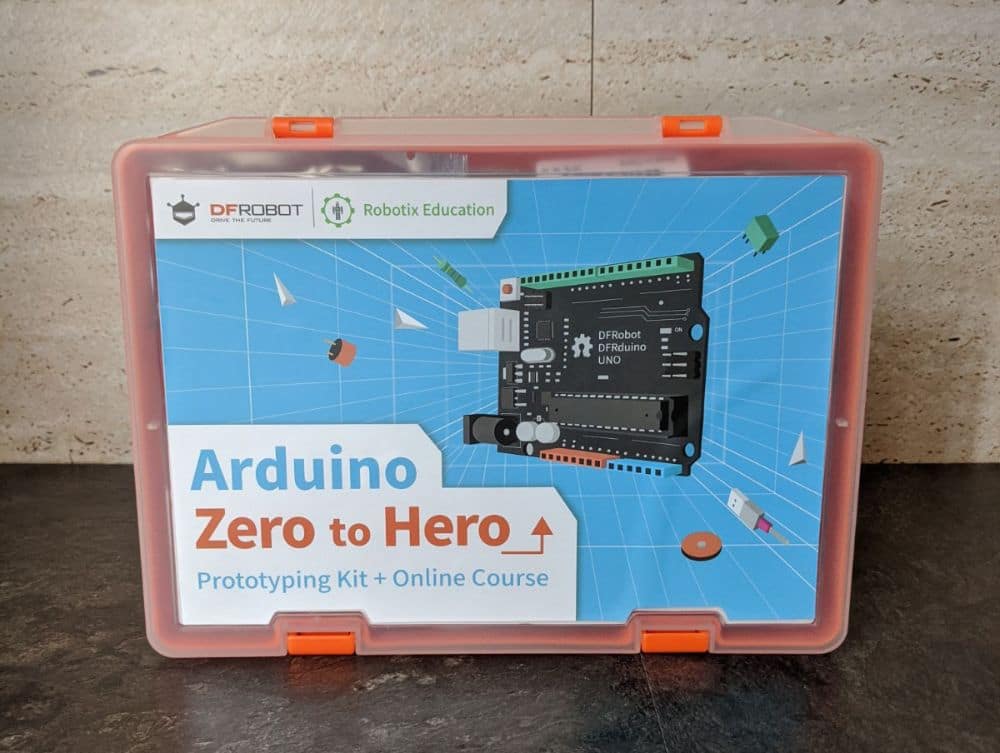 There are 20 220R resistors, 20 4.7K resistors, 20 10K resistors, and 20 1K resistors. You'll also find ten 5mm LEDs, an IR receiver diode, four mini pushbuttons, and a PT-5l850-AC ambient light sensor.
The GL-5528 ambient light sensor is also present, as well as a 2N-3904 transistor, tilt switch sensor, and 8-segment LED. We liked that there's an LM-35 temperature sensor, buzzer, three 10k potentiometers, mini controller, and a 400 tie-point interlocking solderless breadboard.
Other items in the box include the gravity digital speaker module, and the 6-DOF sensor MPU-6050.
Additionally, the items for Arduino are also present. These are the acrylic breadboard holder, gravity IO expansion shield (Arduino V7), analog sound sensor, and a digital PIR-motion sensor. Lastly, there's also a microSD card module that is for Arduino.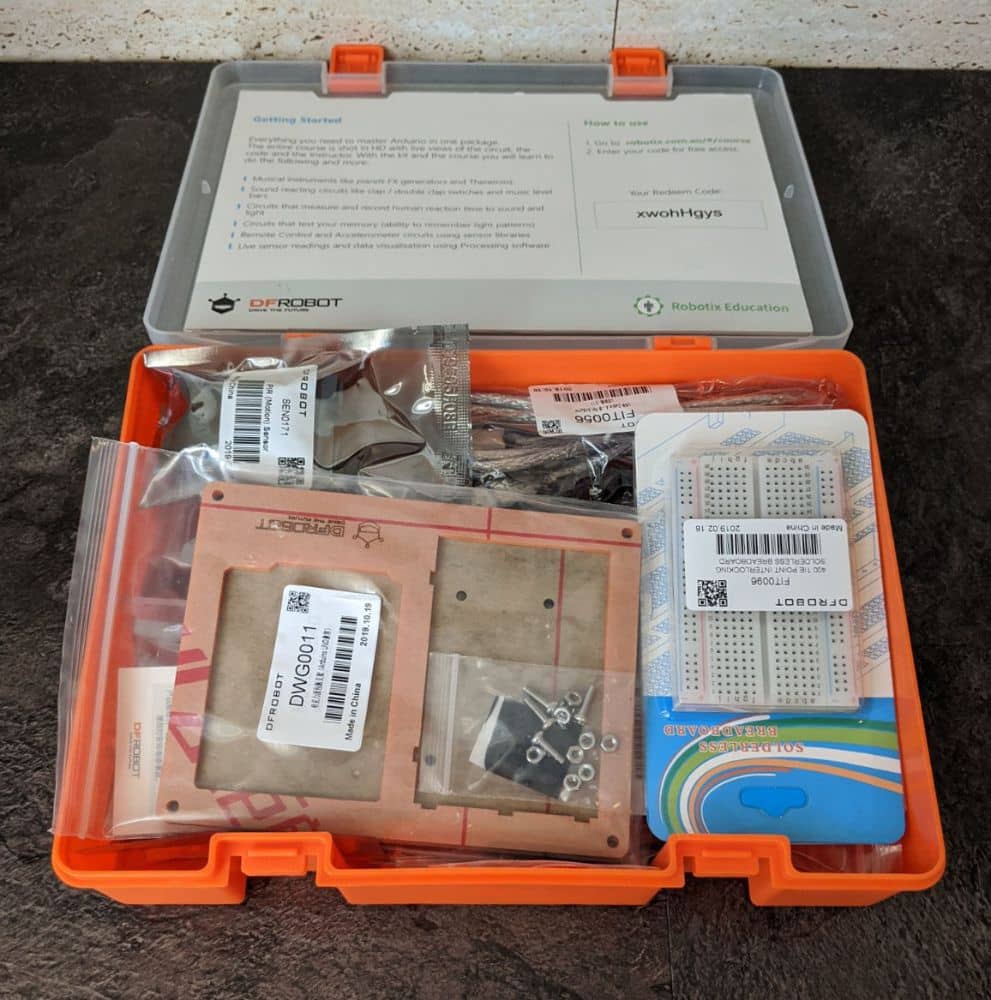 DFRobot Arduino Zero to Hero Review – Design and Functionality
If DIY computing piques your interest, the Arduino Zero to Hero is something you should have. It focuses on DFRduino Uno R3, which is the most used Arduino processor. The kit comes with a lot of LEDs, buttons, sensors, cables, resistors, and more.
With that, you can create a wide range of unique projects. You can choose from 37 guided lessons, ranging from beginner to advanced levels. The tutorials include controlling an LED using a potentiometer and utilising an infrared remote to control a speaker.
The learning sequence with Arduino comes in different sections. Sections 1 to 3 focuses on building students' confidence by teaching them how to build circuits. Later on, they will learn how to write programs.
Section 4 is all about the essentials of analog circuits. These are applied to temperature sensors, sound sensors, musical instruments, and light mixers,
For Section 5, this centres on digital circuits. It starts with button inputs to create memory games and sound effects. This also helps make 7-segment display guessing games and measures human reaction time.
Section 6 is about installing and utilising sensor libraries. These are via remote control circuits and Gyro accelerometer circuits.
Finally, Section 7 summarises the course with sensor output visualisations. On this part, you will be using a software program called Processing.
Specifications
Here is the part of our DFRobot Arduino Zero to Hero review that talks about the specifications.
The microcontroller of the Arduino Zero to Hero is DFRduino UNO R3. For the power supply, it's a 5V USB power. The dimensions are 220 x 165 x 65cm, while its weight is 300g.
Hands-on with the DFRobot Arduino Zero to Hero
In this part of our DFRobot Arduino Zero to Hero review, we will get more hands-on with this E-Learning kit.
LED Button Circuit
In the tutorial, we were able to familiarise ourselves with three components: LEDs, pushbuttons, and resistors. With these, we made a circuit with a button that switches the LED on and off.
For demonstrating, we also burned a few LEDs and learned more about the concept of resistance and current-voltage.
Potentiometer LED Control and Simple Current Amplifier
The potentiometer is a component that, as a variable resistor, has a resistance that alters by turning a knob. It can be demonstrated by adjusting the brightness of an LED by switching the potentiometer knob off.
Darlington Bridge Current Amplifier
The Darlington Bridge Current Amplifier is a simple device that amplifies current by a maximum of 10,000 times. It's possible with the use of a single transistor to increase current, and a second transistor for amplifying again. With gain 100 x 100, this gives a total gain of 10,000.
The final result operates like an antenna. It's where the air's electromagnetic radiation, and small hints of the base, will be reflected in the LEDs flashing lights.
Glow in the Dark Circuit
With a potentiometer and a light-dependent resistor transistor, we constructed a circuit that makes LED glow in dim light. The LED's point of glowing can only change when configured via the potentiometer.
These are the circuitry only tutorials. When you purchase the Arduino Zero to Hero Learning Kit, you can also access basic, intermediate, and advanced tutorials. These include creating a LED Blink Rate investigation, microphone clap switch, and more.
DFRobot Arduino Zero to Hero Review Summary
Electronics can be an exciting hobby to engage in during your spare time. However, starting from scratch can be daunting since there are a lot of electronic components, microcontrollers, and modules. Each of these also has its unique functions, which can be confusing for first-timers.
With the Arduino Zero to Hero Learning Kit, you can quickly learn electronics no matter what your skill level is. When you purchase it, you will have a wide range of free tutorials on various difficulty levels. Different projects are available, and once you have a good understanding of electronics, you can create your custom projects.
If you want to purchase the DFRobot Arduino Zero to Hero, it's available from the company's official website.