The Gravity Series from DFRobot is the very first that uses colour-coded pin headers to illustrate pin properties. And today, we're focusing on and discussing the Gravity D3 kit in our DFRobot Gravity D3 Kit review. 
Dream, design, and deliver. The DFRobot Gravity D3 kit is an ideal set for education, allowing anyone to explore the electronics world. It's a kit specifically designed to inspire makers to execute their projects with ease. 
The kit urges you to create something perfect, unique, and lets you take an idea to turn into reality. It's a great learning kit to have, so if you're interested, continue reading our DFRobot Gravity D3 Kit review.
DFRobot Gravity D3 Kit Packaging
The Gravity D3 Kit is literally a durable-plastic container that acts like a suitcase for the contents. There's nothing much going on with its design since DFRobot kept things neat and simple. What you'll find on the case are stickers displaying the type of kit you have and the items inside.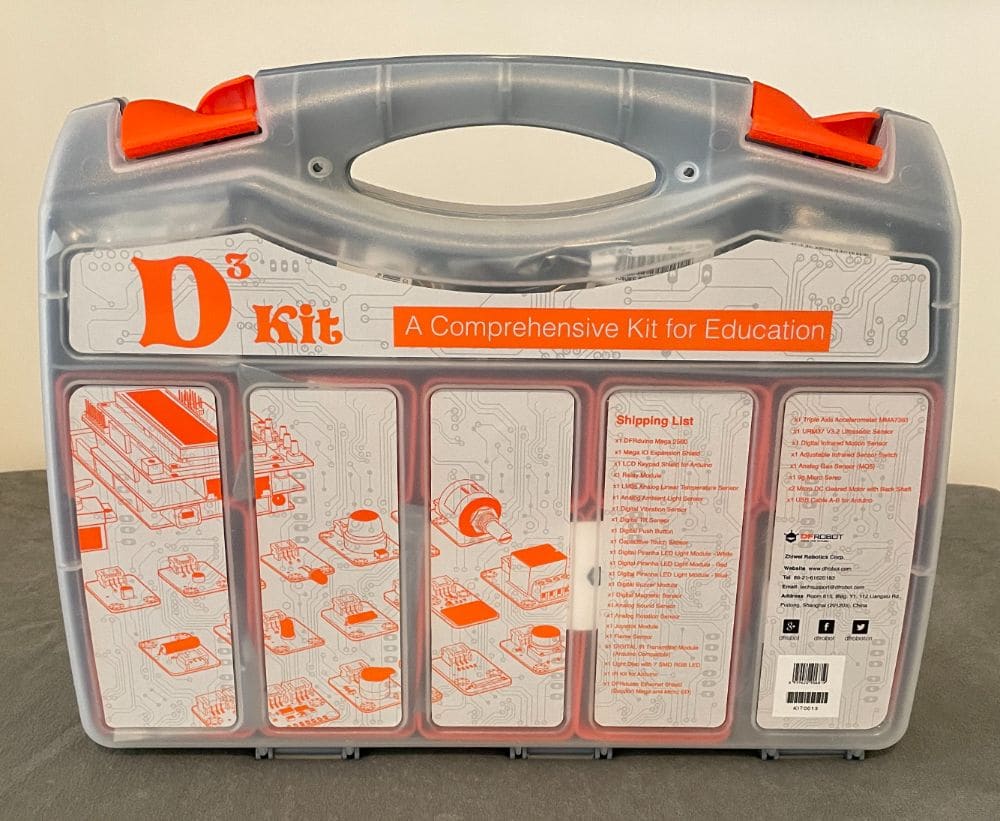 We're giving you more details about the kit in our DFRobot Gravity D3 Kit review. So to continue, let's see what DFRobot included in the set. 
Gravity D3 Kit Contents
The kit has a DFRduino Mega 2560 and a mega IO expansion shield V2.3. There's an IIC LCD-1602 compatible with Arduino, a relay module, LM-35 analogue linear temperature sensor, and a digital vibration sensor. DFRobot also included a digital tilt sensor, digital push button, capacitive touch sensor, digital buzzer module, and digital magnetic sensor.
There's an analogue sound and rotation sensor, joystick module, flame sensor, and digital piranha LED light modules. These come in red, white, and blue colours. 
A digital IR transmitter module is also included in the kit. It comes along with a light disc with 7 SMD RGB LEDs. There's an IR kit for Arduino, a DFRduino Ethernet shield, triple-axis accelerometer MMA-7361, and URM-37 V3.2 ultrasonic sensor. 
What's more, a digital IR motion sensor, adjustable IR sensor switch, analogue gas sensor, and 9g micro servo are available. 
Completing the set, the company included two micro DC-geared motors with back shafts and a USB cable A-B for Arduino. Lastly, a 2A motor shield for Arduino, water sensor, soil moisture sensor, and LSM-303 breakout board are present as well. 
Our DFRobot Gravity D3 Kit review won't be complete if we miss out on the kit's design and functionality. So, let's look into that next. 
DFRobot Gravity D3 Kit Review – Design and Functionality
What is Gravity?
The Gravity Series from DFRobot is a top-quality, modular, open-source, plug-and-play electronics toolkit. It's great for everyone and anyone who enjoys creating things. 
It has great expansion shields and different professional functional modules with standard interfaces, plus clear documentations too. Generally, the series allows you, no matter what skill level you're at, to develop projects and realise ideas. 
DFRobot carefully hand-picked the shields, sensors, and modules to include in this kit. So, it has everything you'll need no matter if you're new to electronics or an experienced creator who teaches it. The kit is the best way to get into the world of electronics where you can have fun, indulge, make mistakes, and create. 
Projects You Can Do with the Gravity D3
The kit comes with a total of 21 modules and these even have a dedicated Wiki Page. The page is present to guide everyone through basics like connections and codes.
So with the kit, you can start unique projects like smart weather stations, automated cat feeding devices, and more. You'll have a wide array of inputs coming from included outputs and sensors via actuators. 
Now, why not check out the different key features of the kit in our DFRobot Gravity D3 Kit review? Let's see what it has in store for us and what makes it special. 
Key Features of the DFRobot Gravity D3 Kit 
Standard Plug-and-Play Interface
Since the Gravity D3 kit has a plug-and-play design, completing the projects won't require soldering. Using it is easy and convenient, making it great for beginners.
Colour-coded Pin Headers 
This kit is the world's first to use colour-coded pin-headers to allow for easy representation of properties.
Beginner-friendly
The Gravity D3 kit's modules are designed for beginners, so these are suitable for trial-and-error use. Plugging these in the reverse position won't burn the module, so you won't have to worry about dangers while learning.
Detailed Documentation
Tutorial documentation including operation steps, wiring pictures, and schematics are all available in the Gravity D3 kit. And when we checked out the product for our DFRobot Gravity D3 Kit review, we noticed these were detailed. All instructions and visuals were clear and easy to understand.
Multiple Applications
When gathering information for our DFRobot Gravity D3 Kit review, we learned that the kit offers multiple applications. This means, you can use it to come up with new inventions and projects.
With all the expansion shields and kits under the Gravity series, you can make a lot of unique DIY projects. The D3 kit's modules are also highly compatible with breadboard wires, development boards, and various components. This makes it excellent for rapid prototyping and development scenarios.
Hands-on with the DFRobot Gravity D3 Kit 
When we tested the Gravity D3 Kit, we realised that it's quite like the Arduino LEGO. It's small, light, and simple to use. And, it didn't require us to have too much tech knowledge which is great. 
Each piece of module came with an efficient and unified interface and colour code. So, we were able to connect what we wanted while simultaneously doing some programming beforehand. Then after, we were done with the task. 
For the DFRobot Gravity D3 Kit review, we also tested the kit in different locations. In the kitchen, office, and even in the garage. The kit was useful in a variety of situations even for us who require fast prototyping speed. 
DFRobot Gravity D3 Kit Review Summary
The Gravity D3 kit is another great set of learning tools from DFRobot. Like every kit released by the company, it's easy to use and ideal for learning. That's thanks to the user-friendly design of its modules and the clear instructions provided.
When we tested this product and worked on a few projects, we had no issues with it. Each part was durably constructed, making it perfect for anyone who wants to learn electronics regardless of age.
Overall, the Gravity D3 kit is an excellent product that we highly recommend for both children and adults. To get your hands on this product, it's available for online purchase from DFRobot's official site.