What we have today is the DFRobot Huskylens review which talks about two products from DFRobot. One is the Gravity: Huskylens Vision Sensor and the Study Pack of Huskylens for micro:bit. To note, the sensor is an easy-to-use AI camera. 
It's another great DFRobot set for learning and it's made to be fun, easy, and interesting too. If you think it's interesting and would help you create projects better, continue reading our DFRobot Huskylens review for details. 
Here, we'll share information about the two products from DFRobot, the features, specifications, and if it's really great for learning. 
DFRobot Huskylens Packaging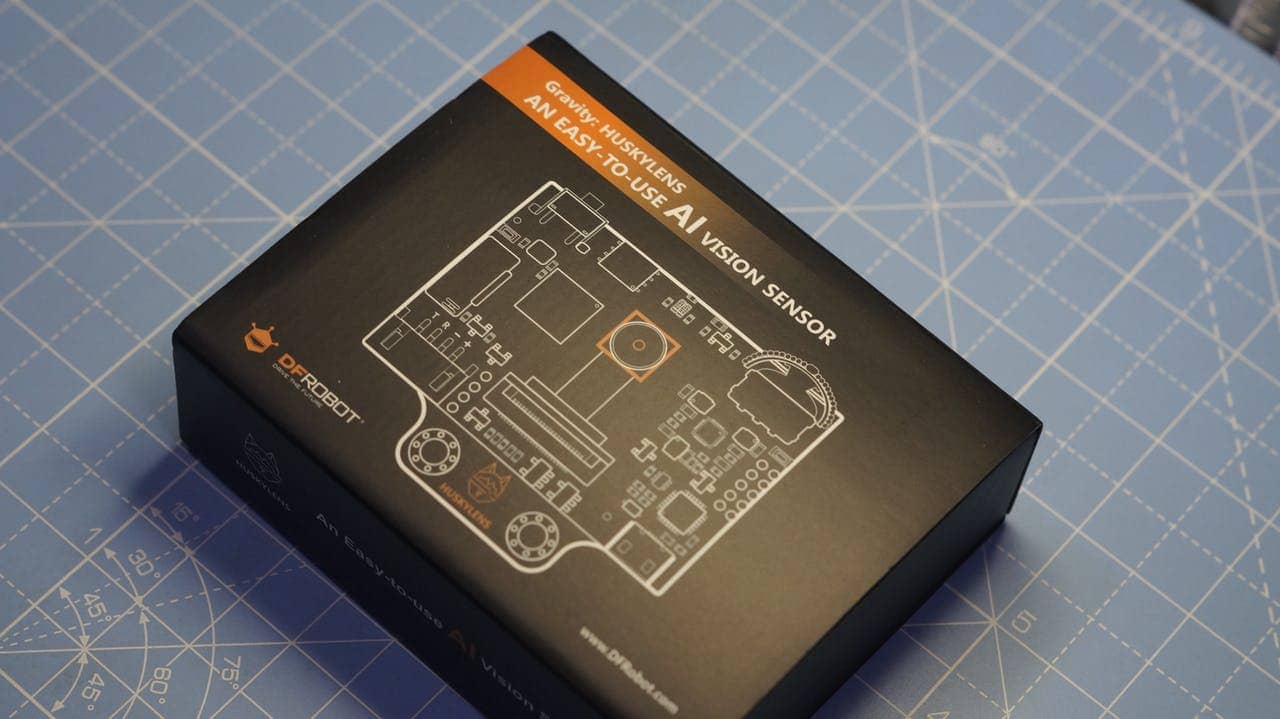 Before looking deeper into the products, our DFRobot Huskylens review will first discuss its packaging. Of course, we'll also look at what the company included in the set. 
The Huskylens Vision Sensor arrived in a black-clad cardboard container. In front, it features an illustration of the mainboard at the centre while the product's name is just above it. On the lower-left corner of the box, you'll find DFRobot and its logo displayed. 
Just like all other products from DFRobot, the insides of this package are neat and well-organised. We appreciate them for doing this since we won't have a hard time looking for the items we'd need. 
Inside the box, you'll find the Huskylens mainboard, six M3 screws, six M3 nuts, and a small mounting bracket. Aside from these, you'll find a heightening bracket and a gravity 4-pin sensor cable. 
Study Pack of Huskylens for micro:bit Packaging
When it comes to the Huskylens Study Pack for micro:bit, it comes in a plastic flip-to-open box. The cover displays a sticker that holds the product's name. Of course, DFRobot and its logo are also present on the sticker, along with what the set has. 
Inside, there is an IO extender for the micro:bit, a vibration motor module for Arduino, and voice recorder module. It has a 9g 180-degree micro servo, Bistable LED switch (blue), RGB full-colour LED strip, and two micro USB cables. 
The container includes four digital sensor cables for Arduino, a 4-pin I2C/UART sensor cable, and one plastic snap ring. 
For the cards, you'll find a variety of these in the set. You'll find five face, seven colour, four object, three barcode, three QR code, three label, and three object-tracking cards. 
Now, our DFRobot Huskylens review will discuss their functions and design. 
DFRobot Huskylens Review – Design and Functionality
Through the UART/I2C port, the HuskyLens can link to both Arduino and micro:bit. Doing so will help you produce creative projects without having to bother with complex and challenging algorithms. 
Huskylens Vision Sensor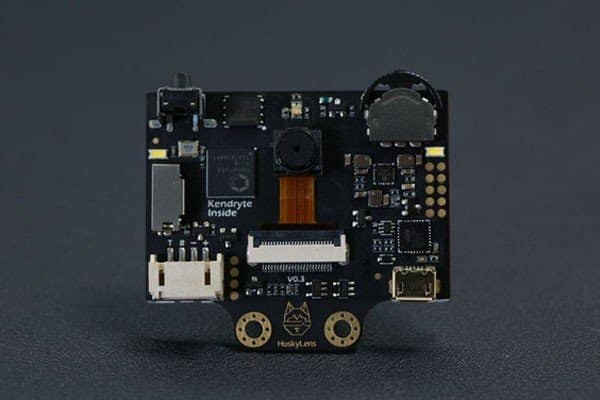 The Huskylens AI camera is a user-friendly vision sensor that sports several functions like face & object recognition, and object tracking. It even has line tracking, tag (QR Code), and colour recognition functions. Moreover, the Huskylens has a 2.0" IPS screen, so you won't have to utilise a PC in parameters tuning. 
This product makes use of the latest generation specialised AI chip called the Kendryte K210. This chip's performance is a thousand times faster compared to the STM-32H743 when working with a neural-network algorithm. So with its excellent performance, the sensor is highly capable of capturing fast-moving objects. 
When using Huskylens, all the projects you do will have effective ways to interact with you and the environment. These include autonomous robots, interactive gesture control, smart access controls, and interactive toys. 
And based on what we've observed for this DFRobot Huskylens review, you'll have a ton of new applications to explore. 
Study Pack of Huskylens for micro:bit
This is something you can perfectly partner with the AI Vision Smart Sensor. Since it's based on micro:bit programming, the study pack aims to stretch the capacity of Huskylens. It's designed to help everyone acquire knowledge that's related to AI image recognition in a fun and engaging manner. 
The extension kit is ideal to let everyone better understand the functions of Huskylens. In this kit, you'll find face cards for the face recognition project, while colour cards are specific for recognition learning. There are even barcode cards that are made for studying self-service checkouts and the like. 
Additionally, it comes with different types of cards like animals, plants, gestures, objects, and more. 
Aside from the cards we mentioned, the kit has seven external modules. For instance, servo can be utilised for face-unlocking projects while RGB LEDs are for colour recognition. Then, the voice-recorder module is for sound-related projects. 
The tutorial has 12 chapters with around two projects in one chapter. Here, you can explore how AI image recognition technologies are utilised in daily life. You can do this by doing projects for face unlocking, pet feeding, AI camera, target tracking, self-service checkouts, and more. 
Next up, let's look at the different key features of the product in our DFRobot Huskylens review. 
Key Features of the DFRobot HuskyLens
One-Click Learning with Huskylens Vision Sensor
DFRobot's Huskylens is a smart tool that's designed with built-in algorithms that allow it to learn new things. All it needs is one click.
Enabled for Machine Learning
It features advanced machine-learning technology. With that, it can recognise faces and objects which work better than ordinary sensors.
Interactive Gesture Control
The product's object-tracking skill can be utilised for learning specific gestures. Since it can recognise various motions like hand movement patterns, creating interactive projects has never been easier.
Autonomous Vehicle
Huskylens Vision Sensor can detect and follow lines without requiring the tedious process of tuning parameters. All you have to do is click the button for the Huskylens Vision Sensor to learn and track new lines.
Robotic Eyes
DFRobot Huskylens can be the eyes of robots. With that, it allows your robot to recognise and understand hand gesture commands, put things in order, and more.
Specifications
Our DFRobot Huskylens review will also discuss the product's specifications. This is where you'll learn more about the Huskylens' components.
The Huskylens Vision Sensor uses a Kendryte K210 processor and a OV2640 image sensor with a 2.0MP camera. Plus, it utilises the UART and I2C connection interfaces. 
For its built-in algorithms, these include face, colour, tag, and object recognition, as well as object and line tracking.
This sensor has a 3.3~5.0V supply voltage. For its current consumption, it's 320mA@3.3V and 230mA@5.0V.
When it comes to its display, it's a 2" IPS screen with a resolution of 320 x 240. For its dimensions, it's 52mm x 44.5mm.
Hands-on with the DFRobot Huskylens
Before utilising and testing the product for our DFRobot Huskylens review, we upgraded Huskylens' firmware to the newest version. This is highly recommended to get the latest functions and the most stable experience with it.
Of course, you don't have to update if you already have the latest firmware from Huskylens. Though we recommend uploading the firmware to your computer via the Huskylens Uploader since it has a user-friendly GUI. 
The firmware that's needed for the tutorial isn't lower than V).5 1a. And, it has all the functions needed including object classification. 
This product allowed us to learn, demonstrate, and utilise the six AI vision forms. And with the efficiency and effectiveness of its interface, we were able to use it for robotics. 
There were instances where we needed to check out the instructions to continue with the project. And conveniently, we were able to easily access them via Youtube and on the DFRobot & Huskylens website. 
DFRobot Huskylens Review Summary
The DFRobot Huskylens Vision Sensor is an excellent tool to use for various projects. It features technologies that allow for quick and easy learning for all. Plus, you can use it for various projects that you come up with.
This Study Pack for micro:bit is also a great kit that comes with additional items for DIY projects. And, the lessons and teaching cards are all straightforward which makes the entire kit even better.
Overall, the DFRobot Huskylens is an excellent set of tools for learning electronics and robotics. To get your hands on the Huskylens Vision Sensor, you can purchase it when you visit its product page. 
You can also buy the Study Pack of Huskylens for micro:bit via the company's official website.