With the quick advancement of technology nowadays, a lot of schools around the world include STEM education in the curriculum. Because of that, students also need learning materials like DFRobot BOSON Start Kit for Microbit. This will help them have a quick yet comprehensive understanding of coding.
DFRobot offers the BOSON Start Kit for Microbit, a straightforward learning kit for children and newbie programmers. This learning kit contains a variety of tools that allow anyone to come up with different projects and inventions.
Now, let's proceed to our DFRobot BOSON Start Kit for Microbit review and begin with the packaging.
DFRobot BOSON Start Kit for Microbit Packaging
This section of our DFRobot BOSON Start Kit for Microbit review focuses on the product's packaging and its contents.
The start kit is generally a plastic toolbox with an orange body and a clear flip cover. You'll find a sticker on it with the product's name there. Plus, you'll also see what type of starter kit it's for.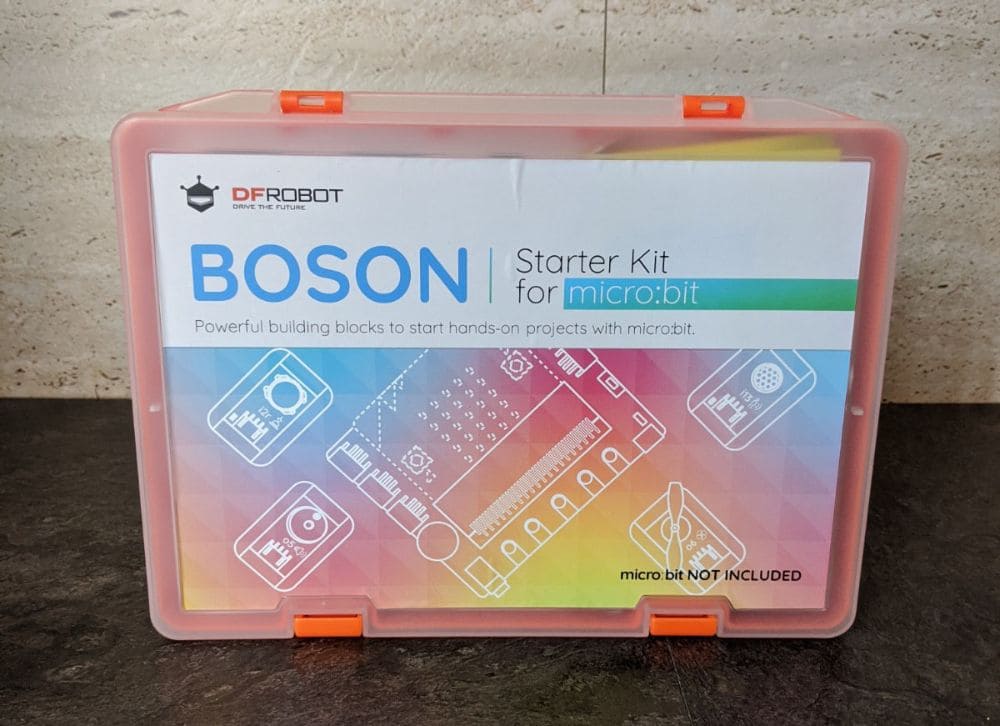 Inside the package, you will find a couple of tools and accessories to complete the Microbit Start Kit.
The first thing is the shipping list. We're glad that DFRobot included one in their package, making it easier for everyone to determine what items are present.
Inside, there's a Microbit expansion board for the Boson kit, a red push button, & one red LED light. There's also a rotation sensor, motion sensor, sound sensor, mini fan module, and a mini servo.
An RGB LED strip and micro USB cable are present, as well as three 3-pin cables (long, medium, and short). Of course, there's an included quick start guide which is very much useful for everyone using this kit.
DFRobot BOSON Start Kit for Microbit Review – Design and Functionality
Now in our DFRobot BOSON Start Kit for Microbit review, we're focusing on the starter kit's design and functions.
First off, the Microbit is a pocket-sized microcontroller made specifically for beginners and children. They'll learn about electronics and coding while bringing ideas into interactive projects, robotics, and DIY digital games.
It received a five-star award in the Teach Primary Resource Awards in 2018. This kit is smaller and faster compared to the original BBC micro-computers utilised in schools.
Useful Accessories
The Microbit comes with red LED lights that flash messages. It is also useful for establishing games. We liked that the kit has programmable buttons for controlling games or for skipping and pausing songs on a playlist.
There's an accelerometer included, so it can easily detect when you're on the go. With that, there's a compass to give you directions on where you're heading, and where you currently are.
Additionally, it has a low-energy Bluetooth connection for interacting with other devices, as well as the internet.
For programming a Microbit, users only need to link their computers, then add a few simple lines of code. This process will create a device that they're aiming for.
The purpose of this starter kit is to inspire a new generation of game developers through these computer science skills. It also helps inspire website builders and super software programmers. Generally, your Microbit could be the beginning of something phenomenal.
The Microbit Board
As an ARM-based board for development, the Microbit is an easy-to-use board that includes tons of peripherals. It avoids the need to solder or utilise external hardware to begin simple applications.
Furthermore, programming environments are present and feature designs for facilitating beginners to get started.
Next on our DFRobot BOSON Start Kit for Microbit review is the specifications of the tools in the kit.
Specifications
This time around, our DFRobot BOSON Start Kit for Microbit review will focus on the product specifications.
The input and output Voltage of the DFRobot BOSON Start Kit for Microbit's module is 3.3V. The MicroUSB Power Port Voltage is 5V.
For the maximum current, it's a total of 500mA, and its working temperature ranges from 0 to 60℃. The size of the kit itself is 250 x 190 x 57mm and weighs a total of 492kg.
Hands-on with DFRobot BOSON Start Kit for Microbit Review
This time on our DFRobot Boson Start Kit for Microbit review, we'll get hands-on with the learning kit. We will begin with the five easy steps for a quick start.
Quick Start: Five Steps
Step 1 – Connecting Microbit with Computer
First, we connected the Microbit to our computer with a micro USB cable. It's compatible with PC, Mac, Chromebooks, and Linux operating systems, so we didn't have to worry about unsupported systems.
When Microbit connected, we saw a drive called MICROBIT, which came with a fun application.
Step 2 – Programming Microbit
We were able to write our first Microbit code with DFRobot's editor. This had a straightforward interface with drag and drop blocks. The Simulator in the Javascript Blocks Editor allowed us to try the program.
This simple editor and simulator program makes it easy for children and newbie programmers to learn coding.
Step 3 – Downloading the Hex File
Once we were done with our code, we clicked on the Download button in the editor. The file type is "hex", which is a compact format that Microbit can read.
When the download was complete, we copied the file to Microbit. The process is just like how we would copy a file to a flash drive.
If you're using Windows, you can right-click and choose "Send to MICROBIT". For Mac, select the "Drag and Drop" option.
Step 4 – Using the Code
The Microbit will pause, and the yellow LED at the back of it will blink while programming your code. Once done, it will run the code automatically.
Take note that the Microbit drive will automatically eject when you program it, and it won't save your hex file.
Step 5 – Mastery
The final step is where we start using Microbit together with JavaScript Blocks. We were also able to use text-based JavaScript and Python for programming. On the "Let's Code" page, we found different programming languages.
We clicked on the "Ideas" page and saw different project ideas. With Microbit, we learned that the kit could be used for creating a digital watch. For fitness, you can create a mechanism that counts your steps like Fitbit.
Microbit is useful in different applications, and there are unlimited possibilities. You can use it for creating games, for a music player, monitoring temperature, and a lot more. For more project ideas, you can also check out the product page.
DFRobot BOSON Start Kit for Microbit Review Summary
The DFRobot Boson Start Kit is an excellent set of tools for children and beginners. Using this kit is a great way to learn the basics of coding and electronics.
With this kit, you can come up with new ideas and possibilities. It's easy to use and is affordable, making it one of the best learning kits today.
To conclude our DFRobot BOSON Start Kit for Microbit review, we highly recommend this electronics kit. If you want to purchase this, it's available for online purchase from the company's official website.