The surge of a work-from-home (WFH) setup has become more prominent due to the pandemic. But despite the situation, things are surely looking good for the webcam market. So today, we're offering you our Elgato Facecam review that will discuss everything you need to know about their webcam. 
Just like the name implies, it's a webcam that aims to become the best product for live streaming. It features 1080p @ 60fps recording and distinct features that everyone will surely delight in. 
Does a fixed focus 24mm lens and an application telling you what ISO levels you're on while streaming sound good?
If so, continue reading our Elgato Facecam review to get all the details you need to know about the product. 
Elgato Facecam Packaging
This premium HD webcam arrived in a blue-themed cardboard box that displays an image of the product in front. Facecam and the company's logo are set above the image. Below it, you'll find a quick description of what the product is. 
Under the image, Elgato listed the webcam's key features for you to see. Then on the lower-right corner, you'll see Elgato written in this area. 
Of course, our Elgato Facecam review won't miss out on discussing the other contents of the box. Other than the Facecam, other items included are the privacy cap and a detachable USB-C cable. Then, you'll also find a mount that has a 1/4″ thread. 
Elgato Facecam Review – Design and Functionality
This webcam sports a square-shaped frame that's a bit on the bulkier side compared to other webcams around. But don't worry since it isn't as big as the Kiyo Pro from Razer. 
The Facecam sports a medium-sized lens surrounded by a circular pattern that has a concave aspect to it. This creates adequate room for the privacy cover to be set nicely and neatly inside. 
To its right, you'll find "Elgato Prime Lens 1080p60 24mm 1:2.4" written in white text. Then on its left is a LED indicator that lights blue when switched on. At the top of its square frame is the company's logo, and on the right, you'll see the Facecam logo. 
The USB-C port for its power can be found on the rear section of the webcam. Below the Facecam, you'll see a connector for the mount. This can be detached/reattached to the Elgato Ring Light or a tripod.
In addition, you can utilise the L-shaped clamp to mount the product to a monitor. The first part of the L can shift up to 90-degrees while the second one can shift up to 180-degrees.
When it comes to its build, the Facecam is big and a bit chunky. Plus, its plastic case feels a bit cheap for its price. Despite that, its efficiency to swivel and tilt with almost complete freedom somehow makes up for this.
Also, it still feels a bit top-heavy when mounting.
It's a good thing that the webcam is a sturdy product, and once set, it won't move unnecessarily. However, do note that the USB-C cable isn't that lengthy. But it at least gives more room to reach the port on your device. 
For its little webcam cover, it's pretty nice to have since it's easy to set on the lens too. 
Next in our Elgato Facecam review, we'll check out the different features of the webcam that makes it click. 
Key Features of the Elgato Facecam
Elgato Prime Lens
Elgato's Prime Lens is all glass with an f/2.4 aperture and focal length of 24mm. With these studio-quality optics, you can record the clearest videos.
Custom Heatsink for Cooling
The Facecam's custom heatsink allows for cool operation at all times.
Flash Memory
With onboard memory, you can save your settings directly to the camera and use it even without the software. So even if you switch from laptop to desktop, you won't have to worry about losing your settings. And, it doesn't matter whether you use Windows or Mac.
State-of-the-Art Image Sensor
Photographers and filmmakers rely on Sony image sensors for industry-leading performance. For streamers to look their best while streaming on Twitch, Zoom, and other sites, Elgato added a Sony sensor. With that, you can capture images and videos clearly in all lighting conditions.
The sensor used for the Elgato Facecam is the Sony STARVIS CMOS. It's optimised for indoor use and allows Facecam to capture extraordinary detail and less noise.
Advanced Image Engine
The ultra-fast processor of the Elgato Facecam works smartly to beautify your videos. With manual control, you can dial the look you need just like with a DSLR.
High-speed Transfer with the Elgato Facecam
The Elgato Facecam uses a USB 3.0 interface for plug-and-play convenience and low-latency transfer of uncompressed videos.
Seamless Mounting
The industry-standard 1/4″ thread lets you clamp the Elgato Facecam on a monitor or attach to Multi Mount.
Easily Shoot Like a Pro
With Camera Hub, you can easily set the perfect shot on the fly. You can adjust the Facecam's brightness, contrast, colour temperature, saturation, and exposure. Also, you can select its shutter speed. 
If you don't want to adjust the Facecam's settings, you can enable Auto mode.
Optimised Fixed Focus
The Elgato Facecam maintains a crystal clear focus. With that, you can just sit back, relax, and talk.
Capture Surroundings with the Elgato Facecam's 82-degree Field of View
Get up close and personal with the Elgato Face Cam or capture your surroundings within the frame.
Dynamic Image Processing
The Facecam's optimised ISP automatically corrects shadows and enhances highlights. With that, colours will be vibrant yet natural. It balances the contrast to maximise detail while minimising noise.
Whether you capture images or record videos in the day or evening, you'll have impressive image quality.
True 60 FPS
The advanced circuitry and cutting edge optics of the Facecam redefines what you expect from FHD webcams. You can no longer say goodbye to lagging footage and stream with fluid 60 fps and 1080p resolution.
Raw to the Core
As we continue with our Elgato Facecam review, we saw that this product is best in zero artifacts and class latency. This is all thanks to the uncompressed YUV video, which means there is no unnecessary re-encoding of the webcam feed.
Specifications
This product supports uncompressed 1080p60, 720p60, 1080p30, 720p30, 540p60, and 540p30 resolutions. For its optics, it utilises the all-glass Elgato Prime lens that has a focus range of 30 to 120cm. Plus, it has an aperture of f/2.4, focal length of 24mm, and an 82-degree diagonal field of view. 
Elgato Facecam utilises Sony STARVIS CMOS, a sensor optimised for indoor use. Also, it uses Type-C USB 3.0 which is good for quick file transfer. 
Of course, we're providing the details about its dimensions in this Elgato Facecam review. Without the mount, the product measures 58 x 80 x 48mm (D x W x H), and it weighs 103g.
Hands-on with the Elgato Facecam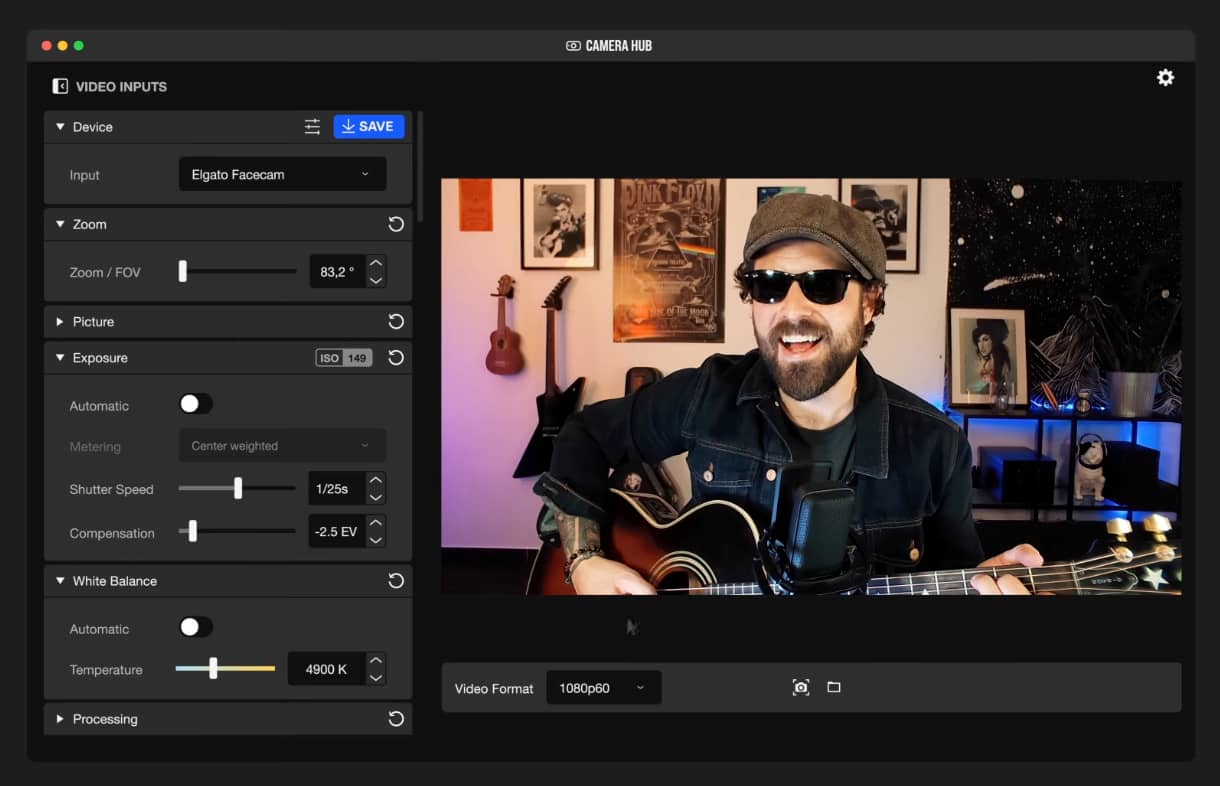 The Camera Hub is the software where you can customise the Elgato Facecam's settings. It has a neat interface and during our tests, it ran smoother compared to other webcam software programs we've used.
By using this software, we were able to adjust the Facecam's FOV, contrast, sharpness, and saturation. As mentioned in the features, Camera Hub offers automatic settings for exposure. Manual adjustment requires adjusting the metering between being average or center-weighted.
We also saw the Processing tab which features the settings for anti-flicker and noise reduction. It also mirrored our Facecam's viewpoint.
Overall, the Camera Hub offers a clean interface and we found it user-friendly. Setting up the Facecam wasn't a problem for us since the software was straightforward.
Let's discuss how easy (or not) it was to use the Facecam in this part of our Elgato Facecam review.
When we tried using the Facecam in a well-lit room, it produced accurate colours while the texture was adequately detailed. Background elements didn't look fuzzy, and the lighting was much brighter when we used it. 
In an overexposed room, we tried using the webcam in saturated lighting. We actually pointed the Facecam towards our window to see how it would fare. 
Often, this kind of test would be a bit too much for other similar webcams to handle. But the Facecam did exceptionally well in this test. 
It was able to display a detailed enough image of our faces. This means, it will be comfortable to use for video calls even with this lighting. 
Speaking of its collection of settings, these certainly helped make the Elgato Facecam better than ever. It gave us an excellent degree of control over ISO and shutter speed. Plus, it boosted and limited the amount of light processed by the sensor. 
Overall, its image reproduction was great. And, its software gave us a wide selection of control over how the sensor should perform. 
Its onboard memory guaranteed that we didn't have to keep the software working 24/7. This is something that most webcams can't offer, so the Elgato Facecam is really the best option out there. 
Elgato Facecam Review Summary
The Elgato Facecam is a highly directed device that will be loved by its main audience. It offers high image quality and its light software has a live ISO information feed. These will be useful for power users. 
When we tested the product for our Elgato Facecam review, we noticed it had a good sensor and solid construction. Plus, its latency and refresh rates were great with ambient lighting. More importantly, it was responsive and we didn't have problems with lags and delays.
Although the Facecam is the first webcam that Elgato released, it's an impressive product. It has a lot of great features and there's little to complain about. In fact, it's a solid option especially for those who are currently using Elgato's streaming products.
Overall, we were satisfied with the Facecam and we highly recommend it. If you think this is the webcam you need, you can purchase it from Elgato's official website.