Good lighting is everything when it comes to live streaming, video production, or photoshoots. And in our Elgato Ring Light review, we're going to share an ideal product for such needs.
The Ring Light is a smart and dramatic way to enhance your production value. This works by providing immensely bright and adjustable lighting for your needs.
It also has variable colour temperature and soft yet bright, flicker-free lights, making it ideal for streams, video calls, etc. If you need good, constant, and high-quality lighting for your activities, you've come to the right place.
Today, we're discussing all the important details about the product in our Elgato Ring Light review. These will help you decide if it's something for your needs, and if it's worth investing in. 
Elgato Ring Light Packaging
The Ring Light came in a fairly large cardboard box that's sturdy and durable enough to protect the item inside. In front of the box, an image of the Ring Light is displayed. Together with it, you'll see Elgato's logo and "Ring Light" written on the upper-left corner.
On the lower-left section, you'll find a list of the key features of the Ring Light. 
Flipping the box for our Elgato Ring Light review, there are more details featured about the product. Another image showcases the Ring Light being used.
Inside the box, you'll find the Ring Light itself together with the Master Mount S and camera ball mount. Also included are the power supply and quick start guide. 
Elgato Ring Light Review – Design and Functionality
Of course, we examined the product for our Elgato Ring Light review, and it's indeed sleek and well-made. It may appear huge when you remove it from the package. Yet once you assemble it, the Ring Light takes up just a small amount of space. 
The included clamp-on desk stand has an adjustable height and a power supply with clip-on plugs. With these, you can utilise the light no matter which country you're in. 
For the Ring Light itself, it features a control centre which can be found below and above the light's base. You can screw in your favourite webcam or a general-purpose video camera to the control panel's top centre. 
When it comes to its colour temperature and brightness, these can be adjusted. You can do this via the +/- buttons on each side of the light's camera mount. It's easy to modify the angle of the light and camera, giving you a perfect shot with its clamp-on stand. 
Multiple Options for Brightness and Colour Control
Continuing our Elgato Ring Light review, we can see it definitely sets itself apart from other lights on the market. That's because of its multiple options for colour control and brightness that allows for better customisation when being used.
You can download the Control Centre from Elgato to a smartphone or PC then control the Ring Light's parameters. This is also where it can be powered on or off. 
If you own Elgato's Stream Deck, it's possible to configure the same custom control functions there. Or, if there are any of Corsair's newer keyboards, you can assign these to the macro buttons. 
It's quite impressive to see a lot of options available for customising the settings on the Ring Light. This is necessary especially for live streamers who operate and control each aspect of their broadcast equipment. 
It will prevent them from having to stand up every time to adjust parameters on the light. Thus, making it efficient and convenient for use. 
Controls
After mounting the Ring Light, just plug in its power adapter then switch the product on. You can manually adjust the settings from the light itself, or opt to utilise the app. On the Ring Light, you'll see two buttons on each side of its camera mount.
The physical buttons can control the Ring Light's brightness in 10% increments. And, it can enter a colour temperature mode wherein the temperature can be set for your shooting preferences and conditions. 
Key Features of the Elgato Ring Light
Unparalleled Radiance
Elgato's Ring Light is made to flatter the skin and remove shadows. It offers that extra-special sparkle to your eyes without glare.
State-of-the-art
The signature edge-lit LED architecture is now in the perfect circle of this Ring Light. 
Cinematic and Vibrant
The Ring Light's two diffusion layers offer a vibrant flow that offers soft light on the face. This excellent lighting will make you look illustrious and feel amazing
Full Control
Easily adjust the Ring Light's brightness using your mouse and set the mood via mobile for a thumbnail shot. Elgato's Ring Light is the smartest you can ever find, and it's accessible via all of your devices.
The Best Lighting Companion
The Elgato RIng Light is steady, strong, and space-saving. It comes with all the features for a perfect lighting companion.
Perfect Lighting that Adapts to the Environment
The Ring Light goes up to 2500 lumens so it's ultra-bright you can still make it fully dimmable. And what's highly notable about it is that the lights can adapt to any environment. 
Edge-lit Architecture
With this specific feature, the Ring Light is kinder to your eyes compared to other similar products. So, you can work without breaking a sweat since things are easier and more convenient. 
Now, our Elgato Ring Light review will discuss the different specifications of the Ring Light. Then, we'll see how notable its performance is. 
Specifications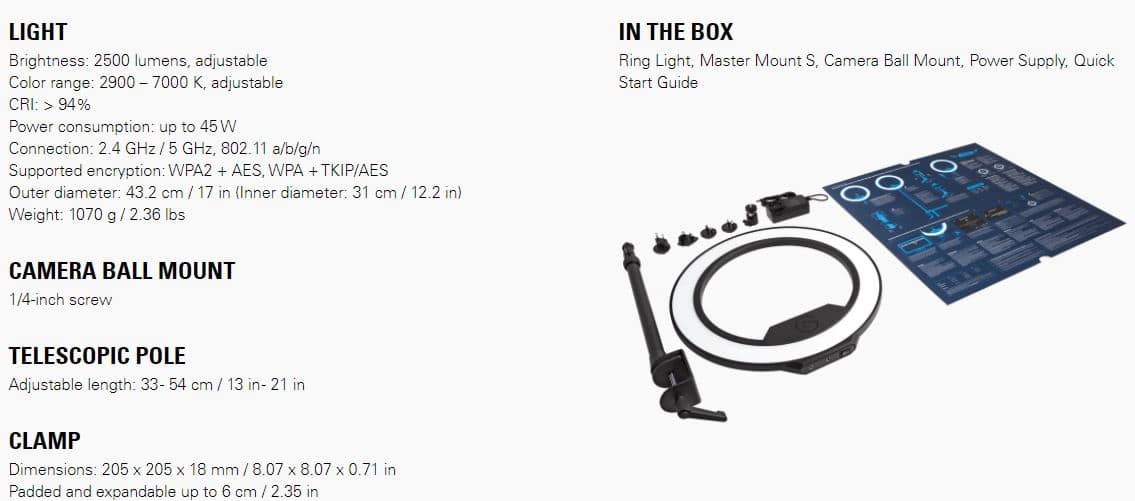 The Ring Light has a brightness of 2,500 Lumens and it's adjustable based on your preferences. Its colour range is adjustable as well, and it ranges from 2,900 to 7,000K. Plus, its CRI is more than 94%. 
Looking further into the product for our Elgato Ring Light review, we saw that it consumed power up to 45W. It uses a 2.4 GHz and 5 GHz, 802.11 ABGN connection. Plus, it supports WPA2 and AES + WPA (TKIP / AES) encryption.
Its outer diameter measures 43.2cm while its inner diameter is 31cm. When it comes to its weight, it's a total of 1,070g.
The camera ball mount has a 0.635cm screw while its telescopic pole features an adjustable length. You can set it from 33 to 54cm. For its clamp, it measures 205 x 2025 x 18mm, plus it's padded and expandable up to 6cm. 
Next in our Elgato Ring Light review, we'll see if the product is as good as claims. And, if it's worth investing in. 
Hands-on with the Elgato Ring Light
The Elgato Control Centre is the software used for quick configuration of the Ring Light's variable colour temperature and brightness. It's available on Windows, macOS, iOS, and Android.
Once connected to a WiFi network, the Ring Light becomes easier to use. Upon downloading and installing the software, click "Add Accessory" to pair the Ring Light via WiFi.
After pairing, you can start controlling the settings from the computer or phone. If you have the Elgato Stream Deck like the mini or XL, lighting can also be controlled from there.
The Ring Light has a built-in option to switch it on and off which is handy. But of course, you can also do this within the Control Centre. With that, it can remain plugged in, so you can switch it on or off via software, computer, or manually.
When we turned it up to max, the Ring Light was extremely bright. And, up to 2,500 lumens should be a lot for most activities. 
We tried it out for this review, and mostly, we just had it on the first three settings. Though our use of it was mostly having it set up behind our monitor in the evenings. 
Of course, we tried it out in a brightly lit room. With that, it's safe to say it can be cranked up to ensure it exposes your face properly. We saw the iconic catch light in our eyes when we used the Ring Light, bringing more life to them. 
Aside from having soft, bright lights, the Ring Light is also flicker-free. Compared to the LED lights we tried before, it didn't cause any flickering on videos which is really good. 
We also had tons of fun playing around with the Ring Light in other product-photography and B-roll setups. Overall, the Elgato Ring Light performed excellently and it was great with providing light efficiently. 
Controlling and setting it up was easy, and we didn't encounter any problems during our tests. It's something we'd recommend, and we're sure you'll love how it performs. 
Elgato Ring Light Review Summary
Ring lights have become one of the common equipment used by live streamers. There are a lot of options on the market, but not all are designed with live streamers in mind. That's where Elgato's Ring Light comes into play.q
Elgato continues to produce high-quality products for content creators and streamers. The company has a line of capture cards, lights, and microphones that makes streaming easier, better, and more enjoyable. While they have other light options, the Ring Light has quickly become the most popular for video creation.
When we tried the product, we didn't have issues while setting it up and using it. The Ring Light also performed excellently which is a plus. 
Overall, the Elgato Ring Light is an impressive product that we highly recommend. Although pricey, its setup process is simple and it's easy to use. To get your hands on the Elgato Ring Light, you can purchase it from the company's official website.