JBL has always been the best when it comes to awesome-sounding and durable speakers. The thing is, it also has a collection of awesome true wireless products. Today in our JBL Live 300TWS review, we'll check out wireless buds that offer smart features and specs.
Some of these features include Google Assistant; plus, there are many listening modes you can take advantage of. The Live 300 TWS is considered as the earbuds for everyone. So, we're putting that to the test.
Here in our JBL LIVE 300TWS review, we'll let you know if these earbuds are worth spending on. Before we find out how it works, let's check out the product's packaging and inclusions.
JBL Live 300TWS Packaging
Our JBL Live 300TWS came in a typical-looking JBL package. In front, you'll find an image of the earbuds, while the product's name is written lengthwise on its right.
The upper-left corner of the box displays JBL's logo, while the lower-left corner shows what the earbuds are compatible with. For additional details about the Live 300TWS, you can check out the box's rear for information.
Inside, you'll find the JBL live 300TWS earpieces set nicely and neatly in place. JBL made sure that the product is safe, so worrying about damages while in transit isn't necessary.
Together with the earbuds, you'll find assorted ear tips that range from small to large. These come with wing fin enhancers as well, and they come in different sizes too (SS, S, M, & L).
Aside from these, you'll find a USB Type-C charging cable, charging case, a warranty/warning card, and a QSG/safety sheet. Plus, there's the JBL Club One Box visual included in the package.
Our JBL Live 300TWS review won't be complete without talking about its design and functions, so let's get to that.
JBL Live 300TWS Review – Design and Functionality
The Live 300TWS has a 2.7″-wide case that gives off a sleek and premium look. It's compact, smooth, and easy to slip in your pocket, which is extremely convenient for anyone on the go.
It's got notification lights that're somewhat reminiscent of luxury and high-end products. Plus, the ring surrounding its USB-C port flashes white when you're charging the Live 300TWS.
Looking at where JBL positioned the ring, we can say that it's pretty convenient. That's because it'll be easier for you to know where to insert the plug during low lights. Once you've correctly set the plug in, the light will shift from white to red to indicate this.
These wireless earbuds come with standard-sized earpieces, as well as a compact charging case. It has a nice, smooth finish, and has a form that's easy to grip or slip in your pocket.
There are separate ear tips for each piece to give you the right in-ear fit. JBL provided three sets of differently-sized ear tips and ear fin sleeves in different sizes and shapes.
In our JBL LIVE 300TWS review, we're also looking into the control panels for these earbuds.
It comes with on-ear control panels that don't work with a mirror approach. Each earpiece handles different functions, allowing for more control right at your fingertips. But while that makes it convenient, you do have a lot more functions to memorise.
When it comes to the right earpiece of the Live 300TWS, you'll find the typical controls here. These include the controls playback (single tap), skips track forward (double tap), and moves a track back (three taps).
When you tap and hold, it'll summon the voice assistant. For a double-tap and hold on the second tap, it readies the earbuds for pairing. Do note that this automatically happens when you remove the Live 300TWS from their charging case.
Controls for the left earpiece is less obvious. One tap cancels the request for Google Assistant, while a tap and hold bring up Google Assistant or Alexa. When you double-tap, it'll trigger the voice assistants' notification announcements.
Key Features of the JBL Live 300TWS
Our JBL LIVE 300TWS review now focuses on these wireless earbuds' key features.
True Wireless
The JBL Live 300TWS earbuds have a completely wireless design. With that, you can easily enjoy music or conveniently call while on the go.
Instantly Access Voice Assistant
Through the JBL Headphones app, you can choose from Google Assistant or Amazon Alexa. Once enabled, all you need to do is swipe on the earbuds to activate the earbuds' Voice Assistant feature.
With Voice Assistant, you can do a lot of things with ease. Ask for the weather forecast, have your notifications read out loud, or reply to a message with your voice. It's all made simple with the Live 300TWS.
Fast Pairing
Fast Pair is a feature enabled by Google. It connects your JBL Live 300TWS to your Android device once out of the case. This unique technology also let s you pair multiple devices by simply tapping on the device's screen.
Comfortable and Secure
You can use the JBL 300TWS to listen to music all day without discomfort. It comes with assorted sizes of wing fin stabilisers, so you can find the perfect and most comfortable fit.
IPX5: Water and Sweat Resistant
You don't need to hold back when the weather's bad or if you're going for a tough workout session. The JBL 300TWS is IPX5-certified, which means that it's sweat-proof and water-resistant.
Specifications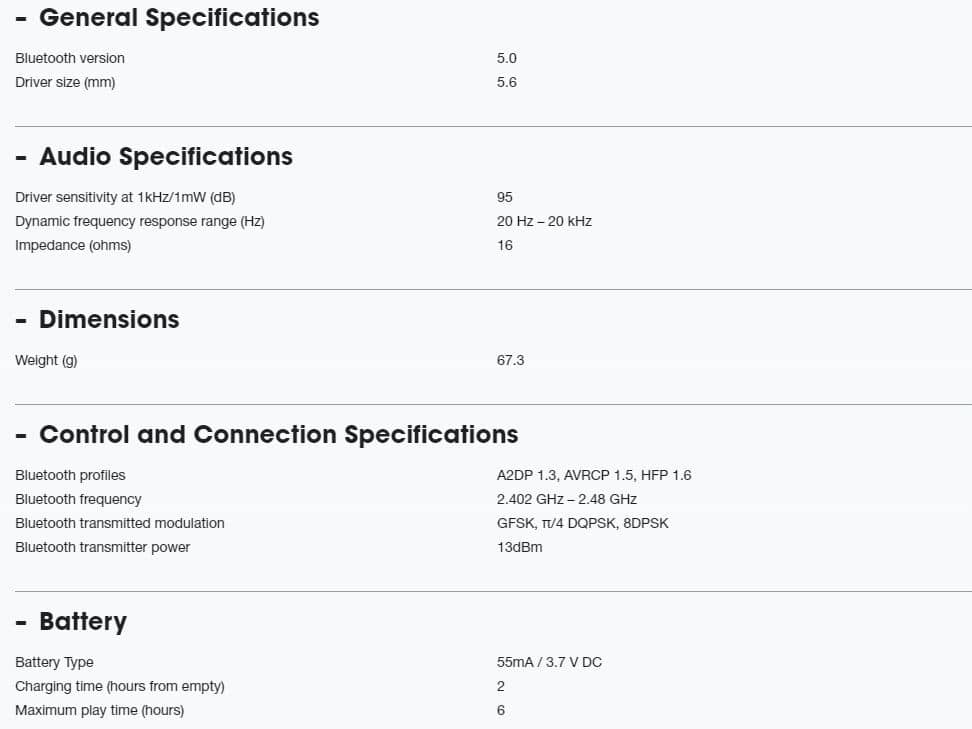 Let's now discuss the different specifications of these earbuds in our JBL LIVE 300 TWS review.
The JBL Live 300TWS features 5.6mm drivers that offer a 20Hz to 20kHz frequency range. When it comes to compatibility, it works with Bluetooth 5.0 while supporting both SBC and AAC codecs. However, do note that it doesn't support AptX.
Since it has an IPX5 rating, the Live 300TWS can readily withstand water splashes and light rain. If you workout, the earbuds function fine for most sessions, and you can simply wipe it with a damp cloth.
Of course, you should avoid submerging the earbuds, and heavy water pressure isn't advisable as well.
JBL estimates the battery life of the Live 300TWS to last for roughly six hours when fully charged. However, the results vary depending on your volume levels. When not in use, these charge.
JBL estimates the battery life of the Live 300TWS to last for roughly six hours when fully charged. However, the results vary depending on your volume levels. When not in use, these charge
When the buds aren't in use and are placed in the case, these charge unless they're drained. It takes two hours to fully charge the case, which provides extra 2.3 charge cycles. In total, you'll get around 17.5 hours of portable battery life.
Hands on with the JBL Live 300TWS
Our JBL LIVE 300 TWS review will now discuss the performance of the Live 300TWS. First, let's see how pairing went with these earbuds.
There's one thing that JBL is known for. It's the fact that they're good at offering user-friendly instructions on how to utilise their devices.
The first time we opened the case, the earbuds instantly entered the pairing mode. Then, we simply enabled Bluetooth on our smartphone, then chose JBL Live 300TWS from the menu.
Accessing pairing mode while wearing the Live 300TWS is possible. Just double-tap the right bud, then hold the second tap for about five seconds.
If you need to reboot it, it's as simple too. Set both earbuds into the case then hold down the case's button for five seconds.
When it comes to the JBL Headphones app for both iOS and Android, it increases the earbuds' functionality. It has a 10-band equaliser with a collection of presets that you can easily adjust. Or you can choose to make your own, or disable all equaliser settings.
The default EQ settings include Off, Bass, Jazz, and Vocal. You can also utilise TalkThru or Ambient Aware modes in the application. Plus, it's possible to customise swipe-based gestures to either disable/enable modes.
In TalkThru, you'll hear the surroundings via ambient mics while music volume is significantly lowered. As for Ambient Aware, the mics are enabled yet music volume stays the same.
For the audio quality of the JBL Live 300TWS delivers impressive midrange and vocal reproduction. For an affordable pair of earbuds, these produced excellent vocal clarity.
Unlike most of JBL's speakers and headphones, these earbuds don't have booming bass. In fact, the basslines and the drums were masked. These only sounded clear and emphasised with high volume levels.
For the controls, the Live 300TWS responds quickly to each tap and swipe. At times, the earbuds tend to have trouble distinguishing a swipe and a tap, but this wasn't a big problem. When it comes to using Voice Assistant features, we didn't encounter any issues.
JBL Live 300TWS Review Summary
The JBL Live 300TWS are a great pair of earbuds that is an excellent option for those on a budget. They deliver impressive audio performance, a customisable equaliser, plus it has a durable build. Its in-ear fit is secure, making it excellent to use when commuting or working out.
To summarise our JBL LIVE 300TWS review, we're satisfied with its construction and performance, and we highly recommend it. If you want to purchase these earbuds, it's available from the company's official website.