JBL is a brand that's known for their signature sound and audio quality. So today, our JBL Live Pro+ TWS Headphones review will discuss their latest headphones – the Live Pro+ TWS. 
It's an update to the Live series that still keeps the signature features. These include smart controls, powerful sounds, and other features. 
So, what new offerings does the Live Pro+ TWS have? It has the ANC technology, together with other notable features. We'll talk about all of these in our JBL Live Pro+ TWS Headphones review. 
JBL Live Pro+ TWS Headphones Packaging
Let's begin our JBL Live Pro+ TWS Headphones review by looking at its packaging and what's inside. 
The Live Pro+ TWS came in a simple-looking package that features an image of the product at the centre. The front also displays the headphone's name, key features, and JBL's logo.
Inside, the headphones are set and tucked securely in place. So, you won't have to worry about them getting damaged while in transit.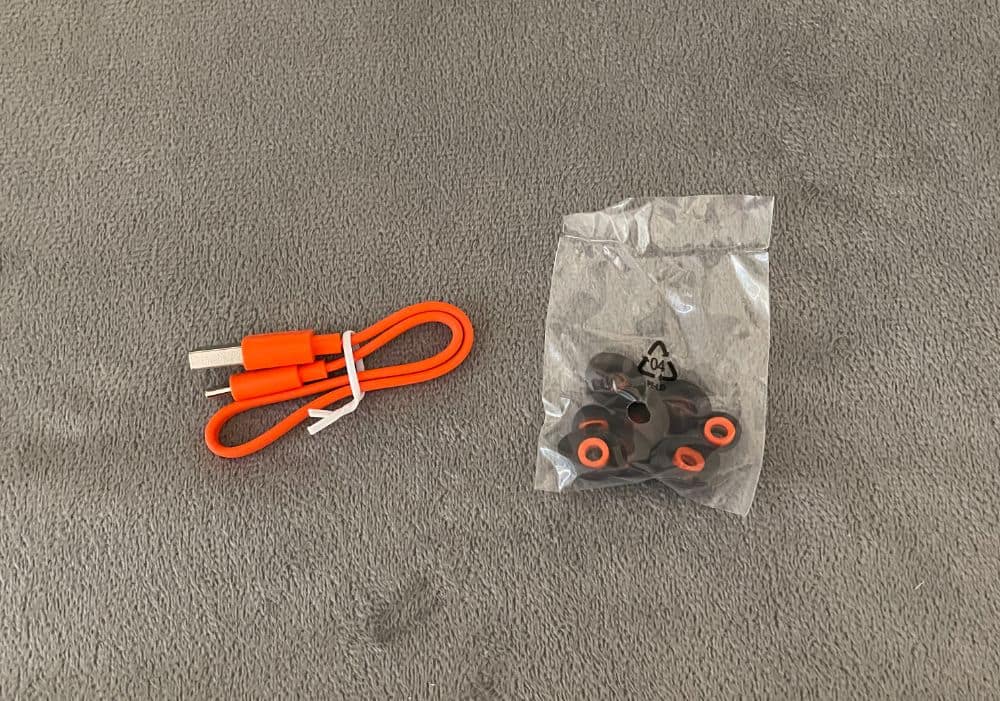 Other than the Live Pro+ TWS, other items inside the box include its charging case and the USB-C charging cable. Plus, you'll also find three pairs of extra silicone ear tips, plus two pairs of shorter ear tips. 
Of course, JBL included a user guide for your reference. 
JBL Live Pro+ TWS Headphones Review – Design and Functionality
Now, our JBL Live Pro+ TWS Headphones review will focus on the functions and design of the headphones. 
If you also use Apple AirPods, you'll notice that the Live Pro+ TWS sports a similar shape to it. JBL opted for ear tips instead, which results in a more stable and sturdy product. 
With that, it comes with a great build quality despite its body being made mostly out of plastic. It also integrates a silicone-like material that's sturdy enough to handle accidental drops without issues. 
Although the Live Pro+ TWS has a bit of a shallow fit, these don't feel like they'll just pop out. Plus, the headphones are portable since they're small and fit in most pockets. Even if you put them inside their charging case, they'll still fit in perfectly.  
Speaking of its case, it's also small and made from matte plastic. It has three lights in front to inform you of the case's battery life. 
The Live Pro+ TWS has outstanding controls that are user-friendly and responsive. You can press the bud once to answer/end calls or access your voice assistant via a long press. You can also hold it for three seconds to either unmute/mute the microphone during calls. 
A single press on the left earbud switches the ANC on/off, while two presses will activate Ambient Noise. This will let you hear your surroundings simultaneously while listening to audio. 
One press on the right bud lets you pause/play audio. Two presses will skip to the next track, while three will skip to the earlier track. There's also no audible feedback when you play audio, change tracks, or pause audio. 
Do note that when you're charging one earbud, you can't skip tracks forward or backward using the other. 
Let's now check the cool key features of the product here in our JBL Live Pro+ TWS Headphones review.
Key Features of the JBL Live Pro+ TWS Headphones 
JBL Signature Sound for the Ultimate Audio Experience
Despite their size, the Live Pro+ TWS headphones are powerful with their 11mm dynamic drivers. These provide JBL's signature sound that you can enjoy when listening to music.
Adaptive Noise Cancelling and Smart Ambient
Adaptive Noise Cancelling lets you focus on your music with zero distractions. Another feature is Smart Ambient, which lets you hear ambient noise without removing the headphones.
28 Hours Play Time and Wireless Charging 
When fully charged, the Live Pro+ TWS gives you a playback time of seven hours. Aside from that, the charging case provides 21 more hours. That means you can have music all day long.
To charge the case, you can easily do this with JBL Live Pro+ TWS Speed Charge or wireless Qi charging.
Voice Services Integration
JBL integrated voice services for the Live Pro+ TWS. Once enabled, you can use Google Assistant and command the headphones to perform various tasks by talking.
We've checked out these features for our JBL Live Pro+ TWS Headphones review's hands-on section. But before we get into how it performed, let's check out its specifications. 
Specifications
The Live Pro+ TWS makes use of Bluetooth 5.0, and JBL added an 11mm driver into it. Its driver sensitivity is 102dB with a dynamic frequency response that ranges from 20Hz to 20kHz. Plus, it has 16 Ohms for impedance. 
This product makes use of a 3.7V 55 mAh battery that has a total charging time of 2 hours. If you have the ANC off, its total music playtime is 7 hours. However, when you switch it on, you'll get 6 hours instead.
Lastly, the Live Pro+ TWS only weighs 10g which is extremely lightweight. 
Now, our JBL Live Pro+ TWS Headphones review will begin discussing our hands-on experience with the headphones. Let's see if it's just as awesome as what JBL claims it to be. 
Hands-on with the JBL Live Pro+ TWS Headphones 
When it comes to JBL's Bluetooth products, it's always important to mention their companion smartphone app. Using this software makes the headphones deliver better audio quality.
In the app, you'll find parametric EQ and presets to customise the Live Pro+ TWS' sounds based on your preference. The app is easy to use and has lots of customisation options for setting up noise-cancelling levels, pass-through, and more.
Here, you can also enable or disable ANC, choose ANC presets, or switch ambient mode on or off. Plus, the app lets you remap controls, adjust the auto-off timer, and enable or disable auto-pause. The battery life of each bud and the case is also shown in the JBL Headphones app.
Additionally, the app has an audio test to check if the headphones have the right seal in your ear.
For noise cancelling, there are three different noise-cancelling options. These include everyday mode, active mode, travel mode. 
There are also Ambient Aware and TalkThru modes that you can enable depending on your environment. For these two features, the app has an EQ option with several presets.
We were able to utilise the product right out of the box since they were tuned. When we tried listening to music, we received a nicely balanced sound that didn't rely much on bass. 
Speaking of bass, the Live Pro+ TWS's sound profile was bass-heavy which provided us with additional power and boom. It's something ideal for EDM and hip-hop fans, but we appreciate that it was still balanced for various audio content. 
With its companion app, you can readily customise the sounds of your headphones using the presets or parametric EQ. 
The Live Pro+ TWS gave us outstanding and consistent frequency response. Once you get adequate fit and seal via the included ear tips, you'll enjoy consistent bass and treble every time.
The treble accuracy of the Live Pro+ TWS is excellent. Since there's a slight overemphasis on its low-treble, the vocals and lead instruments' upper harmonics were detailed. Mid-treble was neutral, giving us sibilants that were bright without being piercing. 
We changed the EQ settings since we wanted more control, and we received noticeable bonuses under specific conditions. Generally, we found the Live Pro+ TWS as something enjoyable for listening and music sessions. Volume wasn't an issue since these can get quite loud. 
Noise Cancelling Performance
The available ANC was excellent in holding off low-frequency sounds, and it did its best with the tough high-frequency ones. ANC worked really well on lows, while high-frequency sounds produced slight hissing sounds in the background. 
We were glad that the Live Pro+ TWS was able to reduce annoying sounds like engines and humming home appliances. 
Bluetooth Connectivity
The JBL Live Pro+ TWS offers a reliable Bluetooth 5.0 connection. We saw its signal strength and speed since they connected quickly once we popped them out of the case.
In addition, its audio was perfectly in sync when we played games and watched videos. Both AAC and SBC codecs offered good connectivity with low latency.
JBL Live Pro+ TWS Headphones Review Summary
Since we used these headphones for our JBL Live Pro+ TWS Headphones review, we definitely enjoyed wearing them all throughout. 
The Live Pro+ TWS is a complete package. It offers a lot of control and customisation, active noise-cancelling features, high-quality audio, and long battery life. Aside from that, its Bluetooth connectivity offers low latency for an enjoyable listening experience.
These headphones also feel nice, comfortable, and secure when worn. It's not packed with lots of extras, but it has impressive sounds and solid features that are highly customisable.
Overall, we enjoyed using the JBL Live Pro+ TWS headphones, and we highly recommend them. You can purchase this product by visiting this through the company's official website.