Today, we're giving you our JBL Live 460NC Headphones review since we'll focus on these headphones from JBL. 
The Live 460NC headphones is a true wireless product that's fit for every lifestyle. It has excellent noise-cancelling features, plus JBL's signature sounds integrated here. 
It's a perfect product for those who regularly multitask since JBL used the true wireless technology for it. Thus, allowing you to freely and easily enjoy music even when on the go.
Let's learn more about the product in our JBL Live 460NC Headphones review. But before we get into the specifics, let's check out its packaging and what's inside.
JBL Live 460NC Headphones Packaging
Our Live 460NC arrived in a typical-looking JBL box that has adequate details about the product. The front displays an image of the headphones, along with its name, key features, and logo. 
Inside, the Live 460NC comes with other items which are all nicely and neatly packed. JBL made sure that everything is packed securely to avoid possible accidental damages during transit. 
Other than the Live Pro+ TWS, the package includes other items. These are the audio cable, a Type-C charging cable, a warranty/warning note, and a QSG/safety sheet.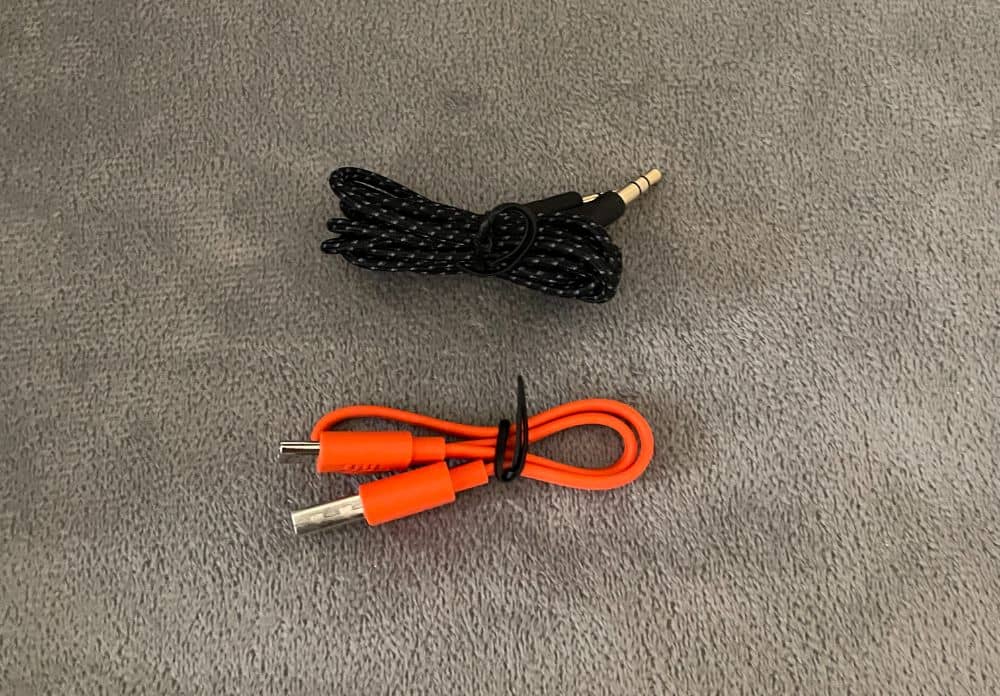 Now, our JBL Live 460NC Headphones review will discuss and focus on it's design and functionality.
JBL Live 460NC Headphones Review – Design and Functionality
The headphones have a nondescript style that's similar to the Live 660NC Wireless. It sports a mesh fabric-lined headband together with plastic ear cups that sport the brand's logo on them. 
When it comes to its build, it's entirely comfortable with a lightweight form. Plus, the ear cups have an excellent range of motion that's ideal for accommodating differently sized heads. In addition, its headband feels comfortable too. 
Speaking of its headband, it comes with rigid mesh fabric with a bit of padding. Plus, it has a metal plate to aid in reinforcing its frame. You'll find faux leather pads along the ear cups as well, so overall, the headphones feel sturdy and tough. 
We wore the headphones for hours, and we can say that it's definitely great for long periods of listening. It was comfortable, and we didn't feel any strain on our ears or head which was great. 
Just note that JBL didn't include a carrying case for the Live 460NC. So, you need to find another protective bag for when you're on the go. 
We also looked into the headphones' controls for our JBL Live 460NC Headphones review. And, we learned that it has excellent controls that provide good feedback while being easy to use. 
It comes with volume up/down controls, allowing you to skip the track back or forward. You simply need to press and hold the button to execute these controls. 
The middle button plays or pauses audio, and it also answers/ends your call. If you want to decline a call, simply hold down this specific button. 
Touching the left ear cups' JBL logo or the middle button for two seconds will activate the voice assistant. In addition, you can click the ANC button to switch ANC or Ambient Aware on/off. Though for talk, you can press this button twice, allowing you to chat without having to remove the headphones you're wearing. 
The buttons are clicky and easy to differentiate. The headphones also have low and max volume chimes, plus another chime for switching the headphones on or pairing them.
The next stop in our JBL Live 460NC Headphones review is all about the product's key features. 
Key Features of the JBL Live 460NC Headphones
JBL's Unique Audio
The Live 460NC's 40mm audio drivers deliver JBL's signature sound. This unique audio quality is something you won't hear when using other headphones.
Voice Assistance for Convenience
When using the JBL Live 460NC, you can choose between Google Assistant and Amazon Alexa. When voice assistance is enabled, you can perform various actions without raising a finger. Just talk, and your voice assistant will do everything for you.
Voice assistance allows you to easily activate ANC and check the battery life or switch off the Live 460NC. To use this feature, your mobile device requires Android 6.0 or higher OS.
Ambient Aware and TalkThru
When you're walking on a busy street, you need to be aware of your surroundings. JBL offers Ambient Aware technology that you can activate to hear boosted ambient sounds while you listen to music. 
TalkThru, another feature, lowers the music volume to amplify speech. With that, you can hear people around you without having to remove the headphones.
Wired Connectivity
The Live 460NC not only works with Bluetooth connectivity. If you run out of battery or forgot to charge your headphones, you can simply attach the wire then enjoy. You can also connect it to a headphone amp or DAC for added audio enhancements. 
Take note that the 1/16″ to 1/8″ TRS only works for transmitting audio. So if you're going to use the headphones when connected via cable, you can't use the integrated mic.
Now, our JBL Live 460NC Headphones review will discuss everything about these headphones' specifications. Let's check these out. 
Specifications
The JB Live 460NC uses Bluetooth 5.0 and is equipped with 40mm drivers with 96dB @ 1kHz/1mW sensitivity. For its dynamic frequency response, it ranges from 20Hz to 20kHz, and it has an impedance of 32 Ohms.
The Live 460NC is powered by a 750mAh Lithium-ion Polymer battery, and charging these only take up to two hours. With the ANC feature activated, it offers up to 40 hours of battery life. When ANC is switched off, it gives a total of 50 hours.
The headphones are light and weigh only 210g.
Our JBL Live 460NC Headphones review won't be complete without sharing our test results. So, let's move on to talk about our hands-on experience with these headphones.
Hands-on with the JBL Live 460NC Headphones
Before discussing our experience with the product, we'll first talk about the JBL Headphones app to see what it offers.
JBL Headphones App
With the JBL Headphones app, you can customise your listening experience. You can activate various features like Ambient Aware, TalkThru, ANC, automatic play & pause, and Voice Assistant. Plus, you can customise EQ profiles to your liking.
Alternatively, you can activate Voice Assistant by tapping on the ear cup.
The automatic play & pause function works by pausing the audio when you remove the headphones. When you put it back on, it continues playing.
Moving on with our JBL Live 460NC Headphones review, let's now focus on the audio quality of these headphones. 
Audio Quality
These headphones' frequency response was good and consistent, plus they offered excellent bass accuracy. 
For its treble accuracy, it varied depending on seal, fit, and positioning. To achieve a more consistent sound, we took some time to make adjustments to the EQ.
We noticed that low bass was slightly overemphasised which gave us hints of additional rumble and thumps to our mixes. The rest of its response was flat and well-balanced, thus, resulted in a warm yet powerful sound.
Its mid accuracy was impressive with a fairly neutral range. However, its dip in the high-mids slightly weakened lead instruments and vocals.
We liked that the headphones provided us with decent treble accuracy. The slightly enhanced low treble guaranteed articulation and details for instruments and vocals. 
Peaks in the mid-treble can lead to bright sibilants. But here, treble response represents standard treble, so your experience with everyone else may vary. 
The JBL Live 460NC offered good noise isolation performance with its active noise-cancelling technology. In our tests, it was able to cut down some bass-range noise like bus and plane engines. 
It may not be the best for commuting, but they work well in blocking out ambient chatter and AC noise.  
Aside from the headphones' audio performance, we tried the Live 460NC's Bluetooth connectivity. Compared to the Bluetooth connection of other reputable brands, JBL made it easy for these headphones. And that's thanks to Bluetooth 5.0.
In our tests, the headphones immediately paired with our laptops and mobile devices with a distance of around 10 feet. We were also able to use the multi-point connection feature and paired the headset with two devices at once.
In Audio Mode, the headset had low latency on Android and iOS, making it excellent for streaming videos via smartphone. When we used Video Mode, its frequency reached 110ms which is still within a good range. However, its latency was higher on PC so it may not be suitable for gaming.
But of course, the results may vary depending on the apps or devices you're using.
JBL Live 460NC Headphones Review Summary
The Live 460NC headphones are another impressive product from JBL. It has active noise-cancelling, voice assistance, and of course, JBL's signature audio. Its design and performance are some of the things we liked, and we also enjoyed using these headphones.
The Live 460NC's sound profile is neutral, making it suitable for various types of audio content. Its sound is also customisable via the companion app's parametric EQ and presets if you want to make some adjustments. Plus, it has a long battery life that's good for the whole day.
The JBL Live 460NC is an excellent choice if you're looking for portable headphones with high-quality audio. Aside from excellent performance, it has a durable and sturdy construction, making it best for travel and outdoor use. With that said, we're recommending this product.
To get your hands on the JBL Live 460NC, you can purchase it from JBL's official website.