The H510i is the NZXT family's middle child that holds an excellent balance between space, management, and cooling. Unlike its siblings, it offers more flexibility when creating PC builds, no matter the environment or preference. In our NZXT H510i review, you'll learn a lot more about this PC case.
When it comes to PC builds, do you usually consider space, budget, or cooling efficiency? With the H510i's optimal design and features, you won't have to worry much about these concerns. It's made perfectly to cater to anyone's preferences and needs.
That said, let's get started with our NZXT H510i review.
NZXT H510i Packaging
Before getting more in-depth with our NZXT H510i review, let's check out the other items included in the package.

The NZXT H510i came in a large package sporting a white and violet theme. In front, you will see an image of the chassis along with its brand.
On its sides, detailed information regarding the material, composition and dimensions are present.
At the back, there are more details describing the respective features and functions of the H510i.
Inside the package, there are several additional items present with the chassis. These include cables, mounting equipment, RGB lights, LED strips, fans, an instruction manual, and the PC case.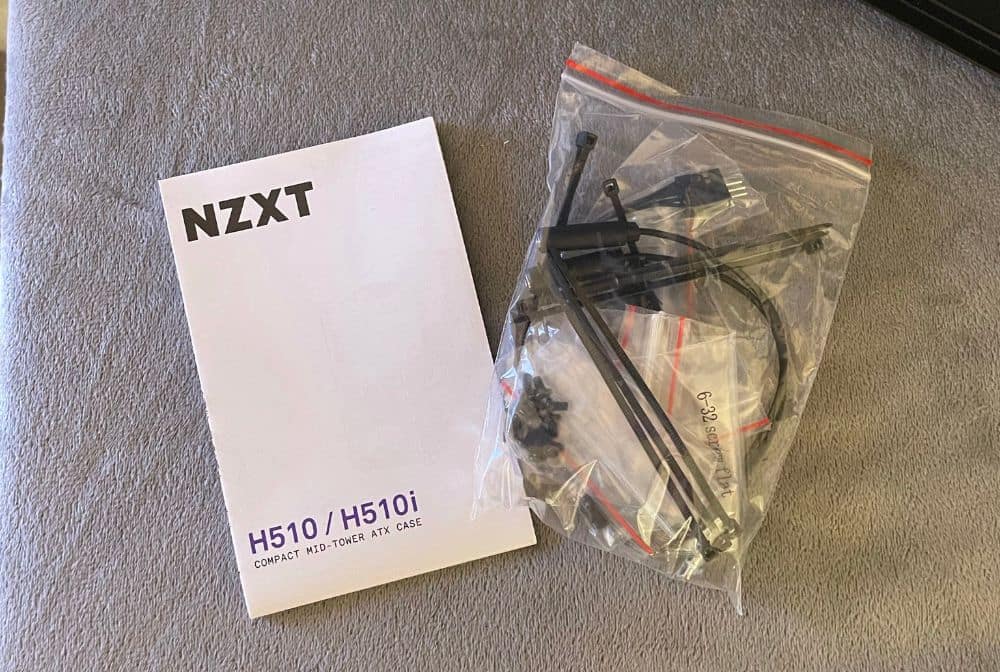 To keep the chassis steady, the company included Styrofoam to hold it in place. This is to prevent the H510i from moving around the package. Aside from that, a plastic cover protects all the items to prevent unnecessary damages that may occur during transit.
NZXT H510i Review – Design and Functionality
Alright, let's go over the product's design and functionality here in our NZXT H510i review.
The NZXT H510i is a PC case under NZXT's H-Series and sports some aspects of the H210i and H710i cases.
It is built to support either elite or casual gaming. Whether it be for professional work, entertainment or gaming, the H510i fits every category.
Besides that, it's almost the same as the other PC cases from the H-Series. In this review, we will discuss the H510i in the Matte White fashion.

The H510i has similar components and functions as the H210i and H710i cases. It also features the Smart Device V2 and combo audio jack which is in every NZXT I-version case.
With the single combo audio jack, it makes it easier to manage your wirings.
Apart from the jack, it also has a single screw for the side panel access. By that, it allows the user to access the PCs interior much faster. With fewer screws to deal with, you can focus more on the experience.
The H510i is the middle ground when it comes to space management. For the H710i, it has lots of space, but it means you'll need to spend more on hardware that fits. The H210i has minimal but optimal space, you can save on spending, but you can't fit much in it.
For the H510i, it has a mix of the H710i and the H210i's features. It has the necessary space for various hardware, and simultaneously, is optimal for any setup. Plus, it does not require much spending.
What's great is that you aren't limited to space or money when creating a build that works around this case. Its criteria fit a wide range of builds that make it easier for either a beginner or veteran PC builder.
Key Features of the NZXT H510i
This time, let's discover the case's features in our NZXT H510i review.
Vertical GPU Mount
The only PC cases that support a vertical GPU mount are the H510i and the H710i cases. These are unique features making them excellent for your space requirements. With that, it allows for a wide range of positioning for your computer's internal hardware layout.
Thanks to that, you can vary and mix-match the components of your PC however you like.
Streamlined Cooling
Another wonderful feature of this product is its optimal cooling management. It has a front bracket made for radiators of up to 280-millimetres. This allows installing water cooling systems much simpler and effective for your PC.
There are two Aer F120 fans included which adds to the optimised distribution of airflow. So, you can expect better internal air circulation.
I-version Exclusive
NZXT features their CAM application only for the I-version of their products to help monitor and manage the computer effectively. It does more by intuitively allowing the user to control their build by choosing presets of RGB lighting and more.
You can personalise your computer better with the CAM program and create the PC of your dreams.
Specifications
Furthermore, our NZXT H510i review will proceed in checking out the product's necessary information. By that, we look at the product's composition, material and more.
Dimensions, Material and More
Our H510i case is 435 millimetres in height, 210 millimetres in width and 428 millimetres in depth without its feet. If the feet were added, the case would stand 460 millimetres tall.
It is also composed of SGCC steel and uses tempered glass for its side panel for viewing purposes. Overall, the case weighs 6.8 kilograms.
Motherboard Support and Connections
The H510i supports a selected number of motherboards such as the Mini-ITX, MicroATX, and ATX. It has an All Air Intake filter to reduce dust inside your PC.
For physical connections, it has a USB 3.1 Gen2 Type-C, USB 3.1 Gen1 Type-A, and headset audio jack. There's even a front I/O, a USB 3.1 Gen2, and a USB 3.1 Gen1 Internal Header present. Plus, a USB 2.0 Internal Header and an HD Audio Header is also available.
Smart Device V2 Support
The Smart Device V2 has three fan channels with a maximum of 10W per channel output. Plus, two RGB LED ports support up to four aRGB LED strips. It can even support 5 Aer RGB or Aer RGB 2 fans.
There are two integrated addressable RGB LED strips. Plus, there are also two slots for a vertical GPU mount. This allows for more space and positioning inside the PC.
Accessories and More
The items that come with the product are the installation screws, ten cable ties, and a headset jack splitter. Additionally, there are two drive bay slots and seven expansion slots there.
Radiator and Fan Support
Inside the case, it contains two front fan slots for either two 120 or two 140 millimetre fans to fit. On the top, you can fit either a 120 or 140-millimetre fan. On its rear, a 120-millimetre fan can be placed.
For the radiator slots, you can fit either two 120 or 140-millimetre sized radiators with push and pull removal. On its rear, only a sized 120-millimetre radiator can fit.
When purchasing this product, you get two Aer F120 Case Version fans. The specifications for this model is that it is 120 millimetres in size. It can reach up to 1,200 plus 200 rotations per minute.
It has an airflow of 50.42 cubic feet per minute, a noise level of 28 dBA and a rifle bearing.
Clearance Measurements
The H510i allows for easy cable management by providing a 19 to 23-millimetre cable length. It has a GPU clearance of up to 381 millimetres without its water cooler installed. With the water cooler installed, it can go to 325 millimetres instead.
The clearance for the vertical GPU mount reaches 40.64 millimetres. The CPU cooler should only reach up to 165 millimetres. For the front and rear radiator slot, up to 60 millimetres.
Its reservoir and pump can go up to 180 millimetres along the cable bar. If placed together with the bottom panel, then it can reach up to 86 millimetres. The H510i has a 2-year warranty that secures its quality and durability.
Hands-on with the NZXT H510i
Earlier, we discussed all the factual information regarding this product. Now, we should try to observe and understand these aspects by testing them.
In our NZXT H510i review, we can learn further by testing. This allows us to verify the product's claims. With that, let's get started.
The first thing we did when it arrived was focus on its setup and build. We were quite picky with some of the products that we wanted to go with the H510i. Whether the sizing would fit or if the space would be sufficient, these were the things we thought of.
Building the PC was easy when we had our picks on the hardware. It took less than two hours to build the whole thing. Everything was simpler with the help of the openings in the PSU mesh. The straps helped in holding the cables; plus, its mounting equipment was sufficient.
We also used the Smart Device V2 for all our RGB lighting and fan regulating purposes. It made things much faster because the Smart Device V2 has a connector that goes straight to the motherboard. With that, we didn't need to go through the internal settings of the PC.
Using CAM's programming made it much quicker for optimising and personalising our PC. Overall, we knew that NZXT brought an outstanding PC case that kept things balanced in cooling, performance and power management.
NZXT H510i Review Summary
Before we end our NZXT H510i review, we will give you our thoughts regarding this product.
The NZXT H510i is a mid-tower case that holds a balance between performance, power, cooling and management. For a medium-sized case, it was well-built, worked efficiently, and doesn't take too much space.
Its Smart Device V2 with CAM's program allows for a reliable and efficient experience. With this smart case, we don't see anything that can go wrong.
By this, we would like to say we recommend this product to anyone, whether they're beginners or veterans. This PC case fits almost all builds. Elite gaming, professional work or home entertainment purposes, this case can get you there.
If you are happy with our review and would like to know more about this product, click here for more.