A PC case that stands above the rest. Other than its height, it brings in a smarter, more manageable case that washes all your problems away. In our NZXT H710i review, you'll learn about a mid-tower PC case that keeps your PC on track.
NZXT brings in their latest line of PC cases with the H-Series. This line of PC cases does well in keeping your PC well maintained and efficient in producing power for those long gaming sessions. With all that said, let's jump right into our NZXT H710i review. 
NZXT H710i Packaging
Before we can get right into our NZXT H710i review, we have to check all the items that come with the product. 

The NZXT H710i comes in a large white and violet package. Although its size is big, it is light enough for two people to carry. You will see the image and logo of the product on the front of the package.
At the sides of the package, you will find several technical information regarding the material, composition and more. It also shows the sizes and dimensions of the PC case and the parts that work well with it.
At the back, you will see the features the product has to offer. Included there are the descriptions for what those features are and how to make them work. With that, let's open the package. 
Inside the package, you will find several items. These items are cable wiring and managers, mounting equipment, LED strips, RGB lights, extra cables, a startup guide, and the PC case itself.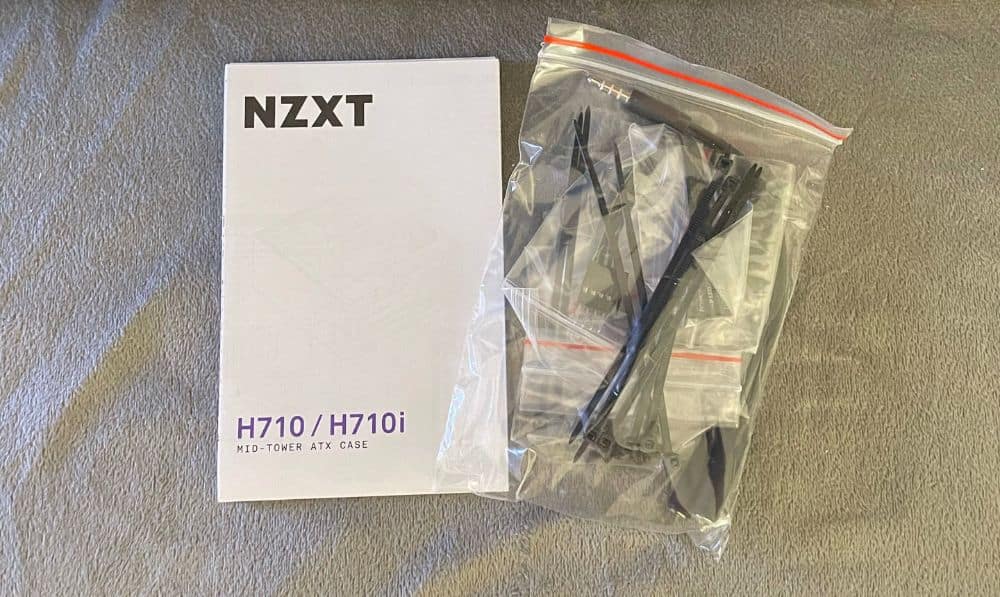 The PC case is held in place in white styrofoam and wrapped around in plastic. The styrofoam prevents the PC from damage, and the plastic shields it from unwanted substances. All other accessories and items are plastic wrapped as well. 
From that, you can tell that NZXT takes good care of its products and ensures their safety. 
NZXT H710i Review – Design and Functionality
Alright, now we go over the product's physical properties in our NZXT H710i review.
The H710i is a mid-tower PC case in line with NZXT's H-Series PC cases. Unlike the PC cases in the H-Series, H710i has a special device made to help manage your PC's CAM software, in-game operations, lighting controls and more.
Other than that, the H710i follows the same theme as the other H-Series towers, except this one comes in the Matte Black finish. With its ever timeless design and seemingly aesthetic prowess, the H710i is sure to be a jackpot. 
Even though they are from the same family, they pretty much look similar in their minimalistic architecture. Our H710i has the same set of features as the other H-Series PC cases have but with more additional functions. 
It has a smarter case, integrated lighting, fan controller and more. One thing to note about the H710i and H710, they both have a single audio combo jack together with a splitter. This makes it much easier for your audio equipment and prevents complexity. 
Apart from that, it now has a single screw for the tempered glass, which you need to remove to access the side panel of the PC case. By that, you don't need to worry about keeping track of all the screws you remove. 
Inside the case, you will have plenty of room for your computer parts as it supports ATX motherboards and lengthy GPUs. Plus, an iconic divider that helps distinguish certain areas of your PC.
The PSU mesh is the same as the other H-Series PC cases as it is suitable and effective. On top of the mesh, there are two 2.5 inch trays for your SSD. You can also reposition it as it is easy to change with the locking mechanism on the tray.
To the side of the PSU, the mesh is another 2.5-inch tray for more storage options as well. Besides that, there are a lot of openings on the mesh for your cables. This makes it much more manageable for all your wiring needs.
One thing exclusive only to the H710i is the option to vertically mount your GPU inside your PC. This is an option for those who need to change the layout of their PC to fit every compartment. 
Lastly, the feature that stands out in the I-version is the Smart Device V2. It helps you manage your fans, RGB LED lights and more. For the lights, there is an LED strip on top and at the back of the divider. This can all be controlled by the CAM software. 
With all that said, the NZXT H710i is a beast of a PC case that stands tall compared to the other H-Series tower PC cases.
Key Features of the NZXT H710i
Going away from the design, we now learn about the features this product has in our NZXT H710i review. 
Smarter Management
The NZXT H710i contains the Smart Device V2, which is only I-version exclusive. This means only the H710i and H700i have this feature.
What the Smart Device V2 does is that it improves the CAM software thanks to a faster microprocessor that allows quick and decisive control. It makes regulation between fan channels, voltage distribution and RGB lighting much simpler and effective. 
Other than the Smart Device V2, the H-Series towers are re-designed based on NZXT's previous PC cases. With more improvements made, it makes it much easier to fit the needs of every gamer. 
More Modern Than You Think
PC cases from the past always lacked various connections that make it harder for the ever-growing tech industry to adjust. The H-Series is integrated with the latest USB connections to make it applicable for almost all mobile devices to connect. 
Other than just connectivity, the PC case comes with more storage slots and works even better with the CAM software. By that, you can fully maximise its capacity to your heart's content.  
Specifications
Moreover, our NZXT H710i review should discuss all the necessary information about the product. By that, we take a look at its composition, material, size and more.
Dimensions and Material
The H710i mid-tower PC case is 516-millimetre in height, 230 millimetres in width and 494 millimetres in depth. Its material composition is made up of SGCC steel and tempered glass at the side. Other than that, it has an all air intake filter for air circulation. 
SGCC stands for Galvanized Cold Rolled Steel, a material grade used to make a wide variety of high-quality, long-lasting equipment. This makes the PC more durable and rust-proof for a long time. 
The tempered glass acts as a window on the side of a PC case to allow users to see inside the PC case. It also helps in regulating the temperature inside the PC and protects it as well. The total weight of the case alone is 12.3 kilograms, which is relatively light.
Compatibility and Connectivity
Our H710i mid-tower PC case supports only Mini-ITX, MicroATX, ATX and EATX, ranging from up to 272 millimetres. 
Additionally, it has several front I/O ports for its connections. Such connections are one USB 3.1 Gen2 Type-C, two USB 3.1 Gen1 Type-A, and one headset audio jack.
For the front I/O internal header, you got one USB 3.1 Gen2 Internal Header, one USB 3.1 Gen1 Internal Header, one USB 2.0 Internal Header and an HD Audio Header. 
Accessories and More
A Smart Device V2 holds three fan channels with a maximum of 10W per channel output inside the PC case. Also, it has 2 RGB LED port can hold up to four addressable NZXT RGB LED strips or five Aer RGB fans.
The PC case also has two integrated transferrable LED strips, a vertical GPU mount with a maximum of 2.5 slots, installation screws, ten cable ties and one headset audio jack splitter.
Plus a seven-slot expansion for other things like an extra SSD, drive bays that contain 2.5": 7, 3.5": 2+2 slots. 
Our H710i PC case has two supports, radiator support and fan support. The front and top radiator support can fill two 140 millimetre or three 120 millimetre sized radiators with push or pull. On the rear, it can fit only one 120 millimetre radiator. 
Extra Support
Regarding the fan support, the top and front slots can fit three 120 or two 140 millimetre fans; only the front has the 3 Aer F120 Case Version fans included. For the rear, it can either fit a one 120 or one 140 millimetre fan slot. It also comes with 1 Aer F140 Case Version fan included.
The Aer F120 Case Version fan can reach speeds of up to 1,200 plus 200 rotations per minute with an airflow of 50.42 cubic feet per minute. It also has a 28 dB noise level, which is good for silent operations. It contains a rifle bearing for faster and smooth spins.
The Aer F140 Case Version can generate only 1,000 plus 200 rotations per minute and brings an airflow of 68.95 cubic feet per minute. The noise level only reaches 29 dBA, one tick higher than the Aer F120 Case Version. It also has a rifle bearing for its speed.
Clearance
Our H710i has a pre-installed cable management system of 18 to 22 millimetres and a GPU clearance of up to 413 millimetres, and a vertical ranging of 50.8 millimetres. 
The clearance range for CPU coolers is 185 millimetres. The front radiator size should be 60 millimetres, the top radiator size 30 millimetres and the reservoir and pump fittings of 224 millimetres.
All this with a 2-year warranty.
Hands-on with the NZXT H710i
We have done quite a number of reviews regarding NZXT's products, so we shouldn't be surprised. Nevertheless, going over this product will give us new insights about NZXT and their products. 
When we started, the product was revealed to be bigger than we expected. For a mid-sized tower, the H710i really takes a lot of space. When setting up our PC build, we had it easy thanks to the openings on the mesh. These openings allowed us to manage our cables better.  
Mounting everything took time; choosing the right motherboard, processor, GPU, and other computer parts can be a bit tiring. We were very picky with what we wanted to put in our PC rig. All in all, it took about 2 hours to set everything up and running. 
We also played around with the Smart Device V2 that made it much easier to regulate our fans and RGB lights. We didn't necessarily need to put the fan and RGB light connections directly to the motherboard, as the Smart Device V2 handled it well.
Using CAM's software removed a lot of the trouble when setting up and managing our PC. It allowed us to optimise the PC specifications and fine-tune our settings to an optimal rate. 
Overall, we can say that the NZXT H710i is a beast of a PC case. It holds its own, stands its ground when challenged, and works even better when paired with other NZXT products.
NZXT H710i Review Summary
Before we end our NZXT H710i review, we will provide you with a summary of our thoughts. 
The NZXT H710i is a PC case that stands at the top among the rest of the H-Series PC cases. Its smarter re-design makes it much easier to manage, access and regulate the internal components of our PC. 
Thanks to the Smart Device V2, we didn't need to internally reconfigure everything as it made sure to keep things in check. The H710i brings in efficiency, reliability and quality in all its aspects. 
By that, we gladly recommend the NZXT H710i to anyone looking for a less-troubling PC case. If you are interested in a product like this, then click here for more.