Today, we're sharing our Phanteks Glacier One 360MP review where we'll discuss everything you need to know about this product. 
The Glacier One 360MP is an all-in-one liquid CPU cooler that can effectively cool powerful CPUs while staying quiet. It comes with PWM fans that provide adequate airflow, decreased noise, and outstanding performance with its pressure-optimised fan blades. 
When it comes to installation, it's designed to be quick and easy. This is all thanks to some of its features like its all-in-one pre-filled solution, flexible tube clips, braided tubings, etc. 
If you want to know more about the product, continue reading our Phanteks Glacier One 360MP review. We'll give you information about its features, specifications, performance, design, and everything else you need to know about it.
Phanteks Glacier One 360MP Packaging
To begin our Phanteks Glacier One 360MP review, we'll first look at its packaging and contents. What we have is the 360MP version and it arrived in a clean and sleek-looking white cardboard box. It's tough and durable so you won't have to worry about the cooler getting damaged while in transit.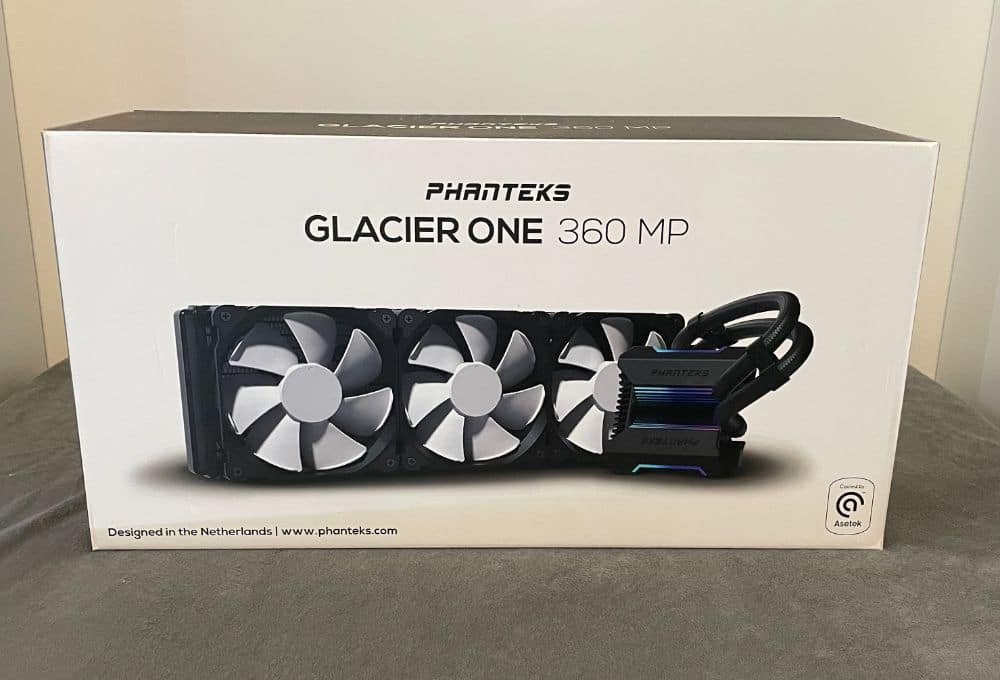 The front of the box displays Phanteks and the unit's name at the top centre. Below it is an image of the cooler itself. Flipping the box, you'll find additional information about the product, plus another image of it set inside a chassis.
This is the area where you'll find a list of the cooler's key features. It can be helpful since you can readily check these out if you're purchasing from a physical store. 
The ends of the package provide you with specs and even have a dimensional illustration of the radiator. This is pretty convenient since you can determine if it fits your current case. 
After unboxing, the first thing we saw was the top cover of the inner tray. You'll find a thank you note here and a couple of links that bring you to Phanteks' social media accounts. You'll need these if you plan to share and showcase your completed build. 
As for the items inside, you'll find the Glacier One 360MP cooler itself, three fans, and a bag of cables. Then, there's a bag of hardware, the Infinity cover, thermal paste, plus a few other paperwork. 
Phanteks Glacier One 360MP Review – Design and Functionality
It's also vital to discuss the cooler's design and functions. So, we're focusing on those in this part of our Phanteks Glacier One 360MP review. 
The radiator is standard and slim, and since we have the 360mm version, we have three 120mm fan locations available. The company makes use of a 21-fin-per-inch core which is quite dense. This makes for a great optimising cooling from slim radiator cores. 
It has an Asetek pump that utilises a highly flexible mounting setup that lets you rotate the pump. This is in relation to the mounting hardware, making it perfect for cramped systems. 
The pump's sides have two rotary 90-degree fittings that let you angle hoses at any angle you wish. These hoses are permanently crimped over the sleeving, thus, making the tubings look nice. 
The Glacier One 360MP features the Intel bracket that's mounted by default. However, you can easily remove it with a gentle twist. 
Phanteks included a fairly huge tube of thermal paste even if it comes with pre-applied paste. But since this is the case, you won't have to worry about any issues on the first install.  
The Infinity Mirror cap easily snaps over the pump to conceal the mounting hardware while making everything look neat. It's kept in place by two strong magnets for added security. 
The company includes three combs for the Glacier One 360MP that keep the tubes together. This is while simultaneously offering a central spot to run cables through when necessary. 
These combs keep the tubes apart with the same distance as the pump connections. This is to keep everything neat and organised in the system. 
MP Fans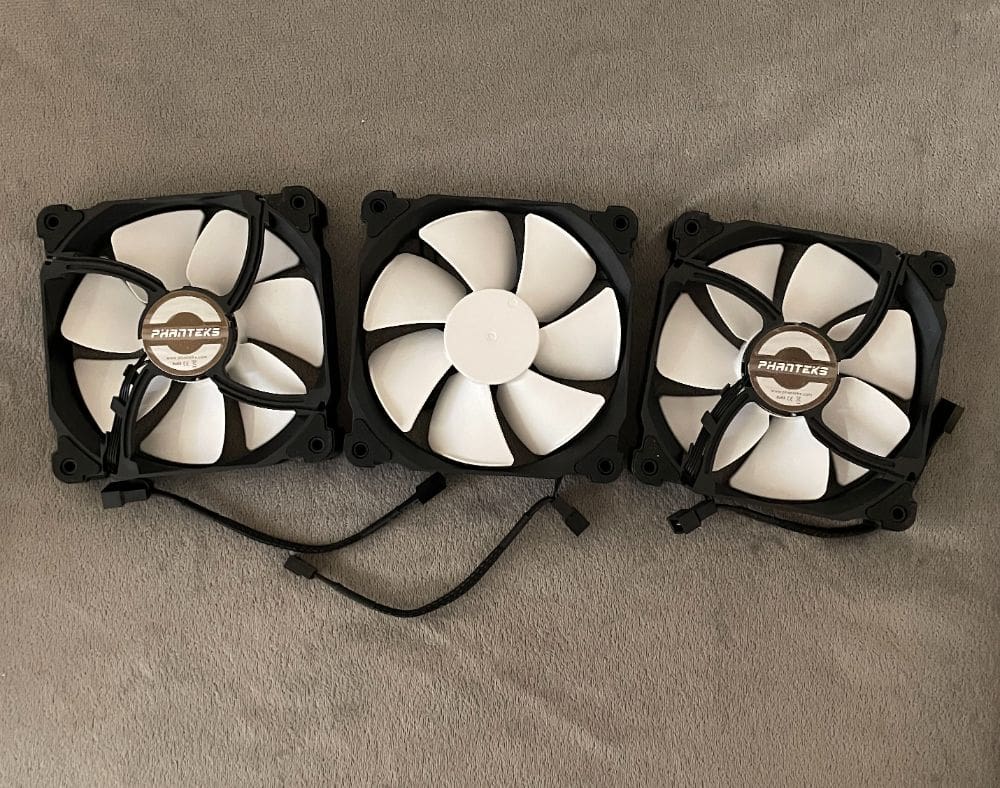 As mentioned, three Phantek 120MP fans are present, and these can spin at up to 2,200 RPM. Plus, they can release a ton of air at full speed. Their fans look like regular static pressure-oriented fans until you see the unusual power cable setup.
For the fan hub, it is concealed with a gold-coloured metal badge.  
Phanteks Halos RGB Fan Frames
Let's also talk about the RGB fan frames in our Phanteks Glacier One 360MP review. In this day and age, fans have become fully RGB-compatible, allowing us to enjoy a collection of lights in motion.
When these are coupled with the right RGB controller, you can get pretty amazing lighting effects running on programmed patterns. These can even react to temperatures and sound changes which makes it even better.
If you've always wanted to have this but your favoured fan profile isn't available in RGB. Or, your system doesn't support RGB at all? Don't worry because Phanteks has a solution to this issue, and it's called Halos.
Phanteks Halos is an interesting and efficient product utilised for adding RGB light effects to your fan. It works on any 120 or 140mm-sized fans to illuminate their centre to any colour you prefer.
With the help of high-density LED lights, the Halos fan frames offer style and aesthetics to your system. And what's great is that it doesn't compromise performance. 
What's more, the Halos frames can save you tons of money on your new build. You only need to add a couple of these to your fans to get a budget-friendly RGB lighting solution. 
The main material used here is plastic but you don't have to worry about durability issues. That's because the company guaranteed to make them sturdy and resistant to breakages. 
Illumination is allowed by having high-density LEDs which are embedded in the frame's linings. These surround the openings thus, shining directly on the blades.
To note, the 120mm fan frames come with 18 LEDs. They measure 120 x 120 x 6mm and weigh 40g (net weight). 
Features of Phanteks Halos RGB Fan Frames
We also looked into the features of the Phanteks Halos. So, we're discussing it in this part of our Phanteks Glacier One 360MP review.
Includes Mounting Screws
Its frames are set together using the right mounting screws to allow easy mounting on your fans. We appreciate Phanteks for including these screws in the package. That means, you won't have to worry about searching for the right screws to fix things in place.
It Works with Multiple RGB Software
PC enthusiasts will like that these kits can work with Mystic Light, RGB Fusion, Aura Sync, and other similar software. Because of this, RGB syncing will be a piece of cake for everyone. 
RGB Sync and Easy Cable Management
With a daisy chain, you can connect all of Phanteks' RGB products together with the Halos RGB fan frames. This feature allows for easy light synchronisation.
High Density LED
The Halos RGB fan frames feature high-density LEDs and a diffuser. These spread light evenly and brightly for the ideal lighting effect on your fan and case's interior.
Phanteks Halos RGB Fan Frames Lighting
When we used the Halos RGB fan frames, we were impressed with its lighting effects. It concentrated light on the fan blades without leaking past the frame.
Its lighting excellently highlighted the fans in our build with its solid circular light that was concentrated towards the centre.
Key Features of the Phanteks Glacier One 360MP 
This time, let's check out the different key features of the cooler. This is where we'll see the different elements that make it stand out from the crowd. 
Infinity Mirror Cap
The Glacier One 360MP features a clean full cover design that has a secure magnetic mounting. Its tempered glass window offers smooth and diffused RGB lighting.
Silent MP PWM Fans
The high surface area blades of the MP fans allow high-pressure performance. These are also aerodynamically optimised for silent operation.
Cooled by Asetek
Glacier One 360MP uses the Gen7 Asetek AIO platform which offers the best in class performance. Its PWM control provides pump speed optimisation for performance and acoustics. With out-of-bound temperature sensing, it can automatically increase pump speed to 3600 RPM when liquid temperature is above 60-degrees Celsius.
The AIO cooler's integrated safety curve ensures that the liquid temperature stays within normal operating limits.
Maximum Clearance
For maximum clearance, the Glacier One 360MP has a low profile pump cap for reduced height. Plus, you can find rotary fittings near the pump to maximise RAM clearance.
Easy Installation
Since it comes with corresponding brackets, the Glacier One 360MP is compatible with all common Intel and AMD sockets. The cooler's design also has a toolless mounting system which makes installing it easier and more convenient.
To make installation more straightforward, the cooler has pre-applied thermal compound. Phanteks included additional PH-NDC thermal compound for future installation as well.
For a neat interior, it comes with flexible tubing with durable braided sleeves and three tube clips.
Specifications
Here in our Phanteks Glacier One 360MP review, we'll share the different specifications of the cooler with you. This section will help you determine if the product will work well with your system. Or, if it will be ideal for how you plan to organise and arrange your build. 
Th Glacier One 360MP is an AIO liquid cooler that's compatible with both Intel and AMD sockets. For Intel, you can use it with LGA 115x, 1200, 1366, 2011-3, 2011, and 2066. With AMD, the cooler works with TR4, sTRX4, and AM4 sockets.
The cooler weighs a total of 1.47kg and comes with a six-year warranty.
For the Glacier One 360MP's tubes, they measure 400mm long and have an outer diameter of 11mm. These feature rotary fittings for RAM clearance.
Its pump uses copper and ABS plastic while its bearing and shaft are made of ceramic. For its cable, it's 245mm long. The pump's speed reaches up to 2800 RPM +/- 300 and its cooling liquid is distilled water or propylene glycol mix.
The radiator of this AIO liquid cooler is made of aluminium and measures 394 x 120 x 27mm. And when talking about its fins, these have a density of 21 FPI. 
The Infinity Mirror Cap features 14 LEDs and is made of ABS and tempered glass. Its RGB cable measures 550mm and features a 75mm daisy chain connector.
PWM Fans of the Phanteks Glacier One 360MP
We did mention earlier that this cooler comes with three 120mm MP PWM fans. To note, it has an updraft floating balance bearing too. These have 130mm cables that can be used for daisy chains, plus a 500mm extension too.
Each fan's speed ranges from 500 to 2,200 RPM +/- 10%. For the maximum air pressure, it's 0.17 to 3.41mm – H₂O. Its airflow ranges from 13.8 to 60.51 CFM.
Hands-on with the Phanteks Glacier One 360MP 
It's also vital to include the hands-on performance of the cooler here in our Phanteks Glacier One 360MP review. That's why we're sharing our experience with it when using it for about a week or so. 
Was it just as good as what Phanteks claims it to be? Or is it better to look elsewhere? Let's find out. 
When we used the Glacier One 360MP under heavy loads, the fans were barely audible. They performed whisper quiet and for the radiator, it worked great especially when cooling at lower fan speeds. 
Now for the pump, it had a slight noise that was evident at full speed but was only audible when you take the side panel off from the case and really listen for the sound.
Generally, the Glacier One 360MP from Phanteks was fantastic, and it was able to effectively cool our CPU without issues. There were no leaks at all, and the radiator was able to take away heat just as quickly as needed.
From a performance standpoint, if we used the Glacier One 360MP it runs perfectly. 
In idle mode, the CPU's temperature was around 24°C. With light tasks the CPU's temperature stayed around 35°C.
Whilst gaming, we saw temperature levels sitting at around 60°C, depending on the game. We didn't get anything higher than this temperature range which is great during our gaming sessions.
We're highly confident that the Glacier One 360MP can handle any type of consumer-chip. And even if you're someone who does overclocking, it will be able to handle the load you throw at it.  
Phanteks Glacier One 360MP Review Summary
The Glacier One 360MP from Phanteks is a great AIO liquid cooler that offers high performance without a custom loop. Its features make it easy to install since it doesn't require tools. . Since this AIO liquid cooler has hose combs, daisy chain, and an Infinity Mirror, it allows for a clutter-free build.
With the Glacier One 360MP, Phanteks offers solid cooling performance and an intuitive installation process. It's an excellent cooler that offers everything you'd look for and we highly recommend it. 
To get your hands on this product, check out Phanteks' store locator for authorised sellers near you.