Today we are writing our Privacy Matters: Why You Should Use Synology Photos and the Synology DS923+ NAS review. It will focus on everything you need to know about the Synology Photos software and the DS923+ NAS.
Synology Photos is an efficient all-in-one management software that combines functions from Photo Station and Moments. It is perfect for professional photographers and casual users since it features plenty of management tools. These allow you to filter, group, organise, and share content while guaranteeing their safety and security. 
As mentioned earlier, we will also discuss the Synology DS923+, the latest offering from the company. The NAS has 4-bay servers and can support up to nine internal drives. This product comes with eSATA ports to also host 6-bay DX517 expansion units. 
It has a few elements that make it different from its 4-bay siblings, which we will discuss later. 
Check our review, Privacy Matters: Why you Should Use Synology Photos and the Synology DS923+ NAS, to learn more. Here, we will discuss the product features, design, functions, specs, and performance of the NAS and software. 
But before looking deeper into these, let us check the DS923+ NAS packaging and its included contents.
Synology DS923+ NAS Packaging
When our DS923+ arrived, we noticed how similar its packaging was to other Diskstation products of this scale. Its cardboard box was simple but thick enough to protect the items inside. The front has a sticker with an image and details about the product.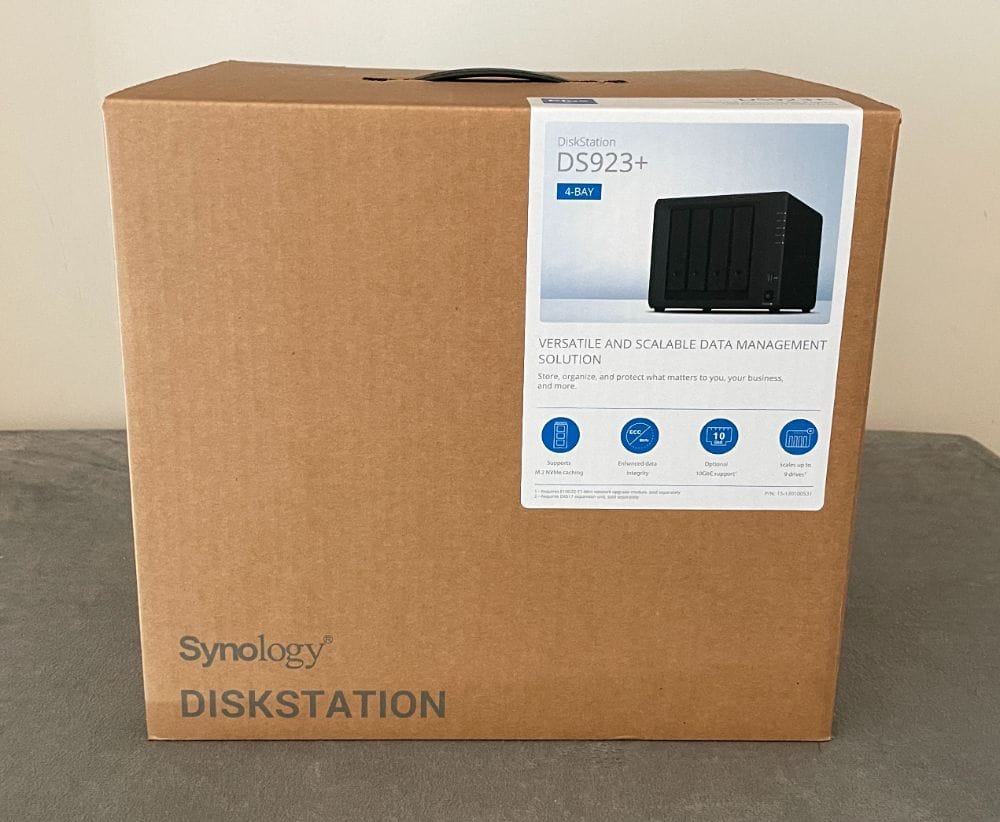 Inside, everything is securely-packed to avoid damage during shipping. And other than the DS923+, it comes shipped with accessories like an external 100W PSU and 2.5-inch media screws. For 3.5-inch media, the installation will be toolless. 
Aside from these, the package also includes an RJ45 5e Ethernet cable, storage bay keys, warranty details, and a user manual.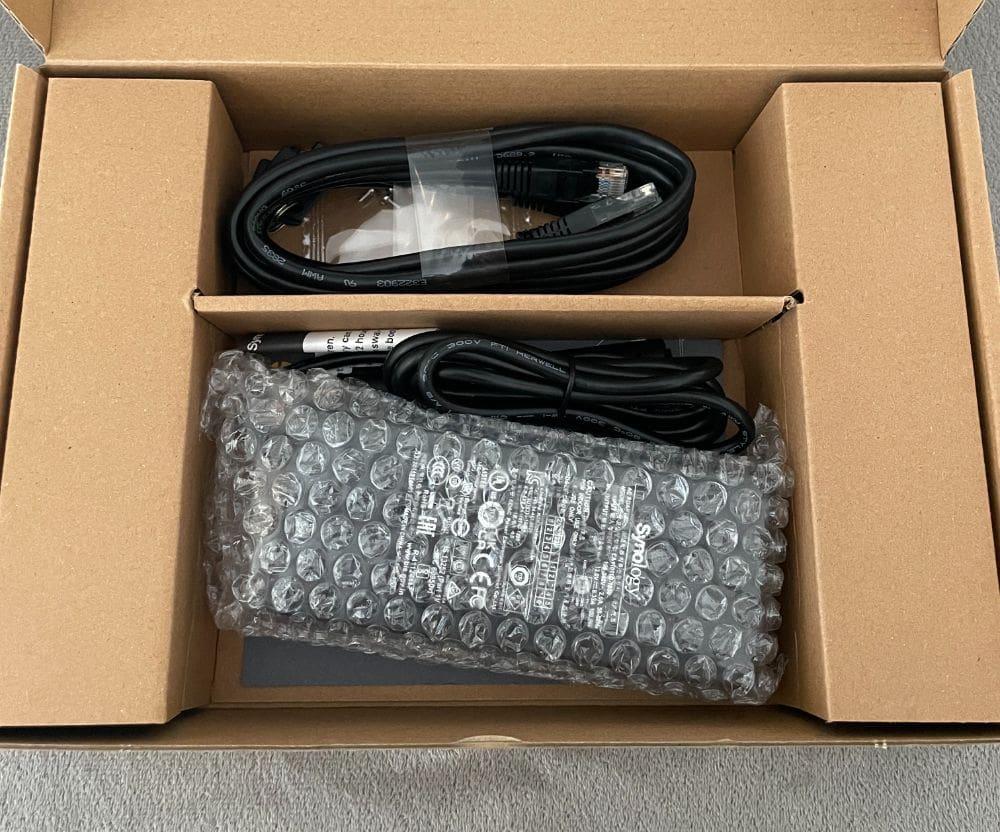 Privacy Matters: Why You Should Use Synology Photos and the Synology DS923+ NAS – Design and Functionality
If you are familiar with Synology NAS designs, you will notice the DS923+ looks similar to the DS918+ and DS920+. So, you can expect this NAS is well-designed in terms of aesthetics and function.
It is integrated with plenty of ventilation and has adequately structured component distribution. The chassis is made of matte black plastic, though internally, some parts are aluminium. With this layout, you have an efficiently-functioning low noise operating NAS. 

The front of this NAS lacks any LCD but has LED indicators instead. Most of the front panel houses the primary storage bays lined with ventilation to offer passive airflow. 
While designing the NAS, Synology focused on passive airflow since almost every side features a form of ventilation. Interestingly, the company even placed vents on its logo. 
Since the unit will operate 24/7, it relies on its rear fans to push air throughout the system. All 2-4 bay NAS under the Diskstation series has done an excellent job combining design with adequate temperature management. And the DS923+ is no exception.
The LED lights in front of the unit utilise the standard three-colour system for denoting system status and drive activity. 
On its rear are two 92mm fans to prevent the NAS and its drives from getting too hot. This area also houses two 1GB RJ45J connectors for network use and an eSATA port to connect DX517 devices. Additionally, there is one USB 3.2 Gen 1 port in this area. 
Key Features of the Synology DS923+ NAS
The features are next in our Privacy Matters: Why you Should Use Synology Photos and the Synology DS923+ NAS review. 
The Excellent Storage for Your Needs
If you have scattered data across public cloud accounts and external devices, the DS923+ is ideal for you. This NAS has four bays, allowing you to consolidate your data. For more space, you can use the DX517 for over 120TB of storage expansion.
Delivers the Performance You Need
The DS923+ shortens transfer times to accelerate your workload. It allows adding NVMe drives and faster networking to enhance performance further.
The professional video surveillance of Synology allows you to manage all your files and backup apps & devices. Plus, you can keep your assets protected.
Private Cloud
The private cloud solution of Synology lets you access files from all devices and protect them using smart versioning. You can manage, sync, and share your data across locations. It also simplifies file access and management, allowing easier sharing and collaboration.
Collaborate Across Sites
Site-to-site file syncing enables you to sync individual files or folders between Synology devices wherever you go. It provides convenient access while retaining 100% data ownership.
With the hybrid cloud, you can reduce your on-site storage footprint and take advantage of data centre network speeds. Setting up Hybrid Share Folders enables storing cold data in the cloud while caching frequently accessed files on the DS923+.
Multi-layered Backup
Backup data with free solutions and keep your NAS protected with integrated technologies. Active Backup Suite offers consolidated and automated backup tasks for PCs, file servers, SaaS applications, VMs, etc. Plus, the centralised portal allows managing backups remotely and restoring specific files or devices quickly.
With integrated backup solutions, you can set seamless 3-2-1 backup configurations. Also, comprehensive scheduled backups to remote/local servers, external drives, and cloud storage destinations keep data, settings, and apps protected.
With the DS923+, you can configure efficient point-in-time snapshots of shared folders and LUNs at short intervals. This feature makes restoring previous versions of files, recovering VMs, and copying shots to another server convenient.
Smart Surveillance
You can turn the DS923+ into a full-featured video management system for over 8300 IP camera models. This NAS makes protecting your business easier thanks to centralised management, remote playback and monitoring. 
The video management system of Synology provides all the necessary tools for investigation, live monitoring, backup, and management.
Maximise Available Solutions in DiskStation Manager
The web-based DSM operating system offers various productivity, security, and management solutions.
Extended Warranty Plus for Added Protection
The DS923+ has a 3-year hardware warranty. You can extend this Synology-certified support with two additional years to help you recover faster when needed.
Specifications
The NAS has an AMD Ryzen R1600 4-thread (dual-core) CPU with 3.1GHz, and 4GB or SODIMM DDR4 ECC memory. You can upgrade it to 32GB whenever necessary. 
The four bays in front can handle 2.5 and 3.5-inch HDD/SSD drives. Plus, two M.2 2280 slots below are for NVMe SSDs for cache purposes.  
This NAS has two 92 x 92mm system fans with a noise level of 22.9 dBA. And lastly, Synology included a 3-year warranty for the NAS, which you can extend to five years with EW201. 
Hands-on with the Synology DS923+ NAS
Let us continue our Privacy Matters: Why You Should Use Synology Photos and the Synology DS923+ NAS review. We wrote it in detail to provide all the necessary information about the software and NAS. 
Before we share details about our hands-on experience with the DS923+, let us check out Synology Photos. 
Synology Photos
With all the news about data breaching, data privacy is something we all need to take seriously. Everyone is at risk, including large-scale multinational companies. 
Data privacy is essential, especially in pictures. Aside from keeping memorable images, some earn a living from various image files like photos and illustrations. For this reason, backing up and protecting such data against ransomware and breaches is vital.
Upon releasing DSM 7, Synology replaced its previous photo management solutions (Photo Station and Moments) with the new Synology Photos. In this upgrade, the company merged the two apps. 
Synology Photos is a free application for all Synology NAS, including the DS923+. It is a solid solution that can replace other services like Google Photos. You can check it out at the Synology Photos page over at the Synology website.
This photo management software is efficient, especially if you care a lot about having data backups with security. Our review will discuss why it is an excellent option and how it works.
Why Synology Photos is Better than Google Photos
More people use smartphones today, so taking photos has become more common. However, mobile storage tends to be insufficient as we store more data, and Google Photos stopped providing free unlimited space. As a result, people plan to use other photo management software.
Synology Photos is one of the best options you can use if you want to store data privately and securely. This private cloud application is ideal for home and business users with many photos and videos. Aside from security and privacy, it is cost-efficient, easy to manage, and delivers excellent performance.
Here are more reasons why Synology Photos is the perfect replacement for Google Photos:
More Secure and Private
In Google Photos, the public cloud operates on cloud servers, so your data is still read and reviewed to improve the algorithm. With Synology Photos, you can build a data centre via a private cloud and ensure 100% data ownership. Synology values the privacy of users and will never access your data.
Runs on the Same Network for Better Performance
Your experience in Google Photos depends on your internet speed and budget. The reason is that you are storing and accessing your data on a public cloud.
When using Synology Photos, you will not have this problem since its uploading performance has no limits. You can back up over 20000 photos upon setting up the application, even while you sleep. There will be no issues handling many images, and you will have a stable browsing experience.
One-Time Payment
Synology Photos is a free application, and you need a Synology NAS like the DS923+. Purchasing this hardware is only a one-time payment; when it is yours, you can install Synology Photos. Say goodbye to subscription fees and distracting ads.
Aside from upfront payments, Synology Photos allows customised storage allocations based on your needs. 
As we mentioned, Google Photos stopped providing free unlimited storage. You have a 2TB limit, and its subscription service costs over 100 USD yearly. 
Low Maintenance Without Service Downtime
Like any app, Synology Photos requires maintenance, which users will do. Fortunately, it requires minimal maintenance due to the low failure rate of the NAS. If a problem occurs, the company provides a three to five-year warranty and technical support.
In Google Photos, you will not need to do any maintenance. However, it is a third-party service, so if it has issues, you will need to wait until service downtime ends.
Management and File Searching
Synology Photos offers different data-viewing methods, including chronological order and file mode. This software also has handy metadata filters, allowing you to see files by camera model, lens, faces, locations, etc.
Google Photos, on the other hand, only offers chronological views. Since it does not have detailed filters on data, you will need to search for files based on your memory.
View from Large Screens
Synology Photos supports Apple TV and Android TV, unlike Google Photos, which only works with Chromecast. Plus, it has an intuitive interface, making it user-friendly for most people.
Installing Synology Photos
Let us continue our Privacy Matters: Why you Should Use Synology Photos and the Synology DS923+ NAS review. This time, we will discuss how to install the Synology Photos software. 
Like other Synology DiskStation Manager apps, you can install Synology Photos via the Package Centre. It depends on the Synology Application Service and Node.js V12, which gets auto-installed when needed. 
It is not new to the company, but it is good to note how easy Synology makes things for everyone. 
The software runs on its browser portal, which needs your user account login. However, remember that it is a different login from the DSM portal. 
To complete the end-to-end, install the software from your Smartphone OS store. It only took us a few minutes, and we were ready to go. 
Using Synology Photos
If you plan to transition to Synology Photo for photo backup, then it is essential to download the software. Since we have our DS923+ with us, we wanted to see how we could host our private photo server. We wanted to host it online to try and access it anywhere in the world.
This little test will also let us see if we can share it with others for a specific time. 
The Setup Process
After logging into your Synology NAS via the app, you can set it to back up photos on your device. Remember that if you have 2FA enabled, you must tell the app it is a trusted backup device.
We used Synology Photos to upload photos on our camera roll. It was as simple as inputting the source, destination, and how to handle duplicate files into the app.
It now has a Sleep Time Backup mode enabled during the following: Connected to WiFi and when linked to a charger. 
When the mode is enabled, the screen will turn dark; however, it will get unlocked to proceed with the upload. Around 2500 images took seven hours to upload, with the last 59 taking some time to complete. 
While uploading to the NAS, these started appearing in the software portal. 
You can also access Synology Photos from your mobile device for more convenience. It is downloadable for free from the Google Play Store or the Apple App Store.
Synology Photos Filesystem
Things are much more interesting to us on the filesystem side. Synology Photos uses the underlying OS file system in a typical folder structure rather than creating an obfuscated file system. It also uses a database to maintain the linkages.
We created our folder structure in the Photos directory on the DSM volume. And it appeared like how we made it in Photos. 
Photos read that structure to display it in Folder View, and indexing happens in the background. It outperformed other well-known media management software, and that was amazing.
While our images were in a private cloud, we prefer enabling facial recognition since it is easier to group. We had some additional work to do to label people and clean up, but we expected that.
Also, Synology Photos was pretty fast when loading images on Timeline View. It was more responsive, unlike Google Photos when we scrolled back to history.  
Like our previous experience with Synology Photos, our experience was pleasant and positive. We finished backing up over 100GB of files in the DS923+ within a short period. Aside from being quick, there were no issues during the process.
The software worked seamlessly, and we had quick access to our files. Plus, searching for photos was easy, thanks to its metadata filtering that helped us understand how the NAS stored our data.
Privacy Matters: Why You Should Use Synology Photos and the Synology DS923+ NAS Summary
The DS923+ and Synology Photos are excellent if you want secure and private photo storage. Its expandable storage, 10G upgrade option, and new CPU architecture make it ideal for storing data for long periods. Plus, its DSM 7 operating system continues to be impressive.
The new Synology Photos delivers better performance than its initial release. It is a solid solution that can replace Google Photos and other management software, thanks to its security and convenience. Synology Photos makes accessing, sharing, managing, and backing up pictures quick and easy while keeping all data safe and private.
Although the DS923+ is expensive, it is worth purchasing since you can maximise your 100% private storage. You can also manage who can access your files and expand your storage conveniently if you need more space.
To learn more about the DS923+ NAS, visit the official product page of Synology for additional details.