Today, we are sharing our Pwnage Ultra Custom Symm 2 Wireless Mouse Review since everything will be about its mouse. Pwnage may not be as popular as SteelSeries and Razer, but the company is growing its collection of offerings.
Its Symm 2 wireless mouse has some unique features to offer.
Based on its specifications, the mouse can match its competitors, and its features make the Symm 2 stand out from the crowd.
But is the mouse that awesome and worth the purchase? To find the answer,  continue reading our Pwnage Ultra Custom Symm 2 Wireless Mouse Review. 
Pwnage Ultra Custom Symm 2 Wireless Mouse Packaging
The mouse shipped in a sturdy and thick cardboard box, so we knew everything inside was safe.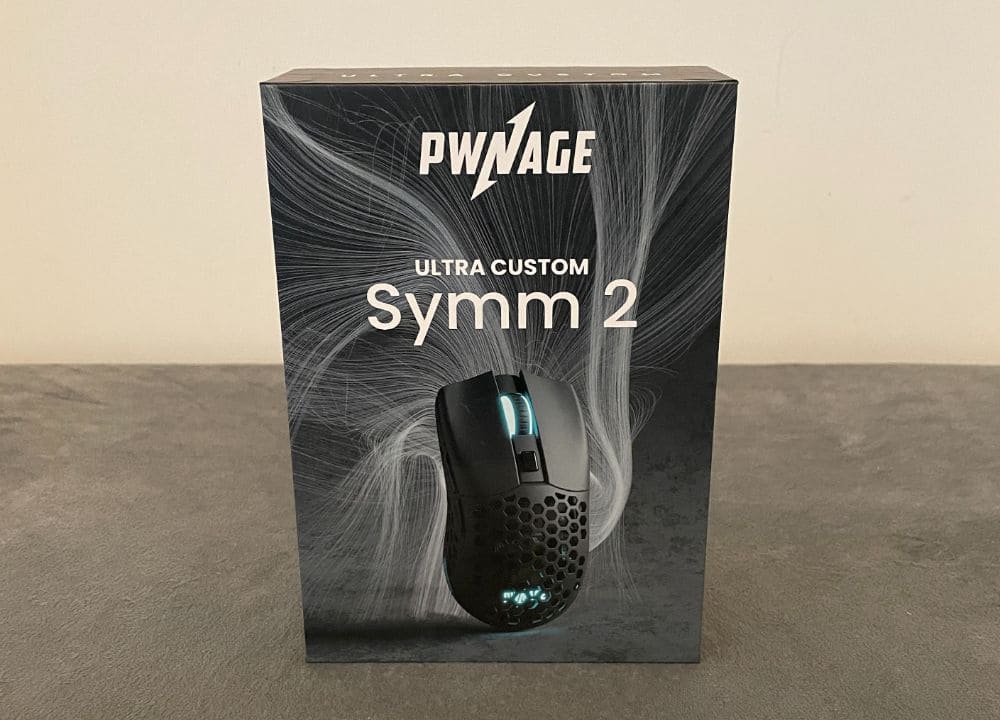 The front of the package looks somewhat like a magazine cover and shows an image of the mouse, its name, and the company branding. 
Also, you will see more information about the product at the back of the box, which you can check for reference. 
Inside, the Symm 2 ships with nice accessories, which we were pleased to see. It includes a solid and honeycomb shell, a paracord USB-C cable, a USB receiver, and a USB-A to C adapter. You will also find button spacers that can fit beneath the mouse 1 and 2 buttons for a customised feel.   
Lastly, the package includes a user manual and safety instructions. 
Pwnage Ultra Custom Symm 2 Wireless Mouse Review – Design and Functionality
What we have for review is the wireless Symm 2 in white. But you can opt for the black shell if the shade complements your setup more.   
While inspecting the mouse for our Pwnage Ultra Custom Symm 2 Wireless Mouse Review, we learned that it is customisable. Not only that, but it is also lightweight and has an excellent design and feel.  
However, what sets it apart from other similar products is you can readily swap components for customising the mouse. We mentioned earlier that a honeycomb and solid top shell are present in the package. You can also get other colours for these parts, including the button covers.
The Pwnage website features a small configurator that displays how the mouse looks with the shells. We love this idea since it does not leave you with any guesswork. Also, the company offers metal cover sets, which is a more premium upgrade to the mouse.  
The Symm 2 features a symmetrical right-handed form combined with a standard layout plus six programmable buttons. 
Let us continue our Pwnage Ultra Custom Symm 2 Wireless Mouse Review and focus on its sensors, scroll wheel, and finish. It has a clickable scroll wheel that lights up with its customisable and vibrant RGB. You will find an extra strip of RGBs along the bottom rear with a few varying zones. 
Although the light strip does not illuminate the mousepad, it adds an appealing touch to the product. The light along the rear also switches off when the Symm 2 is in motion to save the battery charge. We think this is a good idea since your palm covers the mouse anyway when moving it.
But if you want to have the light switched on at all times, you can switch off the settings instead. 
Beneath the Symm 2 are the sensor and PTFE skates.
You will also find a three-way switch that gives power to the mouse when it is in the middle position. It will switch on when you shift it upwards. 
Also, remember that the switch does this without the RGB strips at the back. And flipping it down activates all the lights. 
Its shell features a smooth and attractive matte finish without any texture, even on its sides. This portion is where the grip tape can help if you have issues holding the Symm 2. 
Key Features of the Pwnage Ultra Custom Symm 2 Wireless Mouse
Our Pwnage Ultra Custom Symm 2 Wireless Mouse Review will discuss the features of the mouse. Doing so will show you what makes it stand out from the crowd. Plus, the information will help determine if it is something you need.
Created for Precision
Pwnage focused on performance and customisations while designing Symm 2. You can easily personalise your mouse based on your preferences and tastes without any tool. Moreover, you can reduce the weight of Symm 2 to as little as 66g.
100% PTFE Skates
Virgin PTFE Skates have rounded edges intended for movement control. It also provides a buttery-smooth glide when moving the mouse, allowing for swift execution of movement.
Lightweight Paracord USB-C Cable of the Pwnage Ultra Custom Symm 2 Wireless Mouse
For wired mode gaming and charging, the mouse comes with an FCC-compliant Type-C cable made of ultra-flexible paracord.
Interestingly, the mouse seems wireless even in wired mode and only needs two hours of charge to reach full power.
More Customisation with the Ultra Custom Software
Customise the mouse further and unlock its full potential by downloading the Pwnage Ultra Custom software. It offers a range of settings that allow you to adjust the Symm 2 based on your needs.
Kailh 8.0 Switches
Kailh GM 8.0 premium sorted switches provide the best high-performing clicks and have an 80 million click life. This feature will allow you to enjoy 100% accuracy and tactile clicks while gaming.
3370 Sensor
The presence of the 3370 sensors provides low error rates and adjustable LOD (less than 1mm). The 3370 sensor also offers higher accuracy, which is essential for gaming.
Lag-free Gaming with the Pwnage Ultra Custom Symm 2 Wireless Mouse
The Symm 2 boasts an adjustable debounce time as low as 0mS and a redesigned MCU for enhanced latency and performance. It features the most recent wireless R&D technology that eliminates input lag.
Specifications
We will discuss the product specifications as we continue our Pwnage Ultra Custom Symm 2 Wireless Mouse Review. 
The Symm 2 measures 118 x 60 x 38mm (HxWxD) and weighs 66g to 75g. 
It has zero smoothing/acceleration/filtering, a maximum tracking speed of 40g, and a max speed of 400 IPS.
The mouse is wireless and has a polling rate of 125 / 250 / 500 / 1000Hz. It uses the PAW 3370 optical sensor and has a DPI range of 50 to 19000.
In office mode, the battery can last up to 180 hours and 80 hours under gaming mode. You will need two hours for a full charge. 
It also has an included paracord type-C cable that measures 2m. 
Hands-on with the Pwnage Ultra Custom Symm 2 Wireless Mouse
We used the mouse for a week to see how well it performed. Also, we tested the product to share our experience in this Pwnage Ultra Custom Symm 2 Wireless Mouse Review. Let us check the Ultra Custom software before discussing our hands-on experience. 
Ultra Custom supports all the customisations we were expecting despite not being the most graphically sophisticated software we have encountered. We can dial in a few other factors, such as polling rate, debounce time, DPI settings, and button mapping. Plus, we could change its LOD or lift-off distance between 1 and 2mm. 
We managed to customise which settings have a specific colour to dial in a particular colourway.
The Symm 2 battery life can last up to 80 hours, and we can use the mouse with a single charge for several days. Its adequate power allows for uninterrupted gaming sessions.
We were surprised by how easy and quick it was to change the whole look of the mouse. 
Removing and swapping parts was convenient and easy since it was tool-free. We could readily pull off the shells from the bottom and snap them in place once re-assembled.
Changing things took less than a minute, and once re-assembled, there was nothing wobbly or loose, which was excellent. 
Also, the Symm 2 felt secure and solid after swapping its parts and felt like it came right out of the box.
Pwnage uses the 3370 sensors for the Symm 2, which worked and tracked well during our testing.  This sensor flawlessly worked when we played Warzone and other similar games.
Since the mouse uses the Kailh 8.0 switches, it gave off a satisfying click that was crisp and consistent. The buttons were responsive, and being wireless did not get in the way when we executed quick moves. 
We enjoyed its feel even if it was not as clicky since it sounded excellent whether we played or did daily tasks. 
Despite being wireless, the mouse still offered smooth and accurate movements. 
Pwnage Ultra Custom Symm 2 Wireless Mouse Review Summary
We are ending our Pwnage Ultra Custom Symm 2 Wireless Mouse Review by recommending this product. Its form, performance, features, and efficiency are all excellent. 
We had a lot of fun using the Symm 2 while gaming since it is lightweight with tactile clicks. 
The sensor and skates allow for smooth and simple movements of the mouse. It has precise clicks, and it offers excellent tactile and aural feedback.
The product also offers a satisfying click, and you can customise it to your heart's content. Finally, its easy-to-swap shells and extra customisable accessories make it stand out from its competition. The Symm 2 is an impressive mouse, and adding it to your setup is ideal. 
Learn more about the Ultra Custom Symm 2 wireless mouse by visiting the official product page of Pwnage.