Today, we will look into another promising wireless security camera in our Reolink Argus PT Review. This product combines top-notch performance with the efficiency of a pan-tilt outdoor camera to optimise how you keep watch over your space. 
It packs plenty of notable features that we will discuss in our review. Aside from these, we will also look into its design, functions, specs, and performance. 
Reolink Argus PT Packaging
It shipped in time for our Reolink Argus PT Review, and the product arrived in a standard Reolink-looking cardboard box. The package sports the typical blue and white theme, while its front features an image of the product and the company branding. Behind are more details about the product, which you can refer to when needed.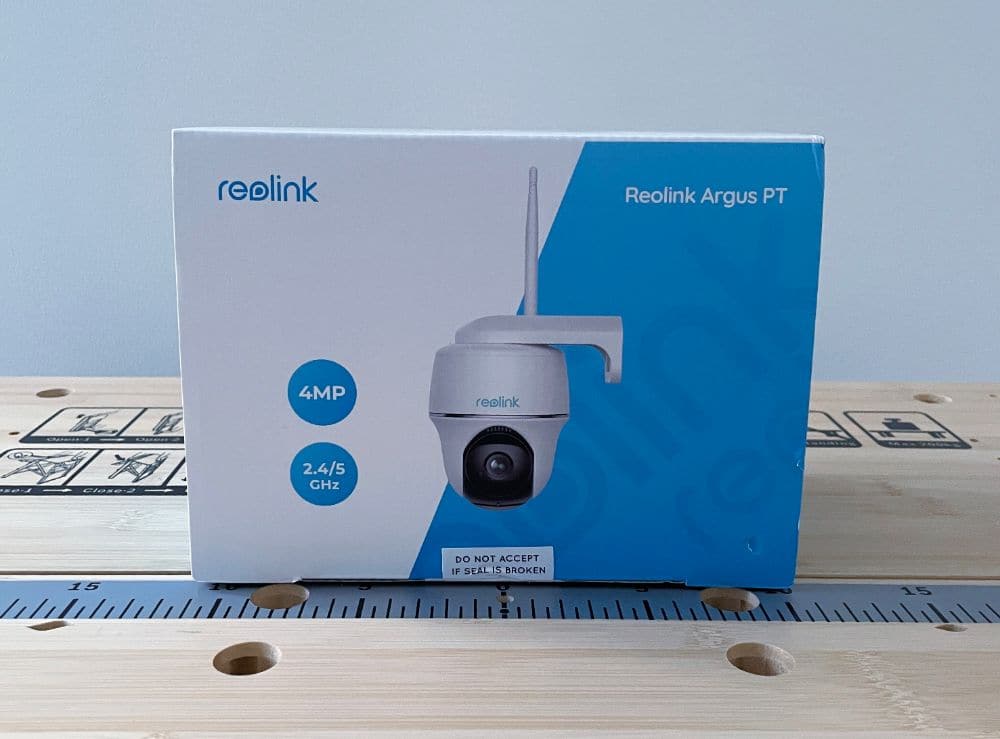 Inside, you will find the following items Reolink included: 
Reolink Argus PT 

Its Mounting Bracket, Template, and Screws

Antenna

Micro USB Cable

Quick Start Guide

Reset Needle

Reolink Window Decal
Reolink Argus PT Review – Design and Functionality
Did you ever wonder why security cameras with tilt and pan motors are often oddly designed? If so, let us also discuss this in our Reolink Argus PT Review.
Generally, this design is necessary to allow manufacturers to include additional elements in the camera. Simultaneously, they guarantee a case/body that is as compact as possible. However, these products most likely end up being heavy. 
The Argus PT is among these chunky, heavy security cameras measuring 11.2 x 9.8 x 9.8cm. Adding its stand and antenna will make the security camera appear slightly more massive.
Despite the size, Reolink managed to keep the camera balanced, weighing 460g since its body is plastic. Do not worry because, despite its material, the Argus PT is durable and does not look cheap. Moreover, the product has a power switch, which is uncommon in such products. 
It is worth noting that its camera is non-removable, so you must take it down to charge. Additionally, a single, full-time charge lasted 1 to 4 weeks for regular use, which may not be enough for some. 
To avoid the hassle of taking down the camera to charge, we suggest using the Reolink Solar Panel. It will help recharge the camera continuously, making for no downtime to ensure convenience. 
Key Features of the Reolink Argus PT
What are the unique elements that make this an excellent security camera? Is it better than other similar products available? Find out as we discuss its key features in our Reolink Argus PT Review.
Anywhere, Standalone and Easy
As a standalone battery-powered camera, you can install the Argus PT anywhere. It is easy to install, and you will not need to deal with complex settings or install a base station. Plus, it does not require subscription fees.
Enjoy security and peace of mind with person and vehicle detection and two-way audio.
Listen and Talk
The Argus PT has a built-in speaker and microphone, allowing you to talk to the person captured by the camera. 
Advanced Detection Technology
The integrated detection technology in the Argus PT analyses people and shapes of vehicles. As a result, it offers accurate detection and reduces false alarms triggered by the movements of trivial objects.
2K 4MP for Optimal Protection
The Argus PT uses 2K 4MP resolution to monitor broad areas with a crisp visual quality. With this high-definition camera, you can enjoy a smoother live viewing experience.
Night Vision with Superior Clarity
The Argus PT has infrared LEDs that offer superior image quality for recording at night. These LEDs are excellent for outdoor areas without adequate lighting.
Two Power Sources – Rechargeable Battery and Solar Power
The Argus PT has a non-removable rechargeable battery and can operate without cables. It will also work perfectly even during a blackout.
If you want the camera charged 24/7, you can use it with the Reolink Solar Panel. When using solar power, you will not need to get the camera for recharging.
Fun Dynamic Timelapse
The Argus PT has a timelapse feature to conveniently record long-term events like the sunrise, sunset, blooming flowers, etc. With this camera, you can enjoy shooting videos like those in the movies.
Dual-Band WiFi
Thanks to 5GHz (5.8GHz) WiFi, the Argus PT eliminates the waiting time with stronger signals and faster speeds. You can switch between 2.4GHz and 5GHz bands to maximise the best network performance in specific scenarios.
Multiple Storage Options
The Argus PT can save recordings on a 128GB microSD card or the Reolink Cloud.
Safe From the Rain, Snow and Wind
The durable housing makes the Argus PT waterproof and safe from harsh weather conditions.
Smart Alert
You can receive notifications via the Reolink app or email alerts when the Argus PT detects moving people or objects. It also has a loud siren triggered by detected motion.
Custom Motion Zone
Customise the motion zone and decide where the Argus PT will detect movements.
Live Viewing & Playback
While writing our Reolink Argus PT Review, we learned about the live view and playback feature. You can observe what is happening in your home/office space with a click and respond immediately. 
With the feature, you can search saved videos, find what you need to review, and then playback. 
Specifications
Video Resolution:

4MP (2560 x 1440) at 15 frames per second

Video Format:

H.265

Image Sensor:

1/3″ CMOS Sensor

Field of View:

Fixed lens, 122° diagonal

Infrared Night Vision:

Up to 10m

Digital Zoom:

16x

Audio:

Two-way audio

PIR Detecting Distance:

up to 10m, adjustable

PIR Detection Angle:

100° horizontal

Wireless Standard:

IEEE 802.11a/b/g/n

Operating Frequency:

2.4GHz/5GHz

Wireless Security:

WPA-PSK, WPA2-PSK

Battery:

6000mAh, rechargeable

DC Power:

5V/2A USB power adaptor

Local Storage:

microSD card slot (128GB maximum capacity)

Cloud Storage:

Reolink Cloud 

Size:

Φ98 x 112mm

Weight (with battery):

470g 

Warranty:

Two years
Hands-on with the Reolink Argus PT
This section of our Reolink Argus PT Review focuses on camera performance. We used it for two weeks to determine if it would work as efficiently and effectively as claimed. But before anything, let us discuss its setup process. 
Reolink kept setting up the camera by using a series of QR codes. 
At the base of the Argus PT is a QR code you can scan via the Reolink app. 

From there, enter your WiFi network details to generate a code on your Smartphone display to transfer the information to the camera.

After connecting, the Argus PT will ask for information. Once done, you can start setting it up and managing the camera via the app. 
You can instantly create notification rules and motion zones through its settings menu. It will also let you adjust several options whenever necessary. 
If this is your first time using the app, we suggest familiarising yourself with the menus upon the first operation. 
The best and most convenient way to install this camera is by using the mounting bracket included in the package. It hangs the camera with screws or a loop strap for quick mounting to a pole or tree.
From there, attaching the camera using a slider and a mounting plate on top of the bracket will be easy. Another option is to attach the camera to anything using a standard tripod screw.
The performance of the Argus PT met our expectations. Its video quality was excellent, and it recorded crisp and detailed videos of our backyard. Plus, we did not notice any glares or shadows.
Another impressive thing about this camera was the infrared night vision that allowed the camera to record in the dark. The night footage from this camera had excellent quality, and most objects were visible despite the area not being well-lit.
The extra features and functions like motion detection and sending alerts worked excellently. It detected people rather than other moving objects like blowing leaves. Plus, we received push notifications on our phones only when necessary.
The Argus PT does not have a broad field of view. But despite that, its pan and tilt feature expanded the camera scope. It captured more than we expected, allowing us to spot incoming visitors from a distance.
Like most security cameras, the Argus PT uses two-way audio that allows listening and speaking with visitors. It also has a siren that can record a five-second custom voice alert. The speech was intelligible during our tests, and we were impressed with its clarity. 
We were satisfied with the overall performance of this security camera during our tests for this Reolink Argus PT Review. It was easy to install and set up since we finished doing these after a few minutes. Plus, it delivered excellent video and audio quality, and its surveillance features worked perfectly.
Reolink Argus PT Review Summary
The Argus PT is a highly reliable security camera for indoors and outdoors. It has an innovative motion sensor, built-in mic and speaker, dual-band WiFi, and high-quality images with night vision. In addition, it can withstand harsh weather conditions, making it excellent for outdoor security.
This camera can also store recordings in a microSD card or cloud storage provided by Reolink. Plus, it works with a rechargeable battery and solar power. 
When we tested this product for our Reolink Argus PT Review, we were impressed with its performance. It recorded high-quality videos, detected the motions of people and vehicles accurately, and it had no delays in sending alerts. We highly recommend this security camera for its satisfying performance that exceeded our expectations.
To learn more about Argus PT, visit the official product page of Reolink for additional details.