The market offers many IP cameras. However, choosing the best 180° panoramic camera for home/business use can be challenging. Fortunately, a trusted name released one of the best, which we will discuss in our Reolink Duo 2 WiFi Review. 
The Duo 2 WiFi is an optimised version of the Duo series that Reolink launched in 2021. This current version gives us a brilliant panorama view in a stunning 4K ultra HD resolution. 
This model functions as a shedload hotspot of software and hardware functions. Plus, it has more features and efficiencies to offer than its predecessor. 
Will the Duo 2 WiFi be more efficient than its predecessor, or should you stick to the earlier model? Continue reading our Reolink Duo 2 WiFi Review to learn more about this product. 
Reolink Duo 2 WiFi Packaging
The Duo 2 WiFi ships in a standard-looking Reolink cardboard box sporting a white and blue theme. In front, you will find the usual image of the product, its name, the company branding, and the camera MP.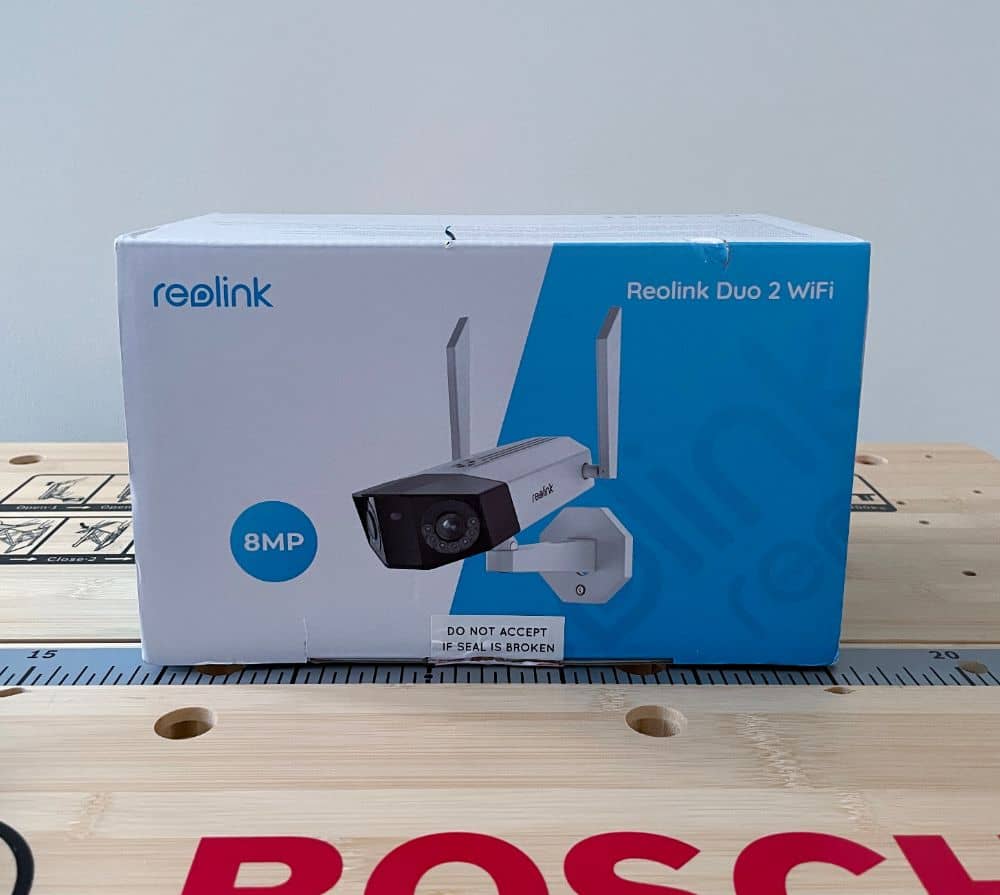 The IP camera includes several accessories from Reolink, which you will find in the package.
Reolink Duo 2 WiFi

Mounting Plate

Power Adapter 12V/2A

1m Network Cable

Mounting Hole Template

Antennas

Pack of Screws

4.5m Power Extension Cable

Waterproof Lid

Screwdriver

Surveillance Sticker

Quick Start Guide
Reolink Duo 2 WiFi Review – Design and Functionality
Duo 2 WiFi took a better turn on its design than most IP cameras. Almost every similar product features a camera in bullet form or another similar style. 
Fortunately, the company decided on a more sophisticated and contemporary approach for its design. While writing our Reolink Duo 2 WiFi Review, we observed that its body is entirely metal with beautifully-carved sharp edges. 
We love its monochrome colour scheme for emphasising the contemporary aesthetics of the product. If you look at the sides of the camera, you will not find any ventilation marks but a Reolink logo instead. 
At the top of the Duo 2 WiFi, a screw hole is present for attaching the mounting kit to the product. A similar piece is below the camera to make room for additional stability. 
On its sides, discrete screw threads facilitate seamless attachment of the antenna and camera.
Despite its compact dimensions, the Duo 2 WiFi boasts remarkable antenna quality to support 5 and 2.4 Gigahertz frequencies. It is worth noting that its encryption capabilities are limited to WPA 2, with WPA 3 remaining unavailable.
A speaker is also present besides the extra screw joint beneath the camera. It helps you communicate via the Reolink mobile app with anyone outside. Moreover, it also doubles as a siren that you can initiate by hitting a button. 
SD Card Slot
Beneath the Duo 2 WiFi camera is a discreet region concealed by a screw panel. This compartment allows you to insert an SD card, providing ample space to store your valuable recordings. 
With a capacity of up to 256GB, the SD card storage ensures you never run out of space. It is important to note that the Duo 2 WiFi is incompatible with the Reolink cloud storage option. It means the local SD card becomes your primary storage.
WiFi Powered
The product for our Reolink Duo 2 WiFi Review is a WiFi-powered IP camera. Besides this, it also features an Ethernet port to connect via a router if you have one. Remember that powering up the camera with a DC power adapter/PoE injector is necessary for the latter. 
Continue reading our Reolink Duo 2 WiFi Review to see the unique features of this product.
Key Features of the Reolink Duo 2 WiFi
Two Cameras, One Device
The Duo 2 WiFi is an upgraded version of the original Duo WiFi. It can stitch two videos in one without gaps with its two-camera combination and 180-degree panorama. Videos have no overlapping parts, giving smoother recordings with double field of view.
Advanced Detection and Two-Way Audio
Reolink enhanced the Duo 2 WiFi, allowing its motion sensor to spot people, vehicles, and animals. Its built-in mic and speaker allow you to respond to incoming visitors.
Impressive Details in 4K UHD with the Reolink Duo 2 WiFi
The Duo 2 WiFi has a 4K resolution that captures most details and delivers unparalleled image clarity.
Reolink Duo 2 WiFi for Day and Night Monitoring
The Duo 2 WiFi makes recording possible at night with its spotlights and infrared LEDs. It can capture bright images, and you can choose from coloured or black-and-white videos. No matter what you select, the footage will be of smooth and crisp quality. 
Dual-Band WiFi for Higher Speeds and Lower Interference
Say goodbye to long waits with higher data rates and better anti-interference. The 5GHz (5.8GHz) WiFi offers smoother live viewing and switching between 2.4GHz and 5GHz bands for optimal performance.
Timelapse for Cinematic Recordings
The timelapse feature of the Duo 2 WiFi allows for capturing dynamic scenes in accelerated videos. With its 180-degree ultra-wide viewing angle, you can immerse in panoramic recordings.
IP66 Waterproof Rating – Performs Optimally in Bad Weather
The Duo 2 WiFi can withstand harsh weather due to its robust waterproof housing. It is safe to install this camera outdoors without worrying about damage caused by cold, heat, and water.
Multiple Storage Options for the Reolink Duo 2 WiFi
This IP camera supports motion-triggered, scheduled 24/7 recording. You can save videos on a microSD card, FTP server, or Reolink NVR. Enjoy your customised security with flexible storage options.
A compatible Reolink NVR or security camera system is the best option for storing longer videos or connecting multiple cameras.
Easy to Manage with the Reolink App and Web Client
Reolink makes monitoring your home or business more convenient than ever with the Reolink app and web client. You can check everything with a few clicks whenever and wherever you go.
It is essential to know about the specs of any product you purchase. Continue reading our Reolink Duo 2 WiFi Review for a quick run-through on the camera specifications.
Specifications
Default Video Resolution:

8MP (4608 x 1728) @20 fps

Lens:

F=2.0/f=3.2mm (fixed)

Horizontal Field of View:

180°

Vertical Field of View:

60°

Infrared Night Vision:

30 meters 

Video Format:

H.265

Spotlight for Colour Night Vision:

8pcs/5W/6500K/560 lumens

Audio:

Two-way

DC Power:

DC 12.0V⎓2A, less than 15W
Hands-on with the Reolink Duo 2 WiFi 
We had the chance to test the camera for our Reolink Duo 2 WiFi Review and used it for weeks. Here, we will discuss how easy it was to set up and how it performed during use. 
Like every other product from Reolink, the Duo 2 WiFi is conveniently easy to set up. You only need to add the camera to the mobile app of Reolink and make a password. 
You can choose from several options on how to manage the camera:
Mobile App

Web Browser

Windows App
You can download the mobile app to your iOS or Android devices. And for the most part, the services, controls, and functions are the same on every camera from Reolink. 
On the app, a QR code is present, which you need to scan to receive a set of on-screen instructions. It will only take around five minutes to complete the setup for a first-timer of the Reolink app and ecosystem. You can connect the camera and begin streaming footage to the linked devices.
The Duo 2 WiFi is a high-quality video camera that records in 4K and delivers clean, crisp image quality. Its videos are rich in detail, even under IR. We also liked its dual lens that allows zooming in on fine detail.
When well-placed within a property, the Duo 2 WiFi captures daytime and nighttime videos excellently. Unlike its predecessor, which produces two feeds for each lens, the Duo 2 WiFi delivers one. It seamlessly stitches the recordings of the two lenses to deliver a comprehensive feed with a 180-degree field of view.
In our tests, the Duo 2 WiFi produced perfect footage with well-balanced lighting for its two lenses. As a result, both outputs have similar brightness and lighting.
One of the noticeable things on recordings from this camera is sun glare. It is not always a given, but its broad field of view makes it capture the sunlight. It is most prominent in morning recordings and appears less during the later hours of the day.
Nighttime videos also have satisfying quality. All people, objects, and pets are all visible in the footage. The Duo 2 WiFi detected motion well, despite the dark area due to inadequate lighting.
Reolink Duo 2 WiFi Review Summary
The Duo 2 WiFi has many features and functions for an affordable IP camera. It has excellent video quality, motion detection that spots pets, a dual-band network, and AI options that reduce false alerts. Plus, its 180-degree panorama allows broader coverage across your property.
Aside from its capabilities, Reolink included all the necessary package contents for quick and easy camera installation. We appreciate the company for making things more convenient for its users. 
What makes the Duo 2 WiFi an attractive option include the affordability, features, functions, high-quality videos, and low-cost subscription. We highly recommend this product since it performed excellently during our tests for this Reolink Duo 2 WiFi Review.
Visit the official Reolink product page for additional information about the Duo 2 WiFi.