Today, we're writing our RODE RODECaster Pro II Review, which discusses the RODECaster Pro II. If you create content, you know the challenges of capturing clear-sounding audio. You'll need the ideal workflow, environment, and tools to achieve this outcome. 
Luckily, RODE created a solution to the problem, which is the RODECaster Pro II. It's an all-in-one audio solution for podcasters and content creators that allows custom routing settings. The product is also a distinct mixing deck that focuses on podcasting. 
It sports numerous features that let you record multiple people and add audio boosters. Additionally, you can use it to add background music and everything in real-time. 
In this RODE RODECaster Pro II Review, we'll share our thoughts about this portable audio mixer console. We'll discuss its features, design, functions, and specifications, among other things. 
RODE RODECaster Pro II Packaging
Before we get into detail, let's look at the product's packaging in our RODE RODECaster Pro II Review. 
The RODECaster Pro II arrived in a thick cardboard box showcasing an image of the product in front. The area also displays the unit's name, the company's branding, and some specifications. 
The top portion of the box shows another image of the product along with its name and key features. You can find two other views of the unit but from different angles. Beneath these, you'll also find a list showing the box's contents. 
To its right, you'll find more information related to the product. 
There isn't much to see inside the box. You'll only find the RODECaster Pro II, a power adapter, and a USB-C to C cable.
RODE RODECaster Pro II Review – Design and Functionality
The RODECaster Pro II has a sleek kit that's comprehensive and easy to use. Looking at it from the top, you'll see a 5.5″ HD touchscreen featuring haptic feedback. 
Above these are six fading channel sliders with channel buttons featuring dedicated monitoring and mute functions. To the right are rotary encoder dials, eight physical SMART Pads, and a dedicated recording button.
Looking at its rear shows all of the product's connectivity options. Flipping it for our RODE RODECaster Pro II Review, we saw all connectivity options available on premium mixing desks. 
Power delivery is via USB-C with two dedicated USB-C ports for connectivity. The latter is for phones, computers, iPads, and other gaming tablets. 
The RODECaster Pro II's aesthetics match the straightforward style language of the company. It doesn't look much different from the first model introduced almost four years ago.
Touch Screen of the RODE RODECaster Pro II
The model's screen is now 5.5", which is massive, crispier, and brighter because of high-definition and haptic feedback. They also switched to USB-C power input, allowing you to use a power bank to make it completely portable. 
This function was possible with the earlier version, but a RODE adapter cable was necessary. The touchscreen's interface is straightforward and is easy to learn by simply tinkering with the interface. Overall, it's a great inclusion to the RODECaster Pro II, which makes it even better. 
RODE did a fantastic upgrade of the on-screen navigation and general UI. It's more intuitive and has a better layout despite it being laggy. 
All nine channels are on its home screen, and the first six are related to fader assignments. The other three are related to virtual faders instead. 
And like with other digital mixing consoles, you can access deeper controls by choosing a channel. You can do this by pressing the channel's backlit button or touching its on-screen fader. Doing so calls the VoxLab GUI. 
Input and Output Ports
The back panel houses inputs for line-level resources and instruments over combination XLR/TRS sockets. You'll also find inputs for four microphones. 
There are two USB-C sockets for computer connections, while the Ethernet socket is for wired internet connections. If not, you can also utilise the product's integrated WiFi.
You can hook power using the separate USB-C socket. Plus, there's one microSD card slot for storage. 
This all-in-one solution's power lies with the company's high-grain Revolution pre-amps. It's also in the 24-bit/48kHz audio processing and APHEX effects combined with the VoxLab editor.  
Likewise, its front panel is modest. The six channels feature similar controls like the channel selection button, listen & mute buttons, and a long channel fader. To the right, you'll see eight customisable Smart Pads that are assignable to different features. 
At the top, you'll see separate headphone level controls for every four outputs. 
The RODECaster Pro II isn't necessarily a complete mixer with plenty of dedicated controls for distinct features. Instead, the product places key physical controls centre and front. It includes detailed features accessible via the rotary encoder and 5.5" HD touchscreen.
Custom Routing with the RODE RODECaster Pro II
One amazing feature that comes with the RODECaster Pro II is custom routing which an essential feature for streamers and podcasters.
The primary audio travels to all USB outputs on the RODECaster Pro II. But sometimes, this can be a problem when recording/streaming scenes. It's true when you don't want a specific audio input sent to one of the USB outputs. 
Here's an example scenario. When you don't want gaming audio sent to USB 1 heard on your chat apps on USB 2. 
And here's one solution to the problem. You can set custom routing for total control over what audio inputs travel to each USB output.
It lets you select what audio sources go where, giving you added flexibility for the setup. You can manage what you send to streams and voice chats. That means the audio will be entirely independent of each other.  
To access it, go to the channel setting screen to find the USB channel you want to set up. Then press routing, then the custom option. If not, go to settings, then choose outputs, routing, and the custom option. 
From the custom routing set-up area, select/deselect the audio inputs you want to have routed to the USB output.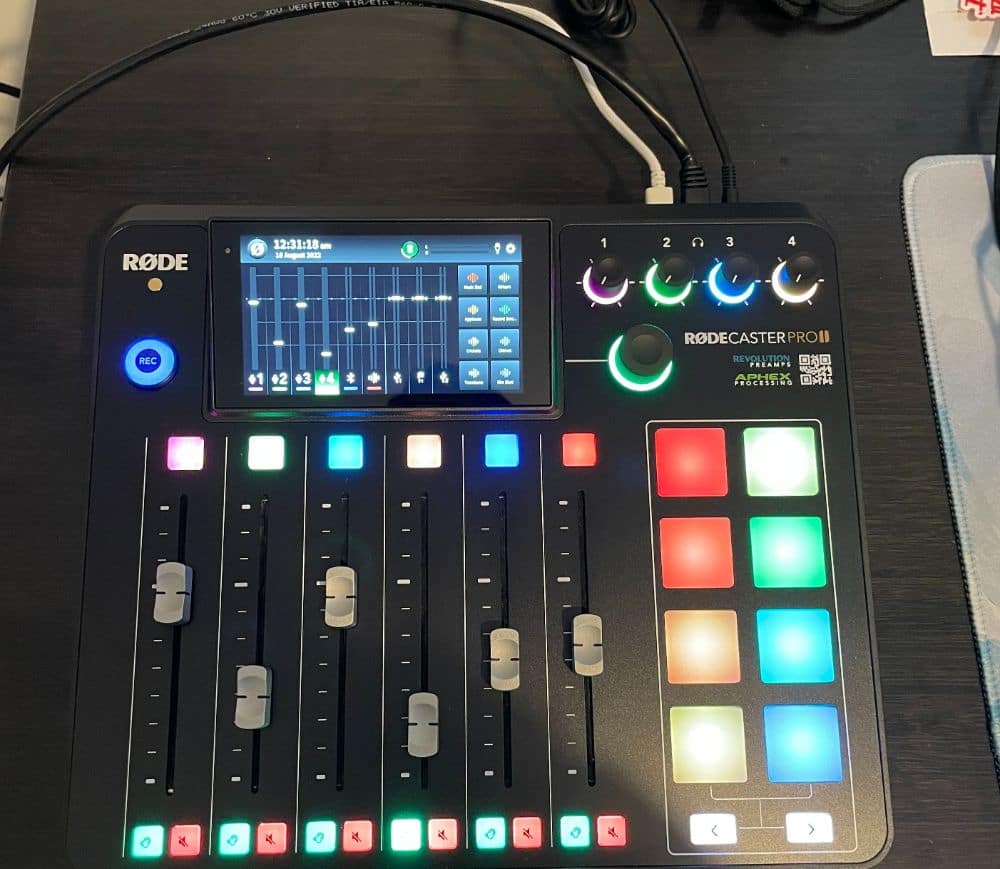 Key Features of the RODE RODECaster Pro II
Is this product better than the original RODECaster Pro? Why is it the best all-in-one audio solution? We're discussing its features in our RODE RODECaster Pro II Review to learn more.
Cutting-edge Audio Solution
The RODECaster Pro II is RODE's latest powerful all-in-one solution for audio production. It has advanced features and a high-performance quad-core audio engine to deliver high-quality sound. Whether you're streaming, podcasting, gaming, or producing music, it will significantly improve your experience in content creation.
Revolutionary Sound of the RODE RODECaster Pro II 
The RODECaster Pro II is ideal for recording, live streaming, or podcasting, and it can capture multi-tracked music recordings. It has four balanced analogue inputs featuring high-quality Neutrik combo jacks to connect microphones, line-level devices, and instruments. 
With the Revolution Preamps, the RODECaster Pro II offers pristine sound quality with any instrument or microphone. It features high-gain, ultra-low-noise preamps that will deliver plenty of output while remaining quiet. 
You won't require microphone boosters, external processing, or lifters since the RODECaster Pro II offers sonic purity.
Powered by APHEX
Create your sound with APHEX's audio processing power. It offers a suite of genuine emulations of notable hardware audio processors like Aural Exciter and Compellor master leveller/compressor.
The RODECaster Pro II also has a studio-quality compressor, high-pass filter, noise gate, de-esser and three-band equaliser for each channel. These are all APHEX-powered, so you can only expect outstanding recorded audio.
Easily Achieve Incredible Audio 
Navigating the RODECaster Pro II is simple. It has a high-resolution touch screen and a tactile rotary encoder for hands-on control of every detail of your audio. Setting it up takes seconds, and you can gain the best sounds with tailored presets and the VoxLab processing editor.
SMART Pads for Unlimited Creativity and Control
While other consoles have sound pads, the RODECaster Pro II uses SMART pads. These allow on-the-fly triggering of voice effects like echo, reverb, pitch, and robot FX. Plus, you can activate automated mixer actions like fade-ins/outs and send MIDI commands to external software.
Endless Customisation and Creative Freedom with the RODE RODECaster Pro II
You can customise the RODECaster Pro II to suit your recording setup and the content you're creating. You can individually assign the nine channels to create custom mixer configurations. 
Tweak each processor and effect based on your preferences via the advanced editor. Each SMART pad is programmable with actions, and the RGB LEDs are customisable to suit your aesthetic. With the RODECaster Pro II, you'll have great possibilities.
Podcast-Friendly Elements
The RODECaster Pro II has a producer talkback mode feature that lets you communicate with guests without affecting your recordings. Since it uses advanced Bluetooth connectivity, you can use the product for integrating high-quality phone calls and crystal clear streaming. It also allows for wireless monitoring and more.
The Bluetooth and USB channels' mix-minus prevent the person on the other end of the call from hearing distracting noise. These features make the RODECaster Pro II great for local and remote guests when podcasting.
Fast Workflow
You can save multiple Shows with all of the RODECaster Pro II's settings. It's ideal for instantly switching between production types like live streams, podcasts, and game commentary. It has tailored presets for RODE products to help you achieve excellent sounds immediately.
Its 5.5" colour touch screen has automatic brightness adjustment and haptic feedback. Next to this is a rotary encoder for efficient control and navigation.
With dual USB Type-C interfaces, you can connect two computers simultaneously. Take advantage of unlocking options for remote podcasting, organising complex streaming setups, etc.
Master Your RODECaster Pro II
RODE provides a step-by-step walkthrough, tricks, and tips on using the RODECaster Pro II. 
Specifications
This part of our RODE RODECaster Pro II Review is about the product's specifications, so let's look into these. 
The RODECaster Pro II has a mic input frequency range of 20Hz to 20khz and outputs of 20Hz to 20kHz. 
The mic has an impedance of 4KΩ while the input impedance is 1MΩ. Then its preamplifier gain ranges from 0 to 76dB.
The RODECaster Pro II's equivalent noise is -131.5dBV (A-weighted). Its line output max level is 4dBu, while the headphone output power is 250mW. 
You'll need 30W USB-C PD (15V, 2A) for its power, plus Bluetooth audio with music & headset profile. Bit depth is 24-bit, the sample rate is 48kHz, while its recording storage includes microSDXC, microSDHC, and USB-C removable drive. Its exFAT has a minimum of 100MB/s.  
For data transfer, it uses a USB 3.0 SD card reader of 130MB/s. Its network connectivity is WiFi 802.11g/n/ac 2.4GHz & 5GHz, plus Ethernet 100/1000. 
To use it, you'll need the macOS 10.15 or later, Windows 11, or Windows 10 v.1803 or later. Then, its internal storage is 4GB (Smart Pads). 
The RODECaster Pro II is 305 x 270 x 60mm (Lx DxW) and weighs 1960g.
Hands-on with the RODE RODECaster Pro II 
We tested the RODECaster Pro II a few times to see how good it performs. In our RODE RODECaster Pro II Review, we'll share our experience with it with you. But before that, we'll discuss the software and setup process.
One of the RODECaster Pro II's most handy features is its integration with the RODE Central Desktop software. Here, we tweaked various settings, customised RGB lighting, and created and saved specified presets. It's also where we downloaded firmware updates.
The RODE Central Desktop always has new features coming, so we recommend having internet access when using it. Like any other software, you'll need to connect to the internet to download updates.
One of the best improvements of the RODECaster Pro II is its additional processing options. The internal software features studio-grade APHEX audio processing and other impressive effects for more control over the audio. These elements also delivered better sound quality.
The software allowed us to tweak the equaliser and compressor with plenty of new options. These included pitch shift, echo, reverb, high pass filters, and noise gates. We enjoyed using the fun voice effects, which were ideal for a comedic impact in podcasts when used correctly.
The RODECaster Pro II was as active as its predecessor when updating its firmware. We also noticed how the company paid attention to detail when making changes or adding new features. They never failed to meet every user's needs, and everything was handy for all content creators.
Setting it up was easy, and the entire process went conveniently. From choosing your language, setting the time/date, updating firmware, to utilising the setup wizard, the set-up experience was great. 
At this stage, you can enjoy a great sense of how well-thought-out the entire unit is. Also, you don't need to have experience in audio engineering to follow the process of setting the mic levels. It also includes storing settings (Show preset) and adjusting the sound settings. 
Performance of the RODECaster Pro II 
During our tests for the RODECaster, we've continuously become impressed by this product. And to clarify, we've used it almost for everything, including streaming on Youtube & Twitch and recording music. We used it as our primary setup for voice calls with our available microphones.
We've used numerous RODE gear with the RODECaster Pro II and loved the results.
The RODECaster Pro II offered incredible versatility and control, making it perfect for streaming. With its unique features, this product is much better than other audio interfaces we've used before.  
Tweaking the audio was easy due to the accessible controls, like the six physical sliders. We dialled these to our desired level and used the touch screen interface when we wanted to make more changes.
In our tests, we noticed that the PodMic preset made the microphone capture our voice cleanly. Using it resulted in crisp and clear recordings, and we enhanced the audio quality with the preamp and dampening settings. 
Also, our recordings sounded incredible even when using condenser/cardioid microphones from other manufacturers. So don't worry about using RODE gear only since it worked with most microphones.
We also liked how we could connect remote guests and collaborators using the RODECaster Pro II. Connecting sources like phone calls and video chat apps with Bluetooth was seamless, which gave us a brand-new audio experience.
Using the RODECaster Pro II significant;y improved our workflow and productivity. While creating content, we didn't need to be completely hands-on with the unit. But of course, that would depend on what you're working on and how complicated your setup is.
Whats more is that we were able to control things via the RODE Central Desktop software, and all features worked smoothly.
Even without the app, the RODECaster Pro II worked excellently. Thanks to the highly responsive SMART pads, we quickly and easily triggered voice/sound effects and mixer automation. Sending MIDI commands was easy too.
The RODECaster Pro II is a powerful product that doesn't complicate things. It efficiently increased our productivity and boosted our workflow.
The RODECaster Pro II's audio quality was outstanding and significantly improved from the original unit. The Neutrik combo inputs delivered pleasing results when we tested different microphones and instruments. As RODE advertised, these had ultra-low noise and high gain.
Tweaking the equaliser and other settings via the software was easy, and we got the audio quality we wanted. It was impressive since the recordings were all high-quality, and we didn't need to work a lot on post-processing.
For our overall user experience, we were satisfied with the RODECaster Pro II. We enjoyed using the product, thanks to its range of versatile yet convenient controls. With its excellent build, user-friendly software, superior audio quality, and customisation options, this is every content creator's must-have audio solution.
Of course, everyone's user experience with the RODECaster Pro II may vary. How you use it will depend on what content you're creating and what you want to achieve. It may be a simple recording setup with a single microphone or streaming with complex applications, or a full fledged podcasting studio.
But no matter what you do, the RODECaster Pro II will make content creation more convenient with its innovative features.
RODE RODECaster Pro II Review Summary
The RODECaster Pro II is an innovative audio solution and an excellent update from the original RODECaster Pro. We loved the SMART pads, better preamps, improved interface, hard drive recording, WiFi-enabled firmware updates, and added connectivity. 
There are a lot of things to like about this product. It packs all the essentials of an audio control room in a smaller package, making it ideal for content creation. Whether you're a musician, podcaster, YouTuber, streamer, or audio engineer, you'll find this product handy.
Aside from its features, we loved the RODECaster Pro II's strong sound quality. When we tested this product for various uses, it never failed to deliver high-quality sound. We also liked its versatility since it had a lot of available sound effects and options for customising the audio.
While being a flexible unit, the RODECaster Pro II helps you save time in post-production. Since it already delivers superior audio quality and has numerous effects, you won't need to do a lot of editing.
The custom routing feature makes this the best solution for content creators, especially gamers, podcasters, and streamers. Keeping audio separated was easy and convenient, thanks to RODECaster Pro II's interface.
RODE did an excellent job on the second generation of their product. The RODECaster Pro II performed well throughout our tests and significantly improved our streaming and gaming experience.
We were satisfied with this product's performance, and we recommend it. It's ideal for anyone who wants to take content creation to the top. With convenience, control, versatility, and excellent audio quality, you'll enjoy creating content with it.
To learn more about the RODECaster Pro II, visit RODE's official product page for additional details related to the unit.