For those in search of an efficient NVMe SSD, fret not because we've got your back. Here in our WD Black SN750 NVMe SSD review, we'll focus on Western Digital's second generation series of products.
The SN750 SSD NVMe mainly focuses on gaming, but it's not all that. This NVMe SSD allows you to record gameplay footage which you can easily upload to various media platforms. These include Twitch, YouTube, and the like.
With it, you can simultaneously link via Skype or Discord while gaming which is a highly efficient feature for all. So, we'll focus on the SN750 NVMe SSD from Western Digital to see if it's worth purchasing for your setup.
WD Black SN750 NVMe SSD Packaging
This part of our WD Black SN750 NVMe SSD review talks all about its packaging and other inclusions.
Once we got our hands on the SN750, we instantly loved its new design and look. The company opted for a contemporary twist on one of their flagship, classic series that's favoured by many.
The SSD comes in a simple-looking package that sports a dark theme. Looking at the box's front, an image of the SN750 SSD NVMe is present. Along with it are vital information about the SSD on the box's lower-right corner. You'll also find Western Digital written there.
Looking at the box's sides and rear, other vital details about the SN750 are there.
Inside the box, you'll find the WD Black SN750 SSD NVMe together with a paper manual. The paperwork includes all necessary details such as the warranty contact information.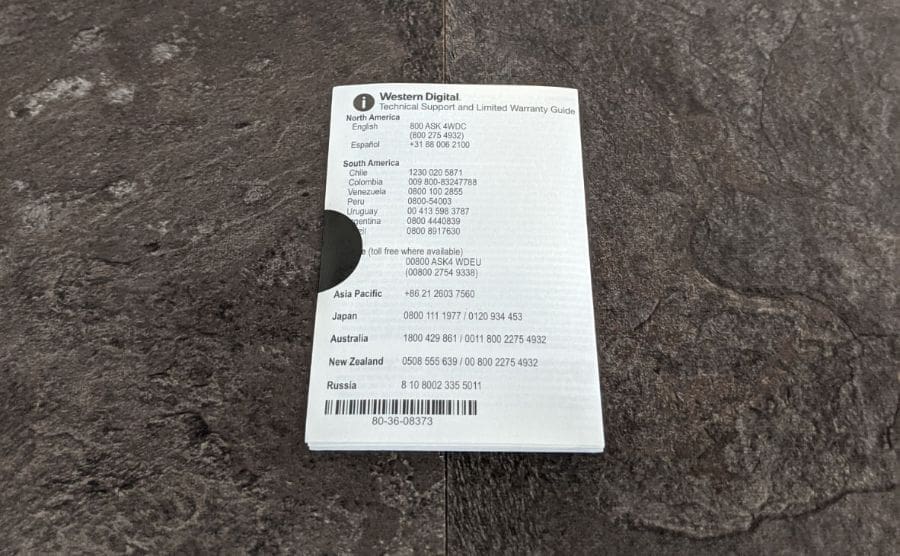 WD Black SN750 NVMe SSD Review – Design and Functionality
Our WD Black SN750 NVMe SSD review will now focus on the SSDs functions and build. Specifically, the WD Black SN750 is an M.2 x4 PCIe NVMe SSD. It utilises a 2280 or 22mm-wide and 80mm-long form factor. It comes with a black-coloured sticker explaining a few of its specifications and features.
To utilise the SSD, you'll need to have an additional slot for it on your PC or laptop's motherboard. You should take note of the available M.2 slots that only support SATA. Plus, not every PC supports booting from the NVMe.
Similar to the 2018 model, the WD Black SN750 uses SanDisk's 64-layer NAND flash memory with 3-bits per cell.
The SanDisk 20-82-007011 Controller
The SN750 NVMe SSD utilises SanDisks NAND and controller powered by three ARM CPU cores manufactured on 28nm.
This SSD also uses one of the latest NVMe revisions 1.2 and 1.3 protocol. It's a controller that's fast for read & write functions over an x4 PCIe Gen3 lane connection.
Key Features of the WD Black SN750 NVMe SSD
This section of our WD Black SN750 NVMe SSD review will focus on the product's unique features.
Top-notch NVMe SSD Performance
The WD Black SN750 NVMe SSD's top-notch performance makes it the perfect choice for upgrading a gaming rig. It can match with the drives from top-selling brands to deliver excellent performance.
Larger Capacity for Playing
WD Black SN750 NVMe SSD utilises NAND technology, which increases storage density. As a result, it extends the drive's storage limit by two times of its predecessor's capacity. With that, you can store large data like video games and movies.
Fast Speed to Reduce Waiting Time
Using the WD Black SN750 NVMe SSD cuts a significant amount of your waiting time. With that, you can enjoy fast gaming, reduced load time, and a more responsive PC.
Specifications
This part of our WD Black SN750 NVMe SSD review mainly talks about the SN750 NVMe SSDs specifications. You can choose between 250GB, 500GB, 1TB, or 2TBs for its capacity. Respectively, sequential read is 3100MB/s, 3430MB/s, 3470MB/s, and 3400MB/s. For its write performance, it's 1600MB/s, 2600MB/s, 3000MB/s, and 2900MB/s.
It utilises a PCIe Gen3 interface and has an M.2 2280 form factor. When it comes to its size, it measures 3.15″ (L) x 0.95″ (W) x 0.32″ (H).
The next part of our WD Black SN750 NVMe SSD review is where we'll talk about the WD SSD Dashboard. Also, we'll share our test results and our experience while using this NVMe SSD.
Hands-on with the WD Black SN750 NVMe SSD
This section in our WD Black P50 Game Drive SSD review is where we get more hands-on with the SSD.
The SSD Dashboard from Western Digital is a software app for managing and controlling your SN750 SSD NVMe. It lets you optimise the SN750's performance by allowing its latest Gaming Mode feature. For the most intense and exciting gameplay, the SSD's Low Power mode function is kept disabled.
It's great that the company updated and optimised the SSD Dashboard software's graphic interface with the SN750's release. It's because the drive has a new feature with the software that functions like a virtual toggle switch.
This switch works by controlling and managing this new feature called Game Mode.
The remade SSD Dashboard is for the newer products from Western Digital. It didn't only receive adequate optimisations, but the company also included a new Game Mode feature which is perfect.
This setting lets you disable the lower power modes using firmware hooks. When enabling the option, you'll notice the drive supports PS0; plus, the Game Mode simultaneously removes latency and enhances performance. However, you should remember to restart the system right after enabling the mode.
It's also good to note that at a device level, the Game Mode disables low power settings. This setup allows the SSD to remain in that mode even when shifting to another system. When the SSD switches to a low power state, it's important for the SN750 to wake up before data processing. You should note that the deeper the sleeping rate, the lengthier and better it is to wake the SSD.
In general, the Western Digital Dashboard is one of the most efficient and useful software tools today. This is because of its distinct performance monitor in real-time, unlike other similar software.
Rounding out this suite are standard features and tools like drive status, firmware updates, and monitoring. Another unique feature that it offers is the scrolling ads on the utility's right section. This feature may be a convenience to some, but honestly, we could do without this feature just well.
Additionally, the company provides you with the free Acronis True Image download for easier data cloning to your new drive.
Now, let's see how this SSD performed during our tests.
Product Performance
The new WD Black SN750 NVMe SSD comes with a couple of enhancements from the previous SSD. Of course, they kept some similar features such as the same NAND flash memory and controller.
Better and more optimised firmware for the company's new in-house controller design is present for the NVMe. With that, the SSD can avoid most performance regressions then provides regular efficiency enhancements.
For every practice function and purpose, the Western Digital Black SN750 NVMe SSD can be considered highly similar to the earlier SSD.
Not only that, but the WD Black SN750 NVMe SSD was much faster if we compared it to its predecessor. And to note, the previous SSD already delivered fast performance.
Overall, the WD Black SN750 NVMe SSD is an amazingly impressive product, and can readily manage workloads without issues. We didn't experience any problems with it, and it performed notably fast. Basically, it's a great SSD for someone who simultaneously writes lots of small files while copying large MKV movies. And with the SN750's features, you're ready and all set.
With how efficient it performed, we will highly recommend this SSD to everyone. So, we're giving it five stars.
WD Black SN750 NVMe SSD Review Summary
When we saw the WD Black SN750 NVMe SSD, we didn't expect it to perform better than its predecessor. To our surprise, its speed was significantly faster, and it performed faster than other SSDs from popular brands. Its design is completely similar to the previous device, but there's a significant difference in its performance.
This SSD is an excellent option if you will record and edit videos, or use social media while gaming. You can also configure this further via the WD SSD Dashboard to achieve its peak performance. It's fast, efficient, and affordable, making it one of the best SSDs in the market today.
To conclude our WD Black SN750 NVMe SSD review, this drive is an excellent performer, and we highly recommend it. If you want to purchase this, it's available from the company's official website.