This WD My Passport 1TB review talks all about the drive that's super compact, rugged, and lightweight.
For consumers who are cost-conscious and have a lot of storage needs, hard drives are generally essential. Last 2019, WD or Western Digital adopted the SMR design. They utilised it for their portable hard drives such as My Passport 1TB.
Technically, it's an SSD perfect for anyone who needs to securely bring data on the go. Is it something you'd need? Is this drive worth purchasing? We'll find out.
WD My Passport 1TB – Packaging
This portion of our WD My Passport 1TB review focuses on the packaging and contents of the SSD.
It arrived in a retail package that isn't bigger than the drive itself. The front displays an image of the SSD, together with its capacity, which is 1TB in our case.
When we turn the box, the back shows a list of all its contents. You'll also find its compatibility, as well as a couple of details about it. The company conveniently listed these in different languages for their customers to understand.
Inside the box, you'll find the WD My Passport 1TB drive, a USB cable, as well as a user's guide. My Passport utilises USB to USB Type-B cable since it has bigger power requirements, unlike portable SSDs.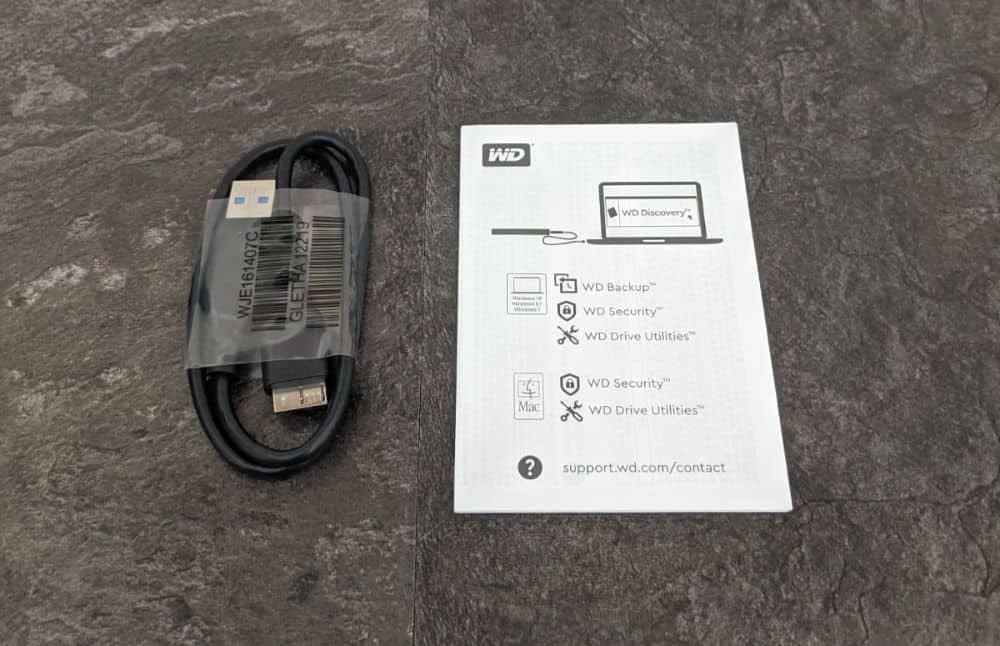 WD My Passport 1TB Review – Design and Function
This section of our WD My Passport 1TB review focuses on the design and functions of the SSD. My Passport is a quality, efficient, and portable storage that allows you to take data wherever you go. It also guarantees security for all the information you have.
Western Digital opted for a new and stylish design that perfectly fits in your hand. Plus, My Passport 1TB has adequate space to manage, store, and share videos, documents, music, as well as photos. You can pair the drive with Western Digital's WD Backup software & password protection to increase the security of your content.
When it comes to its size, My Passport can easily slip into your pocket, or even in your laptop bag. The current drive sports an appealing two-tone colour theme, with ½ of its top curved perfectly for the proper grip. Its grip is somewhat enhanced due to the matte finish that WD incorporated.
Flipping the drive, the design at the back continues down to the side of My Passport. The only things featured at the rear of the drive is a little sticker that has the drive's serial number, and more.
At the top, you'll find a single USB Type-B connection on the drive. It's to power up and provide data to the drive once connected with the included cable.
This WD My Passport 1TB is pre-formatted in exFAT. It's to guarantee wide-system compatibility, plus it also includes an installer for the Discovery software suite.
This suite comes with the WD Backup. It's a program for backing up or syncing folder contents with a copy found on My Passport. It also includes WD Security, as well as WD Drive Utilities for increased protection and convenience.
Aside from being slim and portable, the WD My Passport makes it an excellent backup drive. It comes with integrated password protection, plus a 256-bit AES hardware encryption to prevent others from seeing your data. It's achievable via the company's software, WD Discovery.
If you're planning to auto-backup your computer, you can utilise their WD Backup software as well. You only need to schedule it, then select the files and folders to backup, and you're all set.
For social media junkies, you can easily import media from supported online cloud services and social media channels. With that, the WD My Passport can function as a secondary backup.
Next on our WD My Passport 1TB review, we'll focus on the hard drive's key features.
Key Features of the WD My Passport 1TB
Slim and Stylish
The new design of My Passport features a compact and convenient form factor. It also comes with a variety of colours for you to choose which suits you.
Backed Up
Photos, music, videos, documents – no matter what file type it is, My Passport ensures that they don't get lost. The HDD comes with WD Backup, the company's exclusive software, which runs automatically based on your schedule. Set the time and frequency, and it will back up your essential files from your system to the drive.
Locked down
My Passport's password protection and integrated 256-bit encryption keep your digital contents secure. WD Discovery enables you to set a personalised password.
Easy to Use
My Passport is ready to use once out of the box. It comes with all needed cables for installation. It features SuperSpeed USB to back up every single file in your system quickly.
Social friendly
WD Discovery allows you to connect with the top social media sites like Facebook, Google Drive. Simply import, organise, then share your media files and documents to the My Passport drive for back up. It can also arrange your drive via WD Drive Utilities.
Specifications
This part of our WD My Passport 1TB review will be all about the drive's specs.
We have the WD My Passport 1TB in black, and it uses a USB 3.2 1st Gen interface. The drive is compatible with Windows 10 or 8.1 and requires formatting when using it with other operating systems.
It measures 4.22 x 2.95 x 0.44″ (L x W x H) and comes with a 3-year limited warranty for convenience.
Hands-On with the WD My Passport 1TB
Here in our WD My Passport 1TB review, we're focusing on the performance of WD My Passport. Let's see if it performed efficiently for use.
Setup and Software
Western Digital did something smart when they produced their software to use for external drives. Most of the times, we see drives bundled with just trials of backup software. But with WD, we were able to utilise their backup security and utility software for the WD My Passport.
Because of this, we didn't have to bother subscribing or purchasing extra software to secure the drive, create backups, etc. Also, the WD My Passport provides hardware encryption which is something we greatly appreciate since other portable drives lack this.
WD Discovery and Apps
After installing Discovery, it immediately popped up on our taskbar. Just click on it, and it'll bring up a list of all the connected drives available. It was great since we got to import data from our cloud storage and social media accounts to the drive.
We noticed little gears next to each linked drive. Upon clicking on them, it allowed us to switch the drive's LEDs on or off. We were also able to set drive passwords, as well as eject the drive when needed. Another tab called Apps is where you'll find options for installing the WD Drive Utilities, WD Backup, and Security.
There are three tabs for WD Drive Utilities, and these are Settings, Diagnose, and Drive Erase. In Settings, we set the sleep time on & off. We were also able to set the time for when My Passport will switch off. It is also where we set the LEDs to go on or off.
Diagnose let us run a drive status check, complete drive test, and quick drive test. Lastly, Drive Erase is just what its name states, an option to erase the drive. This tab is where we can choose to format the drive to exFAT or NTFS.
WD Backup and Security
WD Backup and Security is a simple app where we created backups. It's pretty cool since we were able to set a schedule to have our data backup up automatically.
For WD Security, it's where we set passwords for each of our linked WD drives. It's also where we enabled the auto-lock on feature for the computer.
Performance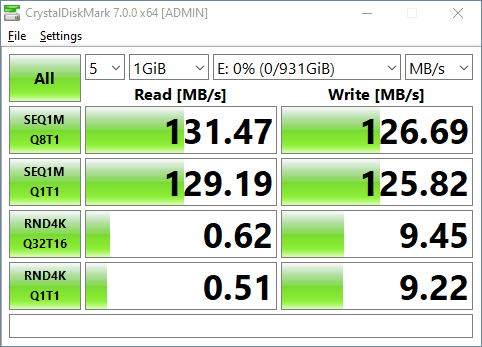 This section is the performance part of our WD My Passport 1TB review. Generally, the drive performs just like every other USB 3.2 1st Gen hard drive would. With between 120 and 130 MB/s for both its sequential read & write, we didn't have any issues transferring huge files. We were also able to run games off it which was surprising. Since the drive is also 1TB, we had a ton of space, and that's essential for us.
Overall, the WD My Passport 1TB performed excellently, so it gets two thumbs up from us.
WD My Passport 1TB Review Summary
Western Digital's My Passport is a visually appealing drive that comes with an excellent software package. If storage expansion is what you need, this is the perfect solution for you. For its price, it performs excellently, which is another advantage of this drive. With its price and capacity, this HDD is worth the purchase.
To conclude our WD My Passport 1TB review, we highly recommend this storage solution. If you want this HDD, you can buy it from the official website.