Today, we are writing our QNAP TS-253E 2 Bay NAS Review, which discusses its all-powerful and essential security surveillance solution. 
The TS-253E is a NAS featuring two bays, and it sports the Intel Celeron J6412 quad-core processor. This solution is ideal for system integrators, managed service providers, and other IT-based services.  
Additionally, it is perfect for those who need a smaller form factor NAS instead of a massive eight-bay solution. Aside from these, the TS-253E is a long-term model from QNAP. The NAS will be available until around 2029, making it sufficient for future-proofing. 
If you are interested in this intelligent solution from QNAP, continue reading our QNAP TS-253E 2 Bay NAS Review. We will discuss details related to the NAS, including its features, design, functions, specs, and performance. 
QNAP TS-253E 2 Bay NAS Packaging
Like other NAS solutions from QNAP, the TS-253E shipped in a simple yet thick cardboard container. It has the usual sticker featuring an image of the NAS, its name, and the company branding. You will also see a few details related to the unit.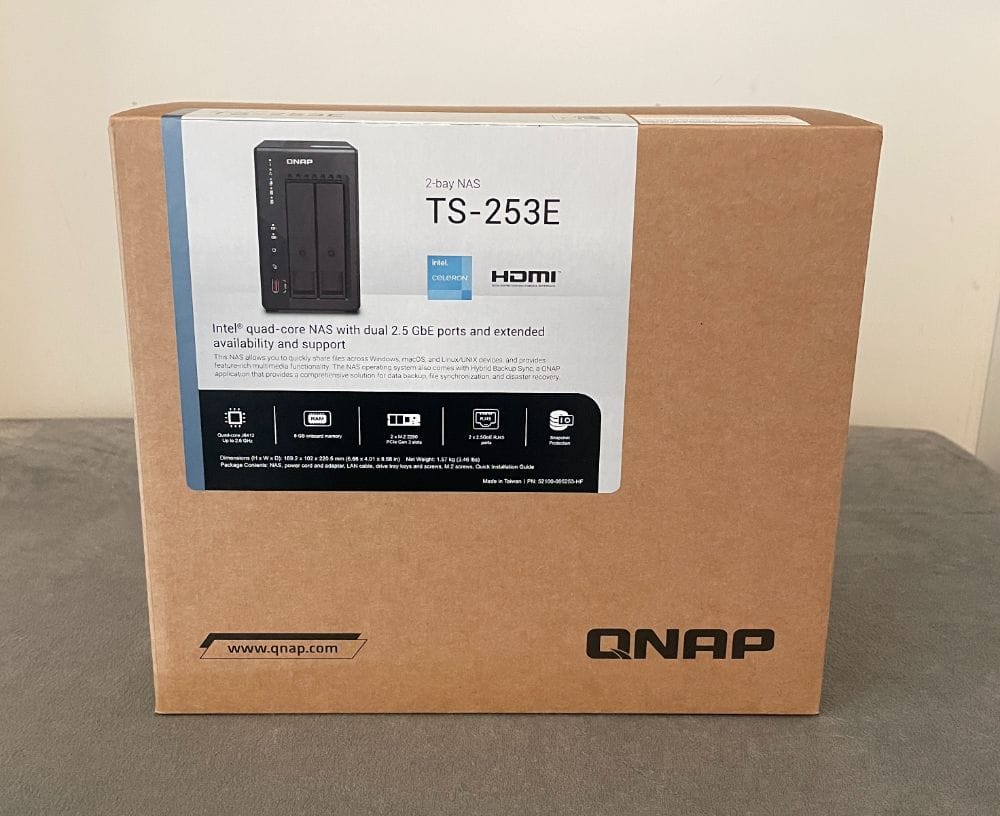 Inside, everything is secure to avoid damage during shipping. With the NAS, there is an Ethernet cable, power cord, ac adapter, and two M.2 SSD flat-head screws. 
There are also eight flat-head screws for 3.5-inch HDDs and six flat-head screws for 2.5-inch HDDs. Finally, QNAP included two drive tray keys and an installation guide inside the box.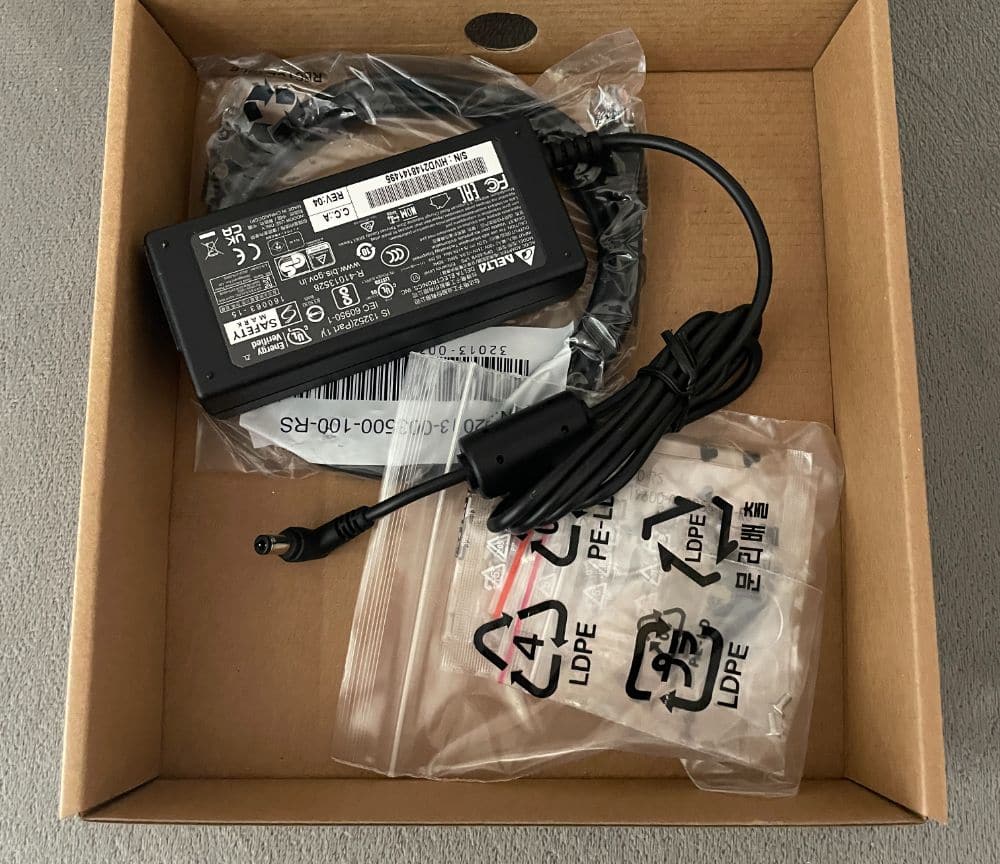 QNAP TS-253E 2 Bay NAS Review – Design and Functionality
Let us continue our QNAP TS-253E 2 Bay NAS Review and look into its design and functions. 
Over the years, QNAP received requests from businesses that need NAS solutions that are available for the long term. Despite having an extensive collection of small to mid-sized NAS solutions, the company added another product to the list.
As we mentioned, the unit will be available and receive support from QNAP in the long run. Thus, making it excellent for users and businesses who need the assurance of long-term availability. 
Businesses that need long-term support will appreciate the assurance of support from QNAP. And features like 8GB RAM, two 2.5Gb LAN ports, and two M.2 SSD slots support these claims.
Interestingly, QNAP equipped each NAS with two HDMI ports for multimedia playback, surveillance, and other scenarios.  
However, relying on these is not necessary. The Celeron J6412 has four physical cores that can reach 2.6GHz.
The storage of this unit has two bays to accommodate 2.5/3.5-inch hard drives and 2.5-inch SSDs. Thus, making it a perfect option for smaller form factor NAS instead of larger eight-bay versions. 
The TS-253E features two M.2 2280 PCIe Gen 3 x2 slots that you can use as an SSD cache. You can also use them as NAS storage pools or with Qtier to have tiered storage. 
Thanks to these slots, you can have higher performance and better versatility overall in the NAS.

Key Features of the QNAP TS-253E 2 Bay NAS 
We listed the features of this NAS in our QNAP TS-253E 2 Bay NAS Review to give you an idea of what it offers. Are these elements adequate for your needs? Let us find out. 
Long-term Availability
Powered by the Celeron J6412 processor from Intel, this NAS is available and will receive support until 2029. Its long-term availability makes the product ideal for SI, MSP, and other IT-based businesses. The NAS is also adequate for those that need a corresponding NAS model for long-standing projects. 
Simply put, the TS-253E is the perfect solution for future-proofing. 
24/7 Surveillance Solution for Stores/Branch Offices
The TS-253E is what you can consider a one-stop surveillance solution. It is ideal for managing/recording several cameras and surveillance servers in stores, offices, and other workspaces.  
Record and Monitor the Environment with the QNAP TS-253E 2 Bay NAS
It is a subscription-based surveillance solution from QNAP that lets you create surveillance systems with higher scalability and lower TCO. Your recordings save as MP4s, which allow playback on almost every current device. 
QVR Elite also incorporates QNAP AI-based solutions to create intelligent facial recognition. These are essential for door and retail access systems with NAS solutions from QNAP. 
You can also organise independent and dedicated storage space on the TS-253E for surveillance data. Hence, allowing you to enjoy easier camera management, live viewing/playback, and storage space allocation. 
Centrally Regulate up to 32 Surveillance Servers
If your business needs continuous management of multiple recording servers, install the QVR Centre on your NAS. 
With this feature, you can manage and organise up to 32 surveillance servers. You can also work on 10,000+ cameras with the help of a user-friendly interface. 
Quicker Image Identification + Built-in Intel OpenVINO AI Engine
The TS-253E boosts AI image recognition performance with the built-in Intel OpenVINOTM AI computing resources. It works without interfering with other applications or services. 
QNAP AI Core works in conjunction with the QuMagie application.
Dual 2.5GbE Ports
Get 2.5x faster network speed with the current CAT5e cables. These support port trunking to deliver speeds of up to 5Gbps. 
Dual M.2 2280 PCIe Slots of the QNAP TS-253E 2 Bay NAS
Get better NAS performance by installing and using M.2 2280 NVMe PCIe SSDs or the Edge TPU. However, remember that the SSDs are sold separately and do not ship in the package.  
Transform Networks with a Wallet-friendly 2.5GbE Switch
Upgrading your network should not break the bank. So by using 2.5GbE connectivity, you can get quick and noticeable improvements compared to standard 1GbE. 
QNAP offers 2.5GbE switches that support Multi-Gigabit NBASE-T and lets you use existing CAT5e cables. These help you connect multiple computers and NAS. It also assists organisations in implementing high-speed, secure and scalable network environments without going over the budget.
Dual 4K HDMI Outputs for Surveillance Monitoring/Multimedia Displays
The TSE-253E has support for real-time transcoding and hardware decoding. Its dual HDMI outputs support up to 4K @30Hz, offering excellent benefits for various tasks. 
These include surveillance, industrial design, editing/production, and professional photography that requires on-image resolution and colour realism. It is also ideal for transfers, intensive media storage, and display.  
All-inclusive Backup & Disaster Recovery Solution
The TS-253E supports numerous backup apps to meet all your requirements. Always maintain safe IT practices by backing up files and device content. Doing so will make it easier to restore when necessary. 
Multi-version Snapshots to Reduce Ransomware Threats
The NAS supports block-based snapshots and records the system state at any time. It helps secure data, which gets restored to a specific point. 
This feature can help mitigate the threats of ransomware. 
Comprehensive Privilege and Security Settings
The NAS has flexible privilege settings and reliable security measures. Aside from IP blocking, HTTPS connections, and 2-step verification, there are more applications to guarantee optimal NAS protection. And these are effective against malware and hackers. 
QNAP TS-253E 2 Bay NAS – The Ideal File Storage and Collaboration Centre
The TS-253E incorporates essential applications for managing, storing, searching, syncing, and archiving files. It backs NFS, SMB/CIFS, and AFP protocols for streamlined sharing across Mac, Linux/UNIX, and Windows. 
Additionally, it offers intelligent NAS solutions that professionally and accurately manage files. 
Economical and Flexible Storage Expansion for the QNAP TS-253E 2 Bay NAS
QNAP gives you easy ways to broaden your storage capacities and offers ways to expand your NAS storage when necessary. This move helps accommodate your business and data growth. 
More Productivity-boosting Apps
The TS-253E includes an App Centre with feature-rich apps to help you maximise your NAS potential!
Health Check for Hard Drives
Hard drives are the heart of your NAS, and maintaining their long-term health and reliability is vital. That is why QNAP offers numerous methods and tools to monitor hard drive health effectively. These also allow you to make proactive decisions to protect your data and files.
Specifications
Earlier in our QNAP TS-253E 2 Bay NAS Review, we mentioned this NAS uses an Intel Celeron J6412 quad-core processor. It also sports a 64-bit x86 CPU architecture and Intel UHD graphics. 
QNAP integrated an AES-NI encryption engine into the unit, plus two 3.5-inch SATA 6Gb/s drive bays. Compatibility-wise, the TS-253E supports 3.5-inch and 2.5-inch SATA HDDs and 2.5-inch SATA SSDs.
We appreciate the NAS being hot-swappable and having two M.2 2280 PCIe Gen 3 x2 slots. Additionally, it comes with two 2.5 Gigabit Ethernet ports and two USB 2.0 ports. 
This NAS also has 2x type-A USB 3.2 Gen 2 (10Gbps) ports and 2x HDMI 1.4b HDMI outputs. We love its tower form factor weighing 1.3kg, plus it comes with a fan measuring 70mm (12VDC). 
About its power, the supply power used for the unit is a 60W/65W adapter, 100-240V. It consumes 10.56W for HDD sleep mode and 18.09W when operating.
Hands-on with the QNAP TS-253E 2 Bay NAS
QVR Elite Surveillance
To continue our QNAP TS-253E 2 Bay NAS Review, we will first discuss our experience with the QVR Elite Surveillance. Since it is an intelligent surveillance solution from QNAP, we successfully built a surveillance system. What we loved is it had decreased TCO and increased scalability. 
Our saved recordings are converted into MP4 files, making them easy to playback on most devices. Also, the NAS works splendidly for security surveillance and integrates some QNAP AI-related video analytics solutions. The latter is notable since it helps build intelligent facial recognition for retail/door access systems with the NAS. 
We only needed our TS-253E, IP cameras, and the QVR Elite subscription to take advantage of the QNAP surveillance system.
With a channel license system, the QVR Elite allowed us to use up to 192 channels. And to note, two of these are free. This subscription fits any needed surveillance, and we assume it would work perfectly for single offices or even massive campuses.
Boxafe
If you need to protect enterprise SaaS data, QNAP has something for your needs – Boxafe. It is an an-inclusive, efficient, yet simple recovery/backup solution for Microsoft 365 and Google Workspace.
Boxafe is specifically for MSPs or enterprises since it offers single/manual backup and auto-scheduled backup options. 
If you use scheduled multi-version backup, you can protect current/historical data and decrease instances and risks of data loss. With the incremental backup technology from QNAP, you can back up altered data to save storage space and time.
Hybrid Backup Sync
Hybrid Backup Sync is another free application for the TS-253E and another QNAP NAS. It performs backup, sync, and recovery to and from local storage, remote servers, or cloud services.
When we used this software, we only used three easy steps to create backup and sync tasks. It also offered flexible settings like scheduling backups and choosing source/destination folders. Hybrid Backup Sync also allowed us to set detailed rules for these tasks.
One of the things we liked about this application is the 3-2-1 backup plan. It is the primary method used to ensure data safety. What impressed us was after setting up our backup tasks, the Hybrid Backup Sync did the rest.
We also used hardware from cloud service providers, and the Hybrid Backup Sync allowed quick transfers of terabytes of data. It used the relink function to form links between the original data on the NAS and the cloud copy. This feature allowed for continuing incremental backup and synchronisation.
Qsync
We will also discuss Qsync in our QNAP TS-253E 2 Bay NAS Review. It enabled efficient file syncing between our NAS and linked devices. What we used were our computers, laptops, and Smartphones. 
With this software, we easily accessed data across the devices we were using. Then, we successfully and seamlessly shared files. 
Aside from these, Qsync enhanced our productivity via cross-device sync while optimising our tasks using group collaboration. 
WD Red Pro Hard Drives
The WD Red Pro is one of the excellent hard drives for NAS systems. We used these drives when we tested the TS-253E.
The Red Pro hard drives focus on the enterprise network environment and data protection. That is why it is the recommended storage drive for NAS units.
Before we discuss our test results, we will share some features of the WD Red Pro hard drive.
Features of the WD Red Pro Hard Drive
The Red Pro hard drives have many features that enhance their reliability and performance in demanding environments. It functions in NAS units with over 16 bays, making it excellent for SMEs and SMBs. Also, it has unique technologies like NASware 3.0, RAFF and NoTouch ramp load, and 3D Active Balance Plus.
Multi-Axis Shock Sensor and Dynamic Fly Height Technologies
The Red Pro has a multi-axis shock sensor that withstands the harsh environment of massive NAS enclosures. With this feature, the hard drive can detect subtle shocks.
Another technology is the dynamic fly height, which adjusts the read-write function to protect and compensate for the data. It helps keep the drive safe and protected in a NAS with up to 24 bays.
3D Active Balance Plus
The 3D Active Balance Plus maintains the proper balance of the drive to reduce vibration in multi-disk environments. As a result, it prevents further problems from occurring, and there is less noise when operating the NAS.
This enhanced dual-plane balance control technology significantly improves the reliability and performance of the drive. When the hard drive has no proper balance, excessive vibration/noise can happen, resulting in reduced lifespan and performance degradation.
Error Recovery Prevention
WD built the Red Pro drive specifically for RAID and NAS. It has error recovery controls, which are part of NASware 3.0 to reduce the drive fallout in RAID applications.
NASware 3.0 Technology
NASware 3.0 is the most vital feature of the Red Pro hard drive. This firmware boosts performance while optimising power consumption, making it more reliable. It also prevents extended error recovery reducing downtime, making it ideal for fast-paced environments like businesses.
This hard drive delivers superior performance that will last in the long run. You will not need to replace your hard drives regularly, so it is worth the investment. It will also be the perfect hard drive for future-proof NAS like the TS-253E.
QNAP TS-253E 2 Bay NAS Review Summary
The TS-253E is one of the impressive NAS recently released by QNAP. Although it has a small form factor and only two bays, its primary processor delivers exceptional power. Also, it has M.2 SSD ports and other features that add to its versatility and outstanding functionality.
During our product tests for this QNAP TS-253E 2 Bay NAS Review, we were satisfied with its performance. We enjoyed using its features like the QVR Elite, which is ideal for security surveillance. It also has other features for syncing and securing data, making it excellent for SMBs.
Overall, we highly recommend this NAS from QNAP. If you are looking for a compact yet efficient storage system, the TS-253E is an excellent choice.
To learn more about the TS-253E 2 Bay NAS, visit the official product page of QNAP for additional details.