Synology is one of the biggest names in the industry. And when it comes to NAS products, they're almost always the first to come into mind. Today in our Synology DS918+ NAS review, we're going to check out this product from Synology.
Technically, the DS918+ NAS is mainly for small and medium-sized businesses. It's also something for IT enthusiasts around. With its powerful & efficient integrated AES-NI hardware encryption engine, the NAS gives you excellent encrypted file transmissions. The DS918+ NAS can transcode up to two channels of H.265 or H.264 4K videos simultaneously. This capability of the NAS makes it ideal for storing and sharing UHD (ultra-high-definition) media content.
If this is something you think you'd need for storing all your important data and information, we've got you covered. Our Synology DS918+ NAS review has all the details you'll need to learn and know more about it. Plus, it'll give you an idea if it's something worth purchasing.
Synology DS918+ NAS Packaging
In this section of our Synology DS918+ NAS review, we'll see the company's packaging of the NAS. You'll also find what other items and accessories Synology included in the box.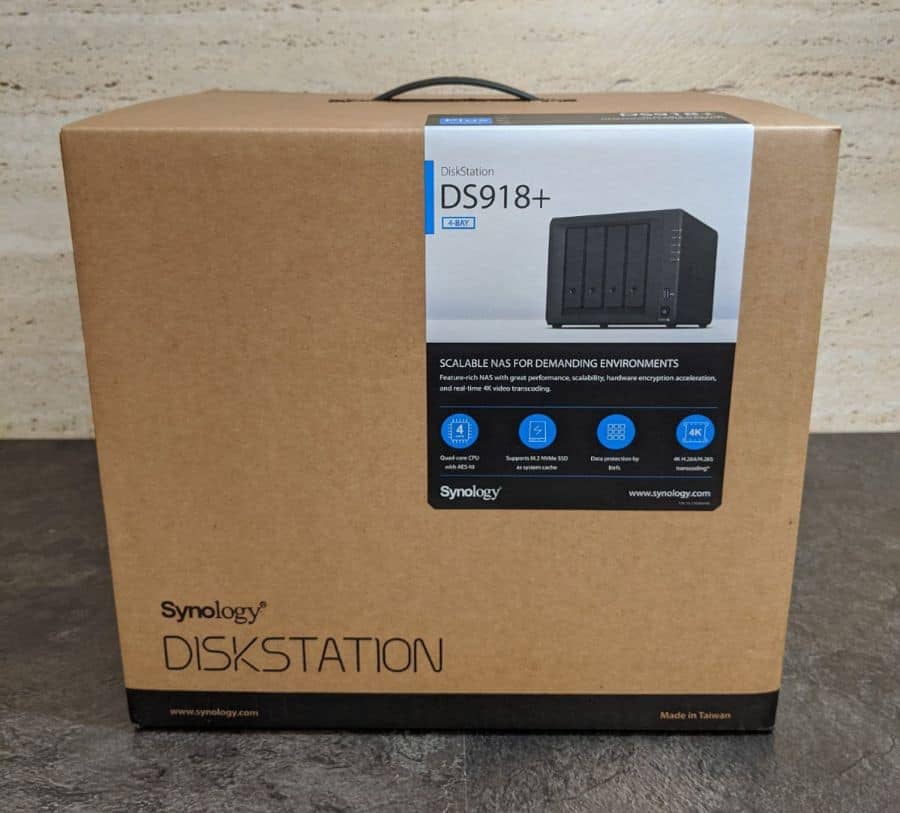 The DS918+ came in a simple-looking cardboard box that's adequately tough to protect the NAS inside. The lower left section of the box displays Synology and DiskStation. The upper right area has a sticker with more details about the NAS.
On the sticker, you'll find the name of the NAS unit there, and an image of the DS918+ itself. Synology listed the key features of the NAS to give you an idea of what it has to offer.
Inside, you will find the Synology DS918+ NAS nicely and securely packed in the box. Aside from this, the package also includes a welcome note from Synology, and an AC power adapter & cord. You'll find two Ethernet cables, plus two drive-bay lock keys as well.
Synology DS918+ NAS Review – Design and Functionality
This time, we'll see the design and functions of the NAS in our Synology DS918+ NAS review. The DS918+ comes with the standard exterior and design that loyal Synology enthusiasts love.
It sports a sophisticated matte-black finish that would look excellent when you set it up on your workstation or desk. The design will blend perfectly with your theme as it gives off a premium feel to it.
You won't have any problems with it being close to you. That's because the DS918+ is extremely quiet, and won't pose as a distraction while you're at work.
Across the NAS' front section, you'll see a total of four hot-swappable drive bays that can keep 2.5″ or 3.5″ drives. At the bottom half of every drive tray, you'll notice a tray lock to secure it in place. At the upper right side of the DS918+, there are a total of five status light indicators. Below these, you will see a USB 3.0 port and the power button.
The drives are hot-swappable, and the NAS has two slots for the M.2 NVMe SSD cards. With that, it's not necessary to give up the drive bays to acquire SSD caching. If you need more details about the SSD caching's performance benefits, Synology has everything you need. Refer to their white paper which is worth reading and highly informative.
What takes up most of the space at the back of the NAS are two 92 x 92mm fans. Below these on the left, you'll find two 1GbE RJ45 ports, a power port, eSATA, plus a reset button. The right portion is where the Kensington Security Slot, plus an additional USB 3.0 port.
Key Features of the Synology DS918+ NAS Review
Fast and Scalable Storage Server
Designed for IT enthusiasts and small to medium-sized businesses, Synology DS918+ comes with an integrated AES-NI hardware encryption engine. With that, file transfers are secure. It can transcode up to two channels of H.265/H.264 4K videos simultaneously. It's best for storing and sharing high-definition media content.
Meets Your Performance and Capacity Needs
You can use two M.2 NVMe 2280 SSDs so you won't occupy internal drive bays when creating system cache. The NAS is scalable up to nine drives with a Synology Expansion Unit DX517. The DS918+ is the solution for those who need a flexible storage capacity.
Sync Files Across Your Other Gadgets
The Cloud Station Suite syncs data across all of your gadgets and Synology NAS in real-time. Intelliversioning stores the most essential file versions to leverage storage space.
4K Multimedia Server
You can access and stream 4K media content whenever and wherever you are with the DS918+. It supports 4K H.264/H.265 online transcoding through DS video and Video Station. With that, 4K videos are convertible and playable on smartphones, computers, and media players that don't support Ultra HD formats.
Specifications
This is the section in our Synology DS918+ NAS review that deals with the different specifications of the NAS.
The Synology DS918+ NAS uses the Intel Celeron J-3455 with a 64-bit CPU architecture. This NAS also comes with a quad-core 1.5 burst of up to 2.3GHz for its frequency. This NAS makes use of an AES-NI hardware encryption engine. It has a transcoding engine of H.264 (AVC), H.265 (HEVC), VC-1 & MPEG-2. The maximum resolution for the NAS is 4K (4096 x 2160), while its maximum fps is 30.
For its memory, the NAS sports a 4GB DDR3L system memory, and a pre-installed 4GB (1 x 4GB) memory module. It has a total of 2 memory slots, and the memory is expandable up to 8GB (4GB x2).
Storage-wise, the Synology DS918+ comes with a total of 4 drive bays, yet has nine drive bays with expansion units. You'll see two M.2 NVMe drive slots as well. Compatible drive types include 3.5′ SATA HDDs, 2.5″ SATA SSDs, 2.5″ SATA HDDs, and the M.2 NVMe 2280 SSD.
This Synology DS918+ NAS has a max raw internal capacity of 48TB though remember that the size can vary depending on the RAID types. For the raw capacity of its expansion units, there's a total of 108TB available.
Lastly, its max single volume size is 108TB.
Hands on with Synology DS918+ NAS
This time on our Synology DS918+ NAS review, we're going to get hands-on with the NAS and learn how well it functions and performs. First, let's take a look at its software.
Software
All NAS devices under Synology work via the DiskStation Manager 6. The DSM 6.1 offers a standard collection of features, plus a consistent UI across all products from Synology. Of course, enhanced features support the higher-end products. These include the BTRFS file system that isn't available on the Value and J Series products.
We've tried and tested the DSM for years, and Synology has continued to include new features to it. It was already the best OS for NAS, and they make it even better every time.
The DSM gives you a ton of utilities for use. These include the mail server, media server, and an integrated chat service. It also provides the Office suite with collaboration that works with PowerPoint, Excel, and Word. Additionally, it comes with photo management services and integration with different public cloud services like Google Drive and OneDrive.
Synology Drive
The Synology Drive is a tool of the Synology series. It's made to sync and link files between your PCs and NAS via the internet. It allows data to always be available, and they'll never be outdated.
This tool is a perfect solution for SMBs, home offices, as well as enterprises with different branches. The system provides auto-syncing functions, so changes made in one location can be visible on the other.
It streamlines the synchronization method of folders, making it easier to access and share to different offices. This system allows seamless sharing, no matter how physically distant offices are from each other.
What's more, the platform allows consistent and live edits, as well as revisions to documents by various individuals. With its chat feature, you'll get to enjoy seamless collaboration simultaneous with communication.
What's notable is the fact that damages caused by accidental edits/deletions are also mitigated. It's all thanks to Synology's back-up efficiency for files and the previous versions of these.
The Synology Drive is built-in with a variety of public cloud services to sync files to and fro. It includes Google Drive, Amazon Drive, Box, WebDAV, Microsoft Azure, and a lot more. This system conveniently consists of a mobile app for both Android and iOS products. Plus, it can open Synology slideshows, documents, etc. on a convenient display.
Note that Synology Drive is part of the company's products. With that, it requires the purchase of the Synology NAS and DSM. For a plan, contact the vendor for a program that's fit for your business needs.
Benefits of Synology Drive
On-Premise Infrastructure
By locally keeping data on your NAS, you'll have maximum data ownership. With that, it decreases potential loss and risk due to data leakage.
When you share files in the same office, accessing them at LAN speed will be easy. It's because internet bandwidth won't limit you. There's no need to worry about continuous subscription fees or software payments.
There's a one-time cost for the NAS, and drives will only be the payments to be made. The NAS can be functional with your current Windows AD/LDAP account system. With that, you won't have to bother setting up a new account or remembering a new password and account again.
File Syncing
The Drive Client desktop app provides real-time file syncing between your computer and the Drive Server. With the app's On-Demand Sync feature, you'll get to view every file without using the storage space on your computer. The data will only be downloaded to your PC when needed.
With the Synology Drive NAS package and ShareSync, you can sync and link files between NAS' in real-time. Plus, you can seamlessly auto-sync data across offices.
File Sharing
Easily share files via the web portal, Synology Drive Client, or their Android/iOS mobile apps. Also, include additional layers of protection to data by assigning permission settings for various viewers. Settings include internal users only, invitees only, or for the public.
What's more, you can specify a valid period or password during public sharing.
File Collaboration
Since it's integrated with the Synology Office, you can have users edit and produce files online. It's because Synology Drive allows multiple users to edit on the same documents, slides, or sheets simultaneously. Leaving comments on sentences or words is possible too, which is necessary for streamlining the discussion with teammates.
Data Backup
With this feature, you can back-up files to the Drive Server by utilizing the Drive Client from Synology as well. With that, you don't have to worry about making the wrong deletions.
You can make schedules for backing up files during off-peak hours to efficiently utilize the internet bandwidth. Also, add more protection to your Synology Drive application and data settings by backing things up to a remote site. Using Hyper Backup, Synology NAS packages for backing up files, apps, and system configurations to different locations makes things easier. With these, you can better back-up data to various destinations like public clouds, external drives, and the Synology C2.
Synology Active Backup
This part of our Synology DS918+ NAS Review will focus on the Synology Active Backup. It's a business package allowing businesses to safeguard data across physical servers, Windows computers, file servers, and VMware virtual machines. Select the best NAS for your back-up capacity planning, no matter the number of PCs, servers, or VMs you back-up. What's great is that it's free of any software licenses.
Before, the Synology NAS hardware was the go-to option for a lot of companies that required back-up repositories. Yet recently, it had to be utilized simultaneously with 3rd-party back-up software. But with Active Backup, all of these changes.
Active Backup functions by empowering businesses to distil and compress complicated data storage and administration to one service provider. Because of the new features found in Synology's latest NAS products, G-Suite data and Office 365 can be backed up.
How it Works
The Active Backup for businesses helps safeguard business workloads with its new support for Microsoft Hyper-V VM back-up. Users who have compatible Synology NAS can back-up unlimited physical servers. They can back-up Windows PCs, file servers, plus VMs running on Hyper-V and VMware.
Creating a VMware back-up task with the Active Backup is simple. Just enter your vSphere details without having to install agents in vCenter. For IT administrators, it's as straightforward to use for backing up tasks in Windows Server or PC via a custom template.
Its predefined back-up policy is immediately set to a client once it logs in to to the agent. With that, there's no need to set up each client on its own. Technically, its integration with the Microsoft AD server saves a ton of effort. After configuring back-up tasks, you can monitor all task status for virtual machines, servers, or PCs from a single console.
During unexpected events such as untimely deletion, an entire VM is restorable in minutes via one of the restore options. These include the Full VM restore, Instant Restore to VMware, or the Instant Restore to Synology VMM. For granular file-level restorations, employees with access can restore their folders and files in the self-service portal.
Complement the DR plan Using the Synology VMM
Normally, businesses need to produce new virtual environments for virtual machine restore destinations. Doing this may involve higher license and hardware costs. With Active Backup for Business' integrated VMM (Virtual Machine Manager), you can create and run several VMs on the DS918+.
Synology's VMM lets businesses transform their back-up storage server into a virtual environment. When the production site is down, the back-up storage can act as a temporary DR site or testing environment.
Features of the Synology Active Backup
Efficiently Complete Your 3-2-1 Back-up
Duplicate your back-up data to another Synology NAS with Snapshot Replication to increase data protection. In case a disaster happens at the production site, you can quickly restore data from offsite back-up tasks.
Hyper-V Support
Back-up VMs that run on Microsoft Hyper-V 2016 and 2019 without the installation of back-up agents.
Support for Windows Server 2019
Active Backup for Business now supports data protection of the physical server to the newest version of Windows Server.
Event-Triggered Back-Up Task for Windows
Particular events can trigger backup tasks such as bootups, screen locks, logouts, allowing for data protection in all work scenarios.
Flexible Schedule for Back-Up
Back-up window configuration allows you to indicate available time slots for performing scheduled back-ups during off-peak hours.
Simple Mass Distribution for Windows PC
Administrators can set up automatic logins and PC agent installations to users in the background. It maximizes the integration with self-defined parameters and Microsoft AD to simplify mass deployment for enterprises.
Synology DS918+ NAS Review Summary
Synology offers a lot of NAS solutions for everyone's needs and budget. When it comes to offices and small to medium businesses, the DS918+ is the ideal NAS option from Synology.
It combines improved hardware, future-proof storage expansion, the newest DiskStation Manager, and a lot of apps. These make it an excellent data storage solution.
The four-bay NAS has sufficient storage for most homes and offices. If needed, you can expand it with the Synology DX517. Also, the extensive and feature-rich DiskStation Manager make the DS918+ a better option than any other NAS on the market.
If you're searching for a powerful media server for streaming 4K videos, the DS918+ is an excellent choice. The integrated Celeron J3455 significantly improves the NAS' performance, and the storage scalability will be useful for business environments.
To conclude our Synology DS918+ review, we highly recommend this NAS solution, especially for office and business use. If you want to purchase it, check Synology's store locator on the official website to the nearest sellers.